Bringing respect to Liverpool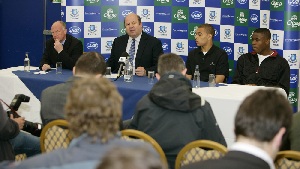 EVERTON'S Youth Academy brings their elite football development programme online - delivering The Everton Way to the masses.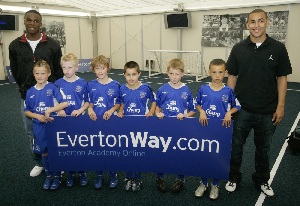 For years, Everton's Youth Academy has enjoyed huge success in producing quality players for the Premiership. Wayne Rooney, Leon Osman, James Vaughan and Victor Anichebe - to name just a few - all came through the ranks at Everton.

Now anyone from across the world can follow The Everton Way online! Coaches can discover the methods used by the blues, while players can follow the programme just like the Toffees' trainees - and all can be explored at the click of a button.

Everton first team player, James Vaughan - a product of The Everton Way - is delighted with how well things have gone for him at Goodison since arriving as a nine-year old.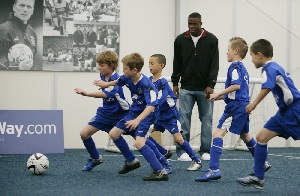 James said:- "The Everton Way has certainly worked for me and it has also worked for a number of other young players.

One of the first things fans say to me is that they always like to see home-grown players do well and for everyone to get the chance to see the way it all works is great."

The site offers hundreds of video clips, editorial walkthroughs and audio commentary guide you through the unique journey to develop players the Everton Way.

Everton Chief Executive, Keith Wyness said:- "There is huge appeal to develop the game across North America, Canada, Australia and many other global territories.

This proven Academy programme acts as the perfect tool to provide quality football knowledge to coaches and players across the world, and further cement Everton's reputation as a top Premiership Club that produces excellent home-grown talent."

And despite player development being highly competitive amongst Premier League clubs, Everton is proud to be the first club to open the doors and reveal their techniques.

Academy Manager Ray Hall said:- "Never before has a Premiership Club dared to divulge the secrets of successful player development.

We are delighted to share our knowledge with the world and make an impact on global football development."
RYANAIR IS LIVERPOOL'S FAVOURITE AIRLINE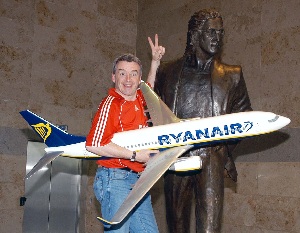 RYANAIR carried over 200,000 passengers on its 34 routes from John Lennon Airport last month and overtook Easyjet to become Liverpool's largest airline. Passengers are voting with their feet because Ryanair delivers the lowest fares and the best customer service from Liverpool.

Ryanair announced that if passengers find a cheaper fare on the same route with any other airline, it will pay double the difference between the two fares. Passengers travelling from the north-west won't find lower fares than on www.ryanair.com - GUARANTEED.

Ryanair's CEO Michael O'Leary said:- "Ryanair already delivers Europe's best punctuality, the fewest lost bags and a no fuel surcharge, guarantee. Now we guarantee that Ryanair won't be beaten on fares either. If passengers in the north-west find cheaper, Ryanair will pay them double the difference.

We urge all passengers to log onto www.ryanair.com immediately to snap up any of our 500,000 seats from £10 at Liverpool John Lennon Airport. You won't find cheaper anywhere else. That's guaranteed."
Turkish Delight For Formby Pair
A golf trip of a lifetime awaits amateur Stephen Lewis and his Formby PGA professional Gary Butler if they can come through the next stage of Europe's biggest pro-am competition, the PGA National Pro-Am Championship.

Lewis took his first big step towards a luxury five-day trip to Turkey, when he won the club qualifying competition with a score of 42 points.

He and Butler now advance to the regional final on 6 June at St Annes Old Links Golf Club, where they will play one round of better-ball medal play. The winning professional in the regional final receives £500, and there are valuable prizes for the top amateurs.

The winners of 16 regional finals throughout Great Britain and Ireland will enjoy an expenses paid luxury trip to compete in the Grand Final held on the PGA Sultan course at Antalya Golf Club where they will stay at the five-star Sirene Hotel and Beach Resort, between 12 - 16 December.

The PGA National Pro-Am is now in its 23rd year and has an overall prize fund of £30,000 with the winning professional at the Grand Final taking home a cheque for £5,000.

Stephen Lewis, 32, lives in Formby. He plays off a handicap of 11.
Gary Butler, 45, has been a professional at Formby for nine years.

This year's tournament is expected to receive entries from more than 100,000 club golfers from all over Great Britain and Ireland.
Last year's winners were from the Parc Golf Academy in Newport, with pro Richard Dinsdale and his talented amateur partner, JP Kim collecting the trophy.