Naming and Blessing of Southport's New Lifeboat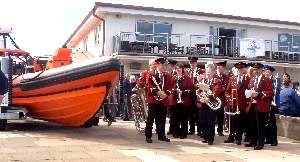 SOUTHPORT District Scout Headquarters on Monday 7 May 2007 was the backdrop for the naming and blessing of the Town's new Lifeboat. After a parade from the Southport Monument, with Merseyside Police and Marshside Brass Band acting as escorts, they headed across the now landmark bridge over the marine lake and ended at the Waterside Lodge, where the RIB was lined up ready for the ceremony.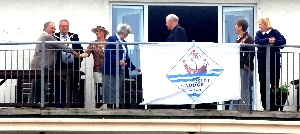 Attending were the Mayor of Sefton Mr. Tommy Mann and the Mayoress Jean Lilly, the patron of Southport Offshore Rescue Trust, Ronnie Fearn and Lady Joyce Fearn.

Besides the launching of the Lifeboat, the Mark 2 Launch Vehicle was also unveiled by the Trust. It was a rebuild from the first custom made vehicle. This splendid restoration was done by Darren
Bunker.

The blessing of the boat was conducted by the Vicar of Christ Church, The Reverend Stuart Reid and the naming ceremony was completed by Miss Sarah Davies of Davies & Gribbin Solicitors, of Ormskirk. She was assisted by Ella and Sam Wright, who are both two special children in urgent need of a bone marrow transplant.

The crew then took the boat for a spin and then took out the media to show off its features, radar and GPS systems, to name but two.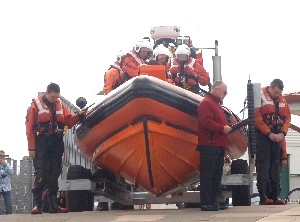 The Southport Offshore Rescue Trust said:- "We would like to thank everyone for helping us raise the cash needed to replace our Lifeboat and keep us afloat. We are an independent group and receive no funding from any other organisation, and it costs round £35,000 a year for us to operate.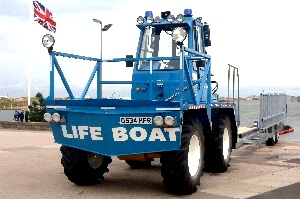 Once again thank you all for your donations, but please remember, we still need support!"

Page 1 of 2