VICTIM OF BOGUS CLOTHING COLLECTION
A LOCAL resident emailed Roger Phillips, Radio Merseyside to report that they had been the victim of a bogus clothing collection. Radio Merseyside broadcast an appropriate warning to the public hoping to help curb this atrocious crime.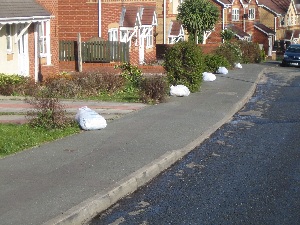 Periodically a reputable charity, the National Blind Children Society, endorses a door-to-door clothing collection, carried out by I G Cohen Ltd. One local resident had kept clothing belonging to her late mother, who was herself registered blind, in the hope of supporting an appropriate charity. The resident became suspicious when an unmarked collection van arrived. The National Blind Children's Society and I G Cohen were contacted and it was confirmed that unmarked vans are never used. What a sad reflection on the city that the goodwill of local people is being exploited.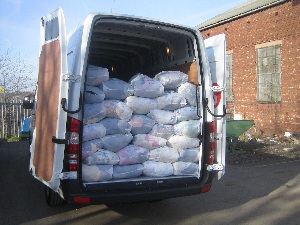 The police were able to apprehend 3 suspects. On investigation it was discovered that the thieves had adapted and circulated leaflets with the charity's logo omitted and a photo of a child added. Their vehicle was found to contain approximately 40 bags of stolen clothing. The National Blind Children's Society supports children with visual impairment and their families. The charity greatly appreciates I G Cohen's support and generous monthly donations and were astonished and saddened to hear about the theft. The charity would like to express their gratitude to the local resident concerned for her help in catching the culprits. We are asking you to be vigilant and if you see anything suspicious please contact your local shop to confirm that the collection lorries belong to them.
SOUTHPORT WOMAN COMPLETES CHINA TREK FOR PARKINSON'S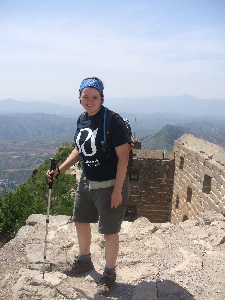 EMMA Cosgrove, from Southport in Merseyside, has returned from China having completed an arduous 80km trek along the Great Wall of China to raise vital funds for the Parkinson's Disease Society (PDS).

From 5 May 2007 to 13 May 2007, 22 year old Emma, who's Grandfather has been living with Parkinson's for 15 years, walked one of the world's greatest historical sites to help raise money for the Society with 36 others, all united in their efforts by their experiences of the condition.

During the Trek China challenge, Emma witnessed the culture and traditional way and life of the Chinese people and had the rare opportunity to hike in a remote part of rural China.
The trek began and ended in China's capital Beijing, and during the 5 day walk Emma visited parts of the Great Wall rarely seen by visitors.

Nursery nurse Emma, said:- "I was inspired to sign up for the trek as I get to see first hand the effect Parkinson's has upon my Granddad, as well as my Nan, who has been looking after him, and the PDS play a vital role in both their lives. So far I've raised over £2,500 through car boot sales and the help of family and friends."

If you are interested in raising money for people with Parkinson's by taking part in a challenge of a lifetime, contact the Parkinson's Disease Society events team...
You can phone them on 020 7963 9319 or email for information about treks taking place in Peru and the Sierra Nevada next year (2008).