Amistad Atlantic Freedom Tour to dock in Liverpool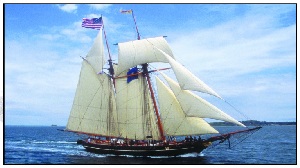 DEPUTY Prime Minister John Prescott unveiled plans for the Amistad Atlantic Freedom Tour, which will stop at three UK ports: London, Liverpool and Bristol. The Freedom Tour will sail into the Albert Docks, Liverpool on 20 August. The epic 18-month transatlantic voyage will commemorate the 200th anniversary of the abolition of the slave trade in the United Kingdom and next year in the United States.

The Amistad Freedom Schooner, a replica of the original ship that was commandeered by its African captives in 1839, will depart on 21 June 2007 from its home port of New Haven, Connecticut and retrace the infamous slave industry triangle. 10 college students from the UK and the US will augment the crew of the Amistad Freedom Schooner when it sets sail from New Haven. A total of 50 students from countries around the Atlantic Basin will participate in the program. They will be linked with students of all ages in shore side schools who will follow the curriculum with age-appropriate studies and live webcasts. Several million students in all are expected to participate via internet and satellite technology.

After a layover in Halifax, Nova Scotia, Amistad will arrive in London in early August before sailing to Liverpool for the opening of the International Slavery Museum and then onto Bristol before resuming its voyage.

The Deputy Prime Minister, John Prescott MP, said:- "The Amistad incident is a truly inspiring story which rightly holds a significant place in the history of the struggle to end the barbaric trade in human beings. It saw white and black people working together to win one of the most important human rights cases of all time. That's why I'm delighted to announce that the Amistad Freedom Atlantic Tour will visit our shores and the former slave ports of Bristol, Liverpool and London. I hope the people of Liverpool will visit the schooner and learn more about this remarkable story."

Midway through its 18-month journey, the schooner will sail into the harbour of Freetown, Sierra Leone, the original West African homeland of many of the Amistad captives. This symbolic "homecoming" will be a landmark event during the tour and will involve church and non-governmental organizations, as well as the governments of Britain, the United States and representatives from the United Nations. It is then expected to arrive in Charleston, South Carolina in Spring of 2008 and visit ports along the US East Coast to mark America's 200th anniversary of the abolition of the slave trade.

David Flemming, Director of National Museums, Liverpool is supporting the Freedom Tour, he said:- "The inspiring story of the Amistad slaves who fought successfully for their freedom is one of the great heroic tales from history. Liverpool was the engine house of the transatlantic slave trade, and the arrival in Liverpool of a replica of Amistad to help celebrate the opening of the city's new International Slavery museum on 23 August is a symbolic and fitting tribute to the bravery of those slaves."

Amistad America, Inc. is an American educational charity that promotes improved relationships between races and cultures through its unique educational programmes. Throughout the tour, the crew and students on board the Amistad will transmit text, images and video from the schooner back to classrooms and participating museums which are located in ports-of-call along the route of the tour.

Amistad America Chairman William Minter said:- "We are pleased that the international community has embraced Amistad's Atlantic Freedom Tour. This tour represents an opportunity to share the values of Amistad-- freedom, collaboration and justice—with communities around the Atlantic Basin with a particular outreach to linking students of all ages."
Birkenhead chef graduates in care home catering first
BIRKENHEAD chef Tim Kernaghan was among the 1st in the country to graduate from the UK's 1st catering course designed specifically for care home chefs on Monday 14 May. Celebrity chef James Martin presented Tim, who is a chef at Anchor Homes' Heyberry House care home on Ashville Road in Birkenhead, with his certificate. He was awarded a BTEC diploma for completing care home provider Anchor Homes' unique catering course Cater Craft. The ceremony was held at Anchor's retirement village Denham Garden Village in Buckinghamshire.

Anchor Homes launched its accredited catering course Cater Craft in March 2006 to replace the Food Preparation NVQ its chefs previously took. Anchor used resident feedback on the meals they most enjoy to help design the 166 recipes in the course.

Care Services Minister Ivan Lewis gave a short speech at the ceremony, congratulating the 29 chefs on completing the course. Care Services Minister Ivan Lewis said:- "It is so important to the dignity and comfort of older people that they are offered food that is attractive and healthy and that people are given a choice of what they eat and drink. One of the issues that came out of a summit, held recently, to look at how to improve nutrition for older people, was the significant contribution that properly trained catering staff can make in this area. This is why I am delighted to congratulate these new chefs on their success in achieving these diplomas. I would like to see nutrition being given the same importance as someone receiving their medication."

Heyberry House Chef Manager Tim Kernaghan said:- "I got a lot out of the course. I used some of the recipes as the basis for my entry into the chef of the year competition and won. I've had a lot of positive feedback from residents at the home who really enjoy my cooking."

Anchor Trust Managing Director of Care Services Jane Ashcroft said:- "This event marks a year of Cater Craft being up and running. The course has been extremely successful so far. It's wonderful to see all these chefs who have worked so hard to complete the course at the ceremony, celebrating their success."
FARTING COWS CREATE A STINK!
FARTING cows, burping chickens and belching sheep have been identified in a new United Nations report as being responsible for 20% of global warming emissions. The finger of blame is pointed at intensive agriculture practised in Britain and other rich nations, where meat is now eaten in vast quantities.

Southport MEP Chris Davies says there is nothing natural about animal emissions on such a scale. He said:- "In the UK alone there are now 10 million cattle, 36 million sheep, 5 million pigs and 145 million chickens. Never before have the numbers been so great, with the majority of animals kept indoors throughout their short lives and treated just as units in a factory production line."

The UN report has identified the world's rapidly growing herds of cattle as the greatest threat to climate, forests and wildlife. The report concludes than unless drastic changes are made the damage done by livestock will more than double by 2050 as demand for meat increases.

Mr Davies, who speaks for the Liberal Democrats on climate change, is calling for more studies by the European Commission into ways of reducing global warming emissions from livestock production. "The simple answer is for people to eat less meat. In most cases that would be better for their health and better for the environment."

Chief Executive Dr, Annette Pinner, of the Vegetarian Society in Altricham said:- "With climate change making the headlines and many people unsure of what they can do to help, going vegetarian is an easy way to lower your own environmental impact and ensure worldwide food security."