Emergency tunnel escape refuges used for first time
Photos and report with thanks to Mersey Travel.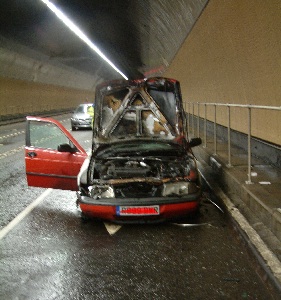 FIVE drivers were on Friday, 18 May 2007, safe and well after being the first to use the new emergency refuges inside the Queensway Tunnel after a car caught fire.

The tunnel police control room spotted the car, a red Saab 900 travelling from Liverpool to Birkenhead, cruising to a stop inside the Queensway tunnel, they called the emergency services and despatched a patrol.

Shortly after the patrol arrived sparks were spotted under the car and the engine caught fire.

The driver of the damaged vehicle, Brian Woods, and his wife Fiona of Burscough, Orsmskirk, used the emergency phone and were guided into the escape refuge entrance just as the fire brigade arrived to tackle the blaze.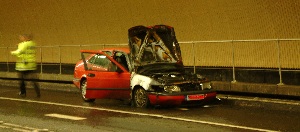 Brian said:- "It was instant. Before we knew it the fire brigade were tackling the fire and we were safe in the refuges, including a lady travelling behind us who was on crutches. There were five of us in total.

Everything went so quickly but it seemed that people knew what to do. We walked down the ramp, into the refuge and the lights came on and there was water for us to drink. We were talking to the control room over a two-way TV and they were giving us advice and letting us know what was going on. Then we were guided out and bought safely back to the surface."

Brian and Fiona were on their way to Amsterdam. Brian added:- "These refuges are a very, very good idea. They certainly worked well for us. We're both shocked and upset about the car, but we're just happy to be safe."

No one was injured in the incident, which started just after 2pm.

Neil Scales, Chief Executive and Director General of Merseytravel said:- "We are just pleased everything worked and everyone is safe and well.

Safety is always top priority for us. The emergency refuges were there to serve a purpose and they have worked. We are totally committed to improving escape provisions to meet the highest modern safety standards.

The Mersey Tunnels have an extremely good safety record and we are spending some £32 million upgrading and improving them to ensure we maintain this record."

The Queensway Tunnel was re-opened at 3.45pm, following an assessment of the road deck, removal of the car and some clear up works.

The £9 million escape chambers, completed in November 2005, brings escape provision within the Queensway (Liverpool – Birkenhead) Tunnel in line with the highest European specifications.

The project comprises seven emergency refuges capable of accommodating up to 180 people in bright and airy conditions. Each refuge is equipped with two-way CCTV communication with the Tunnel Control Room,

The seven refuges are approximately 2.3 metres high, 21 metres long and three metres wide. They are spaced about 180 metres apart with entry via two fire resistant doors on the tunnel verge, which lead to a ramp down to the refuge suitable for wheel-chair users.

A supply of bottled water and an accessible toilet is provided in each refuge together with some seating and all seven are linked by walkways under the road surface.

In the event of an emergency, motorists are directed to the nearest refuge through a public address system while flashing arrows illuminates the entrances and directional noise beacons guide people to the doors.

The refuges are designed to accommodate people for a period of time until staff from the tunnel operator or the emergency services arrive to escort them to the surface or back to their vehicles.

The 2.23-mile Queensway Tunnel was opened in 1934 and is the longest tunnelled estuarial road crossing in the UK. It carries over 11 million vehicles a year.
Traffic Gridlock In City Centre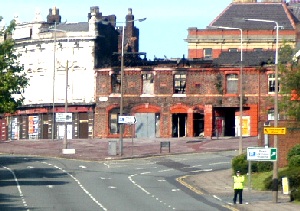 RUSH-HOUR chaos hit Liverpool after a fire in a disused engineering works on the junction of Low Hill and Brunswick Road on the evening of 13 May 2007. This lead to the centre of Liverpool having a danger zone being placed around the area as fire crews tacked the fire. The zone was extended later that night and last week on the Monday (14 May 2007) as four acetylene cylinders where found and had to be cool off before being removed.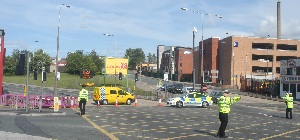 This extended area then lead to the full closures along major routes into the city centre as Merseyside Police alongside Liverpool City Council and Enterprise traffic management battled to keep the rush hour traffic flowing around the A5049 West Derby Road junctions. The building was later made safe and a joint Fire Service and Police investigation into the causes is taking place.
JOHN LENNON NORTHERN LIGHTS FESTIVAL ANNOUNCED
SOME of Britain's greatest artists are to travel to a tiny highland village to pay homage to John Lennon in what will be one of the most extraordinary festivals ever to be staged in the country.

The John Lennon Northern Lights Festival has been endorsed by and will also be attended by several members of the ex-Beatle's family - including his sister Julia Baird.

The three-day festival is being held in Durness, the most north westerly and remote village on mainland Britain, which has a population of just 356.

"John really loved Durness and would be very pleased that his influence was being celebrated with this festival.

I am delighted to be involved in what is a high quality event which has taste and respect at its core. We are all looking forward very much to coming again to a place that meant so much to my brother." said Ms Baird, who will be taking part in the festival.

Tickets for the festival, which is being promoted by North Highland Tourism, was released Satuday 19 May 2007 on www.northhighlandsscotland.com/festival/ .

Durness was an area that greatly inspired Lennon - he spent his childhood holidays between the ages of 9 and 13 in the village - returned with his son Julian, wife Yoko Ono, and her daughter Kyoko in 1969.

Lennon also asked relatives shortly before his death in 1980 to try and buy Durness! The village is also said to be part of the inspiration for the seminal song In My Life.

Now The John Lennon Northern Lights Festival will be officially highlighted today (Sat, May 19) by the acclaimed Liverpool playwright Alan Bleasdale, who created the iconic tv series The Boys from the Blackstuff.

Mr Bleasdale will make only his fourth public appearance in the last 15 years to travel to Durness to work with local writers based in the North Highlands.

"Having held The Beatles in considerable awe most of my life, especially John Lennon, I am really delighted with this festival, especially knowing John's connections with the highlands." said Mr Bleasdale.

The announcement has been timed ahead of next month's 50th anniversary of Lennon's first public appearance and the 40th anniversary of the iconic Beatles' album Sgt. Pepper's Lonely Hearts Club Band.

Despite its remote location, over the last three months some of the country's top artists have committed to coming to Durness and villagers sworn to secrecy - until the big day that was held on 19 May 2007.

And festival organisers are promising even more surprise "major" announcements between now and the festival which will be held between 28 September 2007 and 30 September 2007.

But festival director Mike Merritt confirmed that Sir Peter Maxwell Davies, the Queen's Master of Music, will lead lead the classical programme and present a world premiere of a Beatles Prom with the Royal Academy of Music, supported by the quartet Eclipse.

One of Scotland's rising singing stars, Julie Fowlis - who last year won Radio 2 newcomer of the year and is hailed by Sir Bob Geldof and Ricky Gervais among others - and Blazin Fiddles are part of the traditional music section.

Chart toppers Nizlopi, who had the number one hit The JCB Song, the brilliant King Creosote and Mr Hudson and The Library - one of the hottest new bands around - are among the contemporary acts.

Up and coming bands from Scotland, Merseyside and elsewhere will play from noon to midnight in one of the festival's ten venues - while Britain's only mobile cinema, Screen Machine will feature Beatles' films!

Some of the country's leading poets including Carol Ann Duffy - described as "Britain's greatest living poet" - rising Scottish star Kevin MacNeil, Michael Horovitz, one of the last legendary Beat poets left who knew John Lennon - and the outrageous punk poet John Cooper Clarke, who inspired The Arctic Monkeys, will all be taking part.

One of Britain's leading painters Peter Howson - the official war artist in Bosnia - will stage an exhibition of Lennon with Frank McFadden, rated Scotland's best young painter.

The Jazz programme on Sunday, 30 September 2007, will also feature two of the country's top performers in Joe Stilgoe and Todd Gordon.

The writer and poet Alastair McIntosh, who has inspired Radiohead's Thom Yorke among others, is also taking part. He will also be rapping with Nizlopi in Britain's biggest sea cave, Smoo Cave.

Authors include Beatles' expert Steve Turner - who is also a well-known children's poet - and has sold over 1 million books.

John's oldest surviving relative, Stan Parkes - who shared his holidays with his famous cousin in Durness - will be taking part, as will other members of his family. In an unique event members of the public will be able to ask Ms Baird and her relatives all about their times with John.

Even the festival's shuttle bus will be driven by Iris Mackay, one of John's old Durness play pals - who will tell passengers about her times with John as she transports festival goers!

Many more artists will be revealed over the next few weeks. "John would be both delighted and surprised that he had inspired such a great festival in a part of the world he loved." said Mr Parkes.

"This is not about exploiting his fame, it is about celebrating his inspiration - and that is why so many leading artists and John's family have supported and endorsed the event.

John was more than a musician - he loved painting, drawing and writing in Durness and that is also well reflected in the festival's arts. Few places meant more to John than Durness. It was often when he was at his happiest.

The residents of Durness also hugely welcomed the festival - which has been financed by HIE Caithness and Sutherland - and hoped it would become an annual event.

The Durness community will make every effort to give a real highland welcome to the many visitors that are expected, and will offer whatever help and assistance is required to make the event a roaring success and hope that it will become the first of many." said Mary Mackay, chairperson of Durness Community Council.

The only permanent memorial to John Lennon in Scotland is in Durness in the form of a memorial garden - and the village also has a bookshop which has just published a novel based on John's links to the area. Its author, the politician Michael Russell is also appearing at the festival.