THE NIGERIAN SCAM EXPOSED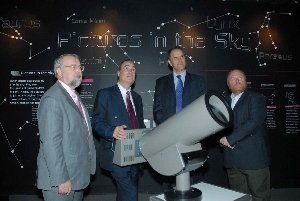 THE Transport Minister Stephen Ladyman visited Spaceport Wednesday 23 May 2007 as part of a whistle stop visit to the region.

Stephen, Minister of state for Transport with responsibility for road safety, regional strategy and growth and shipping and ports, took time to look around Spaceport, the UK's most modern space-themed visitor attraction.

Spaceport is based at Seacombe Ferry Terminal and is just one of the attractions Merseytravel has created to continue to boost the visitor experience of the Mersey Ferries and keep them as the regions most popular paid for attraction.
It's Back! The Southport International Jazz Festival

SEVEN years on and the Jazz Festival in Southport just gets better and better. A representative from Sefton told us that:- "Since winning Best Event of the Year at the Mersey Partnership Annual Tourism Awards in 2003, the Festival has continued to grow and gained a successful reputation amongst visitors to the event and musicians alike. Appearing this year are gypsy jazz guitarist Angelo DeBarre, Courtney Pine, Liane Carroll, Sierra Maestra, Cuba's leading son group, Gilad Atzmon presents Artie Fishel and the Promised Band, Munch Manship, Fatchops and the Zappatistas featuring John Etheridge. So it will be one to remember! It is also Ninety percent of the concerts are Free."

Yep, this years event will be over 4 days and 4 nights with 25 venues taking part and 65 gigs with 175 artists... Southport will be the place to be!
Shop for Jobs Scheme Launched
THOUSANDS of jobs are being created in Liverpool's booming retail and leisure sectors. Now, shops, hotels, leisure and tourism businesses in the city centre are to benefit from a new recruitment and development service – Shop for Jobs.

Shop for Jobs supports employers to meet their staffing needs. This new initiative brings together the agencies currently dealing with employment and training in the city to work with the businesses to help them best meet their recruitment and training needs. The project will be officially launched at a business breakfast in Liverpool Town Hall on Thursday 24 May to be addressed by Council Leader, Cllr Warren Bradley.

Cllr Flo Clucas, Executive Member for Economic Development said:- "Liverpool is booming as a shopping destination with developments such as Liverpool One, the Metquarter and Central Village. With developments such as ACC Liverpool there will be an increasing number of visitors to the city. And, of course with 2008 looming large there will be a huge influx of tourists for the Capital of Culture. It all adds up to a huge increase in the numbers of job in these areas – with up to 8,000 being created. Added to this is the natural turnover of vacancies in existing businesses and there are big issues facing employers in recruiting the right calibre of staff. Shop for Jobs will help them in all aspects of staff recruitment, training and retention. It is clear that there is a need for this initiative and I am sure employers will welcome it."

Shop for Jobs will be based in a city centre location and will provide free business advice on recruitment, training and workforce development; matching clients to jobs; retention and progression initiatives. Training will be tailored to meet the needs of individual employers. The 15-strong team will also advise on how to access additional funding which may available. They will also focus on ensuring that those people who will benefit from the jobs and training opportunities include those currently at a disadvantage in the labour market.

Staff for the team will come from a range of organisations including The People Pool, Jobcentre Plus, Connexions and JET. Other partners include the Learning and Skills Council, Centre for Vocational Excellence, Liverpool Community College, training providers and the Culture Company.

Shop for Jobs can be contacted on 0151 233 5465