Letters To Editor:- "Pleasureland Is Now Being Demolished!"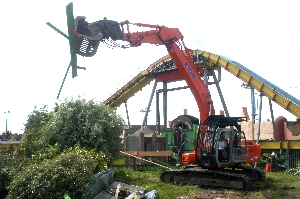 "A few weeks back I emailed your newsroom asking if the if Pleasureland was to be demolished. I know you have asked, but you did not post up a reply last week...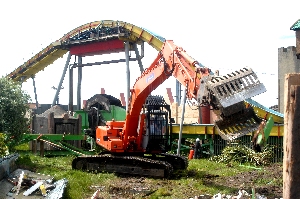 I have now seen yet another landmark on Pleasureland being bulldozed, the old water ride on the car park. I have been told that all the buildings and rids on the park will be flattened before the summer.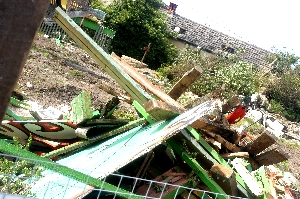 I have also been told that this is to make way for a large development, a new US style amusement park... Is this information correct?" Stephen. (Related reporter link.)

Editor's note:- "Thank you for your email. Sorry we can not confirm this information at this point in time. We will bring you news as soon as we can."
The Ship & Anchor Closed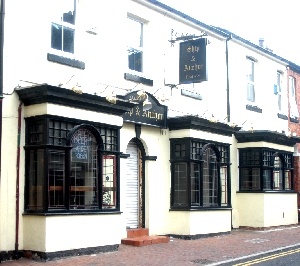 ON 21 May 2007 the well loved pub on Cable street was closed for trade. The pub has grown popular for being a safe and friendly establishment, but sadly this did not pay the bills and the pub has been forced to close. It is hoped by many of its staff that they can rescue it, and they have the backing of most of the regulars, as expressed on the pubs myspace page.
The forum pages has this message on it:- "Well.. unfortunately everything has not gone according to plan.. Its a sad, sad day.. Thank you to everyone, it was everyone who came to the Ship that made it so special. We're sorry it had to happen, it was out of our hands.. I will add loads of photos on the page and in the albums over the next few weeks, I have hundreds of randoms, so you should have them too. Itd be great if people could upload some of theirs in their photobuckets or something to link to or whack some in here aswell.
Keep in touch. We'll miss seeing you every day! Because we love you. You unwanted, low-life, pisshead bunch of hippies! And don't let anyone ever tell you otherwise. It's been amazing xXx"
From all of us at PCBT Photography:- "It is a loss for the nightlife community and the people of Southport that a pub, that was run in such a good manner by its staff has had to close. Good Luck and sorry to hear the bad news. We hope you will find a way to re-open again soon."
Shaun In Southport!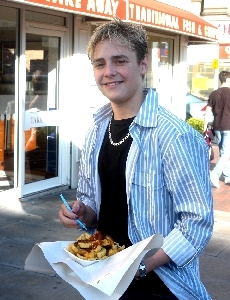 ON 25 May 2007 we caught up with Shaun who was performing at the Southport Theatre.
We asked him if he liked Southport, "Yes, I do. I came here as a kid to the funfair. It is sad to see that it has gone. But Southport still does fantastic fish and chips!"
His debut album is now out, called "Right Here Waiting" and you can find out more about him by logging onto shaunofficial.co.uk.
New York, New York service takes off from JLA
Report with thanks to Liverpool John Lennon Airport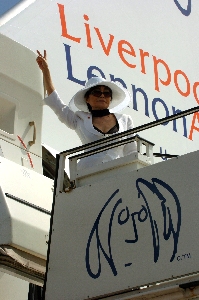 YOKO Ono on 25 May 2007 visited John Lennon Airport once again to join in celebrations to mark the departure of the first scheduled airline service from Liverpool John Lennon Airport to New York.

Ms Ono joined invited guests, Airport Management and passengers to celebrate the departure of the inaugural Flyglobespan flight to New York's JFK Airport. The aircraft used by the airline on this route has been specially painted with the Airport's logo including the famous self portrait drawing by John Lennon and the strapline "above us only sky". The aircraft has been named 'Across the Universe', following a suggestion by Ms Ono who was on hand to cut the ribbon at a special ceremony at the aircraft steps ahead of the first passengers boarding the flight.

Ms Ono, who has attended the Airport on a number of occasions following the rebranding to John Lennon Airport in 2001 said:- "As you all know, John had a tremendous fondness for both of these cities. He would have been delighted that there is now a direct flight between these two historic cities - across the Universe, so to speak. It's a great day for both Liverpudlians and New Yorkers. Best wishes from me to you. Yoko."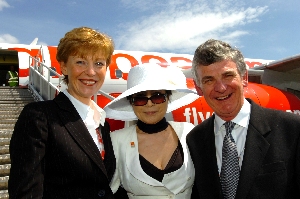 Robert Hough, Chairman of Peel Airports said:- "We are delighted that Yoko Ono could join us today in celebrating this important connection from JLA. Liverpool and New York already have strong, historic links established through many years of maritime trade. The Port of Liverpool, also now owned by Peel, is currently the top UK port for UK-USA and UK-Canada container trade. Today opens up new opportunities for Liverpool and the region and it is fitting this has taken place in the 800th anniversary of the City of Liverpool. Many US tourists are already attracted to the region and all it has to offer and we are pleased to strengthen this link further today in the run up to the City's Capital of Culture celebrations."

The first airlink with New York from Liverpool takes off almost 100 years to the day that the first passenger sea link departed from Liverpool.

The Adriatic was a 25,000 tonne passenger ship belonging to the "White Star Line Steamers" fleet. Carrying 3,000 passengers and taking several days to reach New York, today's flight is a milestone in Liverpool's historic links with New York – and a testament to modern technology with a flight time of only 6 hours and all modern comforts for passengers.

Tom Dalrymple Chairman of Flyglobespan said:- "I am immensely proud that Flyglobespan is linking two such exciting cities. I am very pleased that we are able to offer such competitive fares on our daily scheduled JFK route allowing the people of Liverpool to enjoy one of the world's most exciting and dynamic cities flying from their local airport."
Letters to the Editor:- "A HUGE THANK YOU - Southport Weekender 40th Birthday!"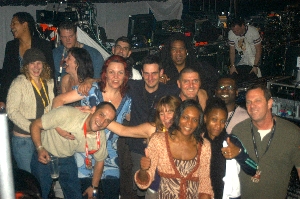 "IT does not seem that long ago, but it is now 20 years on and 40 memorable events. Well what can we say? With all the hype and build up to our 40th Birthday Weekender we certainly felt under reassure to deliver the goods and often in situations like this it's impossible to meet these expectations.

However we hope that those of you in attendance agree it was, to put it in true Geordie words "A Belter".

We'd like to thank all of you for your continued fantastic support and energy, as well as all the Southport gang from the superb production team to the caterers, security, amazing live artists, sponsors and the DJ's - brilliant. We also like to thank you all for your humbling letters and emails.

Now lets move on to the next 40 with as much passion as we've always shown. Just like yourselves we can't wait for November to come round. Every one gives us a new lease of life with your fantastic backing.

One thing we can say is that we'll be striving as always to bring you the strongest, freshest line-up and production possible and as always we welcome your views so please ask your readers to email us." Southport Weekender Team.

Editors note:- "Thank you for putting on such a fantastic event. We look forward to the continuation of your 20th Year Celebrations with the Southport Weekender 41. Your event is a true credit to the area and always one of our highlights to cover in a year."
Click here to see last weeks report and here what people said about the 40th Weekender!