Samaritans Trains Frontline Staff in Understanding Self-Harm
SAMARITANS, the emotional support charity, is launching a new training course to help frontline staff who come into contact with people who self-harm. Samaritans' training will dispel some of the common misunderstandings about self-harm and equip staff with the skills to provide the relevant support to self-harmers whilst also managing their own feelings.

Self-harm is a problem that affects every age group and it can be difficult for staff such as teachers, social workers, medical receptionists, information advisors, guidance workers, probation officers or voluntary workers to know how to cope with situations in the best way.

1 Nearly half the population knows someone who has self-harmed
2 Self-harmers are 100 times more at risk of suicide than the general population
3 1 in 10 young people self-harms
4 Every year 170,000 people are admitted to hospital as a result of self-harm
5 1 out of every 100 people seen at hospital for self-harm will take their own life within the next year

Many self-harmers actually choose not to seek medical help, so the numbers attending hospital are only a fraction of those who actually do self-harm. Research underestimates how common self-harm is, but surveys find that it is becoming a widespread activity which puts front line workers under increased pressure both physically and psychologically.

Samaritans External Training Services Co-ordinator, Jonathan Moran said:- "Our course will dispel the common misunderstandings about self-harm and provide those attending with the skills and confidence to respond effectively. The day long course is aimed at frontline staff."

Steve Tollerton, Samaritans External Training Officer said:- "Self-harm is a term often used to describe non-fatal self poisoning and self-injury but some of us harm ourselves in less obvious, but still serious ways. We all have times when we behave self destructively, perhaps by over working, binge drinking, over eating or starving ourselves, to avoid dwelling on our thoughts and feelings. These can also be considered self-harming activities."

Zia Forrai, 18, was a self-harmer whilst he was at school. He said:- "A lot of emotional trouble I was experiencing was due to problems I was having at home and school which led to me self-harming. At times I went to teachers to ask for help but I didn't always feel they knew how to deal with the situation, there was always an awkwardness and even the school counsellor didn't seem to me to have the proper training in how to talk to an individual one to one, particularly about self-harm.

I came to self-harming as a way of releasing pent up frustration which had to do with my own emotional turmoil, which I couldn't find a reasonable outlet for, and externalised what I felt. I did it so my friends would notice what I was feeling inside."

Samaritans has the support of Lloyd's, the world's leading, specialist insurance market and Lloyd's Charities Trust is providing a self-harm training bursary for schools. Lloyd's Community Affairs Manager Vicky Mirfin said:- "Lloyd's Charities Trust is delighted to work with Samaritans to make a self-harm bursary available to schools – equipping teachers, parents and other professionals with the confidence and skills to address the serious issue of self-harm in the school community. "

In developing the course Samaritans consulted with the mental health charity Bright. Marion Janner, Director of Bright, which runs the mental health project Star Wards, said:- "I'm a very appreciative user of Samaritans' services because of my self-harming and suicidal behaviour. I was delighted to be asked to contribute to their new course on self-harming. It's great that Samaritans is running it."

By the end of the course participants will be able to:-
* Recognise what self-harm is
* Understand some of the reasons why people self-harm and the difference between self-harm and a suicide attempt
* Listen for feelings as well as meaning
* Gain new information through effective questioning techniques
* Use support to minimise stress

The launch of Samaritans' course for frontline staff represents an extension of the workplace training that Samaritans provides. Last year the charity launched its WorkLife courses, aimed at reducing the impact of stress in the workplace and equipping managers with practical skills to support an emotionally healthy and effective work place. The WorkLife CD-ROM, an interactive version of the WorkLife course, recently received the gold e-learning award from the International Visual Communication Association.

To find out more about Samaritans work place training:- log on to www.samaritans.org\training or email or phone +44 (0) 20 8394 8372 for a copy of our workplace training directory.
EPILEPSY AWARENESS EVENTS IN LIVERPOOL
Report by Dionne Ankrah.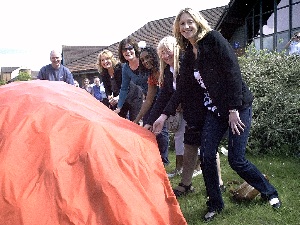 MEMBERS of charity Epilepsy Bereaved turn epilepsy tragedies into positive action for National Epilepsy Week 19 May 2007 to 26 May 2007 by organizing events in memory of loved ones who passed away from SUDEP (Sudden Unexpected Death in Epilepsy). The 1st event, a school reunion held on Saturday 19 May 2007 in memory of Carolyn Sandland who died of SUDEP, was hailed a success.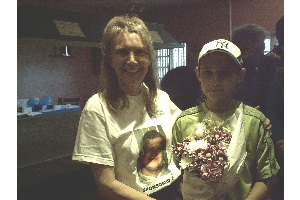 The day started off with Carolyn's school friends and teachers from Woolton County Primary School and Gateacre Comprehensive School coming together after not seeing each other for over 15 years, entertainment was kindly provided by pupils of Gateacre Comprehensive School band who were accompanied by music teachers Andrew Wheatcroft and Mark Newns. The young musicians, Michael Durkin, Jonathan Kennedy and Andrew Graham performed with exceptional music ability with vocals from talented Shaunnagh Durkin.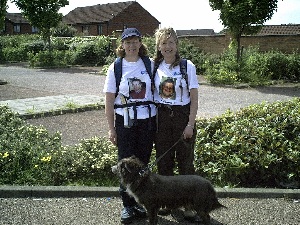 Most importantly the day ended by raising awareness of epilepsy, with talks from an epilepsy nurse and Sally Gomersall, education and awareness manager of Epilepsy Bereaved. Money was raised from a raffle with prizes donated from local businesses in Liverpool. Balloons were sold for a balloon race with the balloons being released on Sunday 20 May during a welcome reception for Hilary Baldwin and April Mills. The 2 women walked the Leeds to Liverpool Canal in memory of their sons who died of SUDEP. They ended their 127 mile walk at the Eldonian Village Hall. The amount raised so far for charity Epilepsy Bereaved is over £700.

Epilepsy Bereaved is a small charity which relies on its own members to fund its work, such as education and awareness, funding research and lobbying for improved medical care for people with epilepsy. For more information and support, or if you would like to make a donation contact Epilepsy Bereaved. www.sudep.org.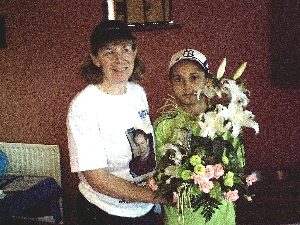 Liverpool Lighthouse; the UK's first dedicated Urban Gospel Arts Centre......
THIS year one of the Urban Gospel Arts Centre's projects will be "City Sings Gospel" and is spearheading an Amazing Grace Festival, supported by the Liverpool Culture Company Ltd. to mark the 200th anniversary of the abolition of the transatlantic slave trade and the 800th birthday of the city. The festival was launched in February with the pre screening of Walden Media's film Amazing Grace.

The highlight of the festival is a Waterfront Gospel Music Festival that includes a Gospel Concert on Saturday 16 June 2007 and a Transatlantic Memorial Service on board HMS Albion on Sunday 17 June 2007.

This is one event to make a note in your diary about.