FREE KITS AT NEW 6-A-SIDE LEAGUE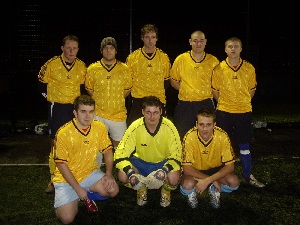 FREE kits are to be given to all new teams that enter the new league starting at the Birkdale High School in Southport in a sponsorship deal arranged by league organiser's soccersixes.
The league which starts early June which will be held every Thursday will have now 16 teams participating, there already has been a big response from new teams and people in the area but as the league has been extended there are still spaces available.

Soccersixes Christopher Sockett commented on the deal:- "We are extremely pleased to have secured a sponsorship deal to enable all our teams to have free kits for the league.
It means that when teams join they will get a free kit that they can not only play in our league with but also take home and do what they want with it!
The league will provide each team with a kit thanks to our great sponsor who we are very thankful to for the deal.
We have been working for months in talks with our latest sponsor for our teams and gladly now we can relax and give our teams the kits.
The league will have a state of the art website where teams can look at there league tables, fixtures, top players and view there opponents pictures and things.
The website will be updated daily."

There is no entry or registration fee to play in the new Soccersixes league, the league will be refereed by qualified officials, all equipments such as balls, kits, bibs and everything will be provided. Any standard of teams are welcome to the league. There will be 2/3 division of 8 teams playing for promotion etc.

Teams that win there division or finish runners up will be invited to Soccersixes national tournament which will have the top 300 teams from Sixes 150 leagues throughout the country competing at a venue in the Midlands to determine the top team in the Sixes network of leagues. The team that wins the tournament will then go through to an international tournament in Spain and will be fully sponsored all expenses paid by Sixes!

Sixes National Tournament organiser Paul Jones expressed his delight at taking a team to Spain to play in the international event:- "We will be taking next year our best team from our network a team to the international tournament. It will be an all expenses paid holiday and tournament for a best team.
We plan for the national sixes team to visit all our leagues across the country next year and play challenge matches against all teams!"

New teams wishing to join the league and get a free kit when they join can contact soccersixes on 07717 845223 or leave there name, address and telephone number on the new team enquiry line 0870 33 00 888 for an information pack.
Also teams can email there details.
GENESIS PERFORMING 'LARGER THAN LIVE' AT YOUR LOCAL VUE CINEMA
FRONT row seats for cutting edge HD live 5:1 Dolby Digital Sound broadcast across UK. Vue Cinemas are giving Genesis fans the unique chance to see their heroes perform on stage broadcasting the band's sold out Düsseldorf gig live across the UK.

Thanks to Vue, disappointed fans who missed out on tickets for the sell out 'Turn it on Again' world tour will get front row seats for the 27 June set. Over 11,000 seats are available at more than 40 cinemas from Aberdeen to London's West End for £10-£25 each. HD quality images and Dolby Digital 5.1 surround sound, mixed live by Nick Davis the band's Producer, will immerse Vue audiences in the excitement and atmosphere of the event as it happens. Fans will be treated to the added bonus of exclusive access all areas footage with a pre-show behind the scenes feature. All this in the comfort and luxury of spacious, stadium seating conveniently located at local multiplexes.

The live broadcast is the first from multiple UK wide cinemas and has been made possible by Vue, Genesis and Dolby in partnership. It follows Vue's previous limited but highly successful public and private screenings of music from Queen, Green Day, Pink Floyd, Morrissey and Live 8. Vue is planning a pioneering programme of future live simulcasts to include international football matches, major music concerts and interactive gaming exhibitions. Tickets for Genesis go on sale imminently and can be purchased at www.myvue.com or by calling 08712 240 240 or directly from participating cinemas.

Mark de Quervain, Sales and Marketing Director for Vue Entertainment said:- "This is an exciting development for Vue and a great new offer for our customers that we think will be a big hit.
It's a statement of Vue's intent to deliver an increasing variety of programming that will reinforce our position as an entertainment destination of choice for people across the UK with the added bonus of the comfort and facilities of our state-of-the-art cinemas.
We're delighted to launch this new offering with Genesis, one of the UK's finest rock acts, because they appreciate and support the pioneering approach that we're bringing to local audiences and our aim to diversify our entertainment offering.
We hope to continue this programming in future to achieve regular music screening events, both live and pre recorded to the public by working with talented groups and bands, music companies and promoters to Vue's screens nationwide."

An on-site mobile recording studio will bring the band's live set in Düsseldorf to the big screens of Vue cinemas in the UK creating a faultless audio-visual experience. The Dolby Digital surround sound mix includes extra microphones dotted around the LTU Arena to capture the full atmosphere of the crowd and an array of state-of-the-art speakers in each Vue cinema to ensure fans are wrapped up in a full surround soundtrack.

Tony Smith, Genesis' Manager said:- "Given that many people couldn't get tickets as the shows in Twickenham and Old Trafford sold out in two hours, this gives us a unique opportunity to reach many disappointed fans throughout the UK.
With the help of Vue's technology we hope to be able to bring the fans a unique live experience in their local theatres.
We are really looking forward to our appearance in Düsseldorf, for it will be here where we will be playing to a combined potential audience of over 100,000 in Germany and the UK".