1st new units roll on City Line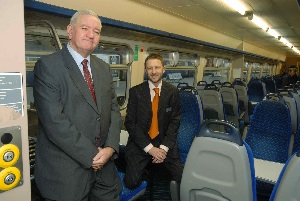 BIGGER and better trains began operating on the busy City Line last week and Cllr Mark Dowd, Chair of Merseytravel, was one of the first to try them out.

Merseytravel is funding the trains thanks to a complex deal with Northern Rail and Angel Trains, the leasing company who own them. The move sees 4 older "pacer" trains replaced with 6 bigger, more reliable "sprinter" (Class 156) services. The deal means an extra 250,000 seats every year on the City Line.

It was set up in record time and was planned to help tackle pressures of rising peak-time passenger numbers on the line and the expected influx of visitors for European Capital of Culture and beyond. 6 busy commuter services in the morning peak and 6 in the evening peak will benefit from the investment with some services increasing from 2 to 4 carriages. The bigger sprinter trains will operate along the City Line during off peak times as well meaning benefits throughout the day.

Councillor Mark Dowd, Chair of Merseytravel, was on one of the first trains out of Lime Street on the City Line and he said:- "We are delighted to have completed this deal so quickly and to see the trains operating already. By getting these trains on the line we are helping to ease the pressures of rising passenger numbers. Plus it gives us the extra capacity we are going to need for 2008 and the rejuvenated Liverpool City Centre. This is our commitment to the people who use this service regularly and, from today, we hope they will see the difference this investment will make."

The larger trains will work many off peak services on the St Helens line, but services to Manchester Victoria and Manchester Oxford Road will also be strengthened.

Neil Scales, Chief Executive and Director General of Merseytravel said:- "We want passengers to enjoy using rail services and to see public transport as a good option wherever possible. The extra investment we have made on the City Line is intended to support that. We are improving services on the rail network wherever we can, for example the investment at St Helens Central Station. By doing this we are helping to attract new passengers all the time so we need to make sure we have the capacity and quality of services to ensure they are adequately provided for."

Heidi Mottram, Managing Director, Northern Rail commented:- "We are delighted to have secured the additional trains for the City Line, enabling us to provide more capacity for passengers as demand for our services continues to grow.
The introduction of additional trains to help us to meet that demand demonstrates the positive impact that working in partnership can have on improving the services we provide to our customers."

Around 7 million passengers use the City Line every year.
The number of passengers rose by more than 4.5% last year alone.

City Line services operate between:-
* Lime Street – LSP – Warrington – Manchester Oxford Road
* Lime Street – Huyton – St Helens – Wigan – Preston/Blackpool
* Lime Street – Huyton – St Helens – Newton – Manchester Victoria
ARRIVA going for gold in hunt for future stars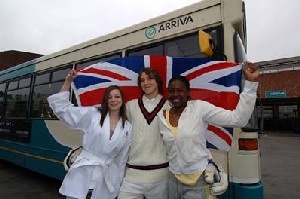 ARRIVA launches appeal to find stars who will fly the flag in the future. Arriva North West and Wales has launched an appeal to find the country's sports stars of tomorrow and would like to hear about potential candidates in Liverpool.

As part of its continued commitment to the local communities it serves, Arriva's Star of the Future appeal will reward the outstanding sporting achievements of the UK's under-16s. From running to rowing, gymnastics to golf, karate or swimming, the sporting categories are endless. The nominations are completely down to the public.

As well as a year's free bus travel, Arriva will also provide financial support to the most talented children for an entire year. This support could range from covering the costs or training and tuition, to buying much needed sports equipment.

Nick Gordon, marketing manager, said:- "Star of the Future is a fantastic way to encourage and support grass roots sport in the UK, especially with the next five years being so important for our athletes. Arriva is searching for real sporting talent amongst children aged 16 and under in a bid to unearth potential British sporting stars of the future. If you know a budding Sally Gunnell, the next Steve Redgrave or an Amir Khan in the making, get in touch and place your nomination now. Additionally, if you are under 16 and have achieved great success at a junior sports level, Arriva wants to hear from you."

The deadline for candidates to get in touch with Arriva is 16 June 2007. The Arriva panel will then select one winner who will be crowned North West and Wales Star of the Future.
If you would like to nominate someone for Star of the Future or if you would like to put yourself forward, please email or call 0845 270 1660 explaining why.
Heads up! Look out for this years - Brouhaha International Street Festival...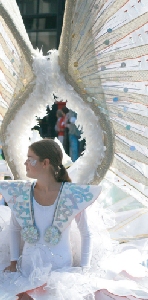 THIS years Brouhaha International Street Festival returns from the 18 July 2007 to 6 August 2007. The festival is set to take the North West by storm with a stream of groundbreaking arts events including carnivals, street festivals, creative art workshops, international performances and cross-community art projects. Singers, dancers, musicians, carnival artists and other world class entertainers will be joining Liverpool's vibrant local communities in what promises to be a highly memorable program of events. It is set to attract over 200 performers from Europe, Africa, Asia and America. The Caribbean and Far East - along with the finest arts Merseyside has to offer, this years Brouhaha has something to offer all the family.

The festival will start with a spectacular live show at the Liverpool Philharmonic Concert Hall on Friday 20 July 2007. This years highlight will be the Liverpool International Carnival, that bosts the largest multicultural parade in the region. It will take place on the 4 August 2007.
It will weave it's way through the city centre into the heart of Toxteth and then into Princes Park.