'ROCKIN' ON HEAVEN'S DOOR'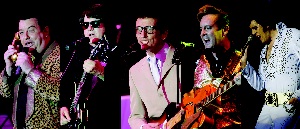 SOUTHPORT take note! 'ROCKIN' ON HEAVEN'S DOOR' reaches its special milestone this year, touring the U.K. for 10 'ROCKIN' years, bringing sheer enjoyment to everyone who sees this uplifting show. As one lady from Gwent recently commented, 'at 63 years old, this is the best show I have ever seen in South Wales and I can't wait to see it again'!

Back in 2004, the show reached new heights with a ground-breaking tour of Europe. Ever since then, it has returned many times, gaining a whole new following of Dutch, German and Austrian fans. During the same year, 'ROCKIN' ON HEAVEN'S DOOR' took King's Lynn by storm, performing before a 10,000 strong audience in the Tuesday Market Place Square for the town's popular annual event, Festival Too. This marked the beginning of many successful, big outdoor events.

Each year, ROHD plays to an audience in excess of 2,500 at The Edinburgh Playhouse where the show has a phenomenal following of Scottish fans. ROHD has also appeared on Ulster television, in the New Year's Eve edition of The Kelly Show, and more recently, ITV1's new quiz programme 'THE MINT'. In their review of all the summer shows at Blackpool, Stage Magazine said that top honours must go to 'ROCKIN' ON HEAVEN'S DOOR'.

The line-up consists of Steve Halliday (Eddie Cochran), Dave Wickenden (Buddy Holly), Barry Steele (Roy Orbison), Richard Atkins (Elvis Presley) not forgetting guest star, Jerry Lee Lewis (Darren Green) with his amazing 'flaming' piano. After Jerry's 'Great Balls Of Fire' there is no one better than leather-clad heart-throb Eddie Cochran who has the ladies eating out of his hand with the classics, 'Twenty Flight Rock' and 'Hallelujah, I Love Her So'. Steve Halliday's mastery of the guitar is somethin' else. He is followed by 'Buddy Holly' who skips his way energetically across the stage wielding his Fender Stratocaster with style - he gives an animated performance full of life, oozing vitality and energy. Closing the first half of the show to thunderous applause, is 'Roy Orbison' with his spelling-binding rendition of 'Crying'.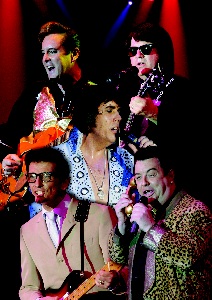 2001 heralds The King, (Richard Atkins) who strides on stage to dominate the 2nd half with his reincarnation of 70's Elvis. 'During an utterly memorable 'Love Me' Elvis set off round the theatre with the roving mike, shaking hands and giving away scarves to the fans, including one lady who I swear would have climbed over the heads of the rest of the audience to give him a kiss!' (Guide & Gazette - Broughty Ferry). Towards the end of the show, the four legends appear together for their breathtaking version of 'American Trilogy' in a dream supergroup finale guaranteed to leave the audience asking 'When will they be back?'

At the heart of the show is the band, the engine room and the driving force behind the singers. These are musicians of the highest calibre who must play in four different styles to accompany each distinctive performance. This show is a totally live Rock 'n' Roll triumph - without doubt, the sound achieved by the ROHD sound crew is nothing short of studio quality.

As Fordyce Maxwell from 'The Scotsman' newspaper commented, 'They should put a night like this on prescription and it would save the National Health Service a fortune!' Mike Elliott of the BBC recently enthused, 'It was so good, I had to ponder how long it would be before there were tributes to this tribute!'

A performance at The Empire, Liverpool saw 1500 fans give a standing ovation during the finale. After all, where else can you get to see Elvis, Roy, Buddy and Eddie Cochran all on stage at the same time! Close your eyes and you really will think you're 'rockin' on heaven's door!'
It will be at the Floral Hall in Southport on Friday 15 June from 8pm.
Tickets are:- £15.50, £14.50 & £10. Call the box office today to book your tickets on:- 0870 6077560
Literature and Life
A UNIQUE new MA course in reading in practice is being launched in Liverpool this September. The University of Liverpool's English department has developed the 2-year part-time programme, which investigates the role of literature in bibliotherapy and health.
"The subject of literature is not meant to be academic, it's about the lives, troubles, possibilities, hopes and stories of human beings." – Professor Philip Davis, course director.
This MA asks, if literature takes life as its subject matter, what practical relation do books have to the lives of those who read them? And what does reading really offer to people? Course director Philip Davis argues that, "Good novels and perceptive poetry are far better than self-help books, or taking pills to make you feel better. For many people Poetry is far better than Prozac."
The course, MA Reading in Practice, 2 years, part-time, Thursday evenings 6pm to 8pm, runs from September, fees £975pa (approx), 15 places available. For further information, contact Trina Houghton, School of English, Liverpool University, can call on 0151 794 2771; or email at trinah@liverpool.ac.uk.
Bad breath a stinking problem for couples and colleagues
1 IN 5 people believe that their partner has bad breath according to a new UK-wide dental survey. The National Smile Month Survey, commissioned by the British Dental Health Foundation in association with Healthplan provider HSA, found that 20% of people would describe their partner as 'having bad breath' – and the result was the same for both men and women.

Dr Nigel Carter, chief executive of the Foundation, commented:- "Bad breath can be a real turn-off for both sexes so it must be a worry that so many people are noticing it in their partners. With a further 42% revealing they have friends or colleagues with bad breath it seems that this is still very much a common problem. Although there can be other causes, such as spicy foods and some medical conditions, most bad breath is the result of poor oral hygiene. People need to brush their teeth twice-a-day with fluoride toothpaste, cut down on how often they have sugary foods and drinks and visit the dentist regularly, as often as they recommend.

With the survey's findings that the majority of people wouldn't risk their friendship by telling someone they had bad breath it seems that people need to find out for themselves. Try the 'lick and sniff' test to see if your breath smells. Simply lick the inside of your wrist, leave it for a few seconds and the sniff. If the smell is unpleasant the chances are your breath is too."

The survey was commissioned to mark the 31st National Smile Month. The campaign will run until June 12 under the tagline 'Two Minutes Twice a Day'.

"It's clear from the survey that the UK breath is not as fresh as it could be. However, some areas are fresher than others, with Edinburgh topping the list for minty mouths and Cambridge at the bottom," comments Abby Bowman from HSA. "Regular trips to the dentist are vital for all-round good oral health. And, if you're are worried about the cost, a range of funding options are available."
Home Buyers Search Out A Bargain
HOUSE buyers in Liverpool – one of the country's property hotspots - are being given a helping hand with its fees for property searches being reduced. The City Council has cut its fees for searches from £165 to £101. Both residential commercial property will benefit. This move follows a review of fees after the introduction of a new, computerised system over the last 2 years which is now providing a faster, more cost-effective and responsive service with full searches being turned round within 3 to 5 days.

"With the introduction of the computerised system we are able to reduce our costs as well as providing a better service.
Now that the system has bedded in we have been able to streamline it further and with the efficiencies we are making we can pass further savings on to house- buyers. House prices in Liverpool have been soaring over the past few years as more and more people find the city an attractive place to live in and while it shows that the city is booming it also means house hunters – especially those trying to get on the property ladder have to pay out more. So we are only too pleased to do anything we can do to help them especially with the proposed introduction of Home Information Packs." said Cllr Keith Turner, Executive Member for Resources.

Last year the Council processed more than10,000 search applications, demonstrating the buoyancy of the local property market.