THE VSCC @ OULTON PARK

"SeeRed" 2007 Seamen Memorial Trophies Race Meeting.
Photos by P Trollope. Report by C Trollope.
AT the "Goodwood of the North" on a hot sunny Saturday 9 June 2007, we had the privilege of witnessing the true heat of real racing vehicles, driven with skill and daring. One could not have asked for a better day for the spectators and drivers alike, even the refreshment sellers had a good day! Oulton Park is such a beautiful and demanding race track, that families and racing drivers alike enjoy all it has to offer. Along with that go the friendly people involved with the running of the circuit and those involved with the racing.

There was plenty to see, eat and drink as well as, in some cases, to do.

Ranks and rows of classic cars covered part of the area near the pit, scrutineers compound and refreshments. Among the cars on show were such makes as Delarge, Lagonda, Austin, Morris, Riley, Wolseley, MG, Bentley, Rolls etc., many of which took part in the Concours Cars Parade. Of special note, just arrived from a visit to the Isle of Mann, was a Rolls Royce "Silver Ghost", from South Africa, which was taking part in the 1907-2007 Centenary Scottish Tour. The standard of upkeep and turnout was an outstanding credit to the owners.

In the Racing, as in the Concours, there were an enormous variety of makes, some replicas and some specials, taking part.

The First Race was the 6 lap Brooklands and Goddard Trophies Race. 21 cars took part. There was unfortunately an accident towards the end of the first lap, when the cars were under the waved yellow flag for three circuits. The driver was taken to hospital, the car removed to the pits and the race continued. Paul Mullins, who did the fastest lap at 75.46mph, was first in his ERA R77B; second, 18 second later, was Tony Seber in his Wolseley Hornet Special and third, Tye Pountney in a Riley Special Sports a second in front of Mark Piercy in a MG R Type. The other various cars taking part were: Bentleys, Rileys, Franziss, Napier, Bugatti, Wolseley, Lagonda, Alvis, Delage, MG, Ballamy-Ford, Frazer Nash, and GN Parker.

The next race was the 5 Lap Pre-War Handicap Race. 30 cars took part. This type of race dates right back to the start of motor racing, when large cars and drivers like Lancia and Nazzaro were not only racing, but putting their lives 'on the line'! There were 30 cars in this race and 4 had 25 second jump start penalties. Peter Cobb, who came 5th in his Frazer Nash Super Spo did the Fastest Lap. It was won by John Duggleby in a Riley Special; 2nd was Nicholas Hine driving a Lagonda LG45 and 3rd came Timothy Dutton in a Ford A.

The competing car makes were:- Morgan, Frazer Nash, Brasier Voiture de Course, Vauxhall, Fiat, Talbot, Alvis, MG, Wolseley, Bentley, Austin, and Bugatti.

Sadly, I do not have the results of the 10 Lap Hawthorne Spanish and Memorial Trophies Race. The Hawthorne Trophy was first awarded in 1965. The car makes which took part were: Riley, Frazer Nash, Alta, Cooper, ERA, Riley Dobbs SS, White Riley, Maserati, HVM, Aston Martin, and Kurtis Indy-Roadster.

The 45 minutes Bill Phillips Trophy Race was Race 4, which had 20 starters, of whom 6 were Not-Classified.

Bronson/Cannell in their Riley Blue Streak won it in 18 Laps. He also managed the Fastest Lap of 69.77 mph. Then, 2nd, in 17 Laps was Mahany/Baxter in the HRG Le Mans Special, and 3rd was David Pryke in his Riley 12/4 TT Sprite Rep. The other makes in the race were Lagonda, SS, MG, Frazer Nash, Singer, Invicta, Bentley, and Austin 7 Ulster.

Race 5 was the HGPCA Pre 1966 Race of 12 Laps. It is a race that conjures up in motoring history such names as BRM, Brabham and Cooper. It was raced with noisy speed and excitement. This race has 4 classes in it, viz., class 9 being Formula 1 and 2 pre-1959 cars up to 2 lt., class 10 Formulary 1 pre-1966 1.5 lt. 4 cl rear engine cars, class 11 Formula 1 pre-1966 1.5 lt. Multi-cl engined cars, and class 12 Tasman and Intercontinental pre-1966. There were 16 cars in this race, 4 were not-classified. 3 Fastest Laps were recognised Robs Lamplough in a Lotus 33 at 80.70 mph, Nigel Bancroft in a Cooper T51 at 84.08 mph while Chris Bullimore was timed in a Cooper T45 at 78.48 mph. Nigel Bancroft won the Race. 2nd was Rod Jolley in a Cooper T45/51 and Robs Lamplough came 3rd in the Lotus 33. The other car makes taking part were BRM and Brabham. Incidentally, Brian Joliffe was photographed in his Cooper T45 waiting in the scrutineers compound.

The result of Race 6, the 5 Lap Pre-War Scratch Race was decided after some strong exciting driving. In class C, Robert Cobden won, and a fastest lap, at 71.77 mph in a Riley Falcon Special and was the overall winner. Class B, was won, and a fastest lap, by Mark Piercy in an MG R Type doing 68.83 mph. Class E, was won, and a fastest lap, by Roger Sweet in the Franziss Special timed at 69.20 mph. In class D, Grant Crawley in a Wolseley Hornet Special achieved a Fastest Lap of 63.23 mph to win his class. Now class A, was won, and a fastest lap, by Nick Haywood-Cook in an Austin 7 Monoposto with a Fastest Lap of 62.73 mph. Wow, what a race that was, only 2 were Not-Classified!

The Hawthorn International Trophy Race for 1950's Sports Racing Cars, of 10 laps, has 2 classes, one each for Drum Braked and for Disc Braked Sports Cars. 14 cars took to the track and 4 were Not-Classified. The winner of the Disc Braked section was Alan Minshaw in a Maserati TIPO 61 with a speed of 80.87 mph. 2nd and Fastest Lap in a Lister Corvette, was Jamie McIntyre, while 3rd was Anthony Wood in a Lister Knobbly with a speed of 78.98 mph. Then in the Drum Braked section we had 1st, and a fastest lap, by Adrian Van de Kroft at 76.80 mph. 2nd was Kerry Horan in a Kurtis SX500 at 67.77, and 3rd Peter Mann in a Cooper Bristol T24 at 65.82 mph.

The 5 Lap Pre-War Handicap Race had 27 cars racing and 7 of them were Not-Classified. The Fastest Lap was put in by Tye Pountney in a Riley Special Sports with a speed of 69.32 mph. However with a speed of 65.88 mph it was won by Nicholas Hine in a Lagonda LG45. 2nd was Brian Maile in an Alvis Speed 25 Sports which clocked up 66.41 mph. Mike Painter came 3rd in an MG PA travelling at 64. 83 mph.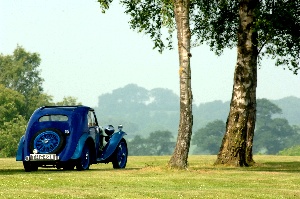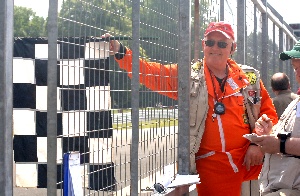 Sadly, the day's Racing closed with the next race being cut from 10 laps to 6 because of the lack of time. It was the Boulogne Trophy Race. 14 cars competed in this race and one was Not-Classified. The Fastest Lap was made by Stuart Fearnside in a Bentley 3/8 2 Str Spl at 69.75 mph. The winner was Julian Majzub in a Bentley Pacey-Hassan with an average speed of 68.58 mph. 2nd place went to Robert Carr in an AC/GN Special doing a creditable 68.37 mph and 3rd was Gaggy Caroline in a Morgan Super Aero averaging 68.30 mph. Stuart Fearnside in a Bentley 3/8 2 Straight Special did the Fastest Lap at 69.75 mph. The other racing makes in the race were: GN Parker, Bugatti, GN/Ford, GN Thunderbug, and a Franziss Special.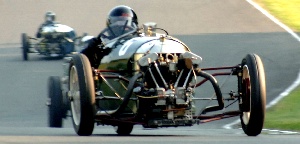 It was a great day's racing for everyone.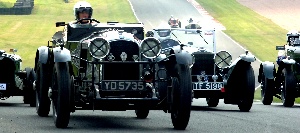 Do not miss the big event at Oulton Park later this year… "The Oulton Park Gold Cup" on Monday 27 August 2007. This will be a day of action and fun for all the family! Contact Oulton Park on (+44) 0 1829 760 301 for more information or visit motorsportvision.co.uk.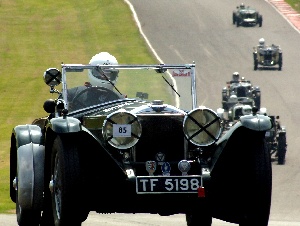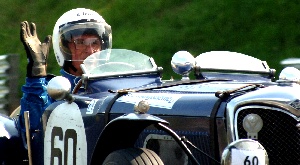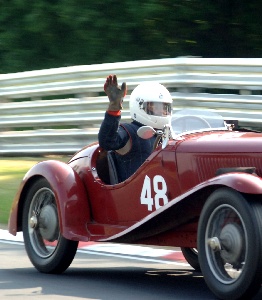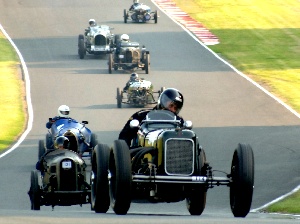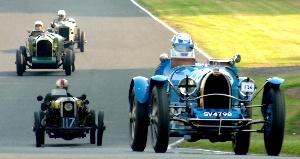 Our thanks to all who took part, especially the drivers, mechanics and voluntary marshals. Our thanks also go to the VSCC Staff and Officials along with the Oulton Park Staff and Officials. Congratulations to you all for a great day racing.