City Sings Gospel at the Albert Dock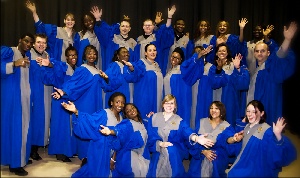 THE Albert Dock is gearing up to host the Waterfront Gospel Music Festival, supported by the Liverpool Culture Company, (www.liverpool08.com) on 16 June 2007 and 17 June 2007.
A soulful weekend of gospel music, rap, hip hop and reggae - the festival will celebrate the 200th anniversary of the abolition of the transatlantic slave trade and Liverpool's 800th birthday.

This event at the Albert Dock is the highlight of a soulful gospel singing season – the Amazing Grace Festival.
Organised by City Sings Gospel, part of Anfield-based Urban Gospel Arts Centre, Liverpool Lighthouse, the music season launched in February 2007 with an advanced screening of the film Amazing Grace, based on the life of anti-slavery pioneer William Wilberforce.
Since then a range of choir events have taken place across Liverpool, with the focus of the season taking place at the historic Albert Dock from 16 June 2007 to 17 June 2007.

On Saturday 16 June 2007 a gospel music concert will kick off the Waterfront Music Festival outside the Albert Dock's Mersey Maritime Museum from 12 to 6pm.
Performing artists include DJ Fitz (BBC 1Xtra), Liverpool's renowned Love and Joy Gospel Choir, gospel producer and artist Dwayne Tryumf and Nigerian-born worship leader, radio presenter and musician Muyiwa. Sarah Rea, Marketing Officer at Liverpool Lighthouse describes it as an event that is not to be missed and one that will bring local choirs together to perform alongside high profile national artistes.
Face painters and street entertainers will continue the celebrations throughout the Albert Dock on 16 June 2007, celebrating the rich diversity of gospel music and culture.

On Sunday 17 June 2007 a Transatlantic Memorial Service will be held in Canada Dock on HMS Albion for 500 guests.
This historic event will celebrate the lives, music, faith and legacy resulting from the Transatlantic Slave Trade.
Guests will include Liverpool Lord Mayor - Cllr Paul Clark, Liverpool City Council Chief Executive - Colin Hilton, Leader of Liverpool City Council - Warren Bradley, Archbishop of West Africa - Reverend Justice Akrofi, Alabama State Senator - Vivian Davis Figures and Chairman of Love and Joy Ministries - Tani Omideyi.

The service will feature choral and gospel music, hymn singing, readings, musical renditions, a minute's silence and a special act of remembrance for the estimated millions of slaves that died at sea. Liverpool will also be linking up with commemorative events in Ghana and Alabama, enabling a joint declaration to be formed across the Atlantic.

Graham Cook, Director of the Albert Dock Company said:- "The Albert Dock is very honoured to host such an important commemorative event at the city's Waterfront.
We're looking forward to marking the 200th anniversary of the abolition of the transatlantic slave trade and Liverpool's 800th birthday with a weekend of gospel music that all our visitors can enjoy."
In the footsteps of Dickens
BRITAIN'S favourite gay author is set to make a rare appearance at St George's Hall. Armistead Maupin – who last year was voted the country's most popular author in the Big Gay Read – will read from his new novel, 'Michael Tolliver Lives', and talk about his life and work, at a special event organised by Liverpool's gay arts festival, Homotopia, on 4 July 2007.

Often compared to Charles Dickens, Maupin will appear in the newly refurbished Small Concert Room – the same venue where Dickens took part in the famed 'Penny Readings' in the mid-19th century. His Liverpool appearance is the first date in a national tour, and the only major event outside London. Best known for his series 'Tales of the City', which was adapted for television, Maupin is widely regarded as one of America's greatest living gay writers.

Gary Everett, Homotopia Festival Director, said:- "I am thrilled that such a high profile author has agreed to attend this special one-off event and give a reading at the festival. Armistead Maupin has also kindly agreed to attend several community events in the day, before taking part in what promises to be a glittering occasion in the grand surroundings of the Small Concert Room."

Amongst the community projects that Maupin will visit while he is in Liverpool is the Armistead Centre – the gay health project that was named in his honour.

Homotopia, which is supported by the Liverpool Culture Company, celebrates its 4th birthday in 2007. Although it is responsible for events throughout the year, the main focus of the programme is in November. The festival celebrated a massively successful year in 2006, with audiences of more than 6,500 attending a wide selection of events in genres including theatre, film, art, and heritage.

Councillor Warren Bradley, Leader of Liverpool city council, said:- "Homotopia is a fantastic example of a homegrown arts festival that has developed into a major event on Liverpool's cultural calendar. It's a great reflection of the vibrancy of the city's arts sector."

Tickets for the Armistead Maupin event are on sale now, priced at £6 each, available from Unity Theatre, (0151) 709 4988; or News From Nowhere, (0151) 708 7270.
Doors open at 6pm, the event begins at 7pm.
Southport's Charity Fun Fest 2007
THIS years Southport's Charity Fun Fest annual event aimed to provide an afternoon of fun, whilst raising a little money for local good causes. Amongst the attractions this year was an ice skating rink, beat the goalie, limousine rides around town, vintage fire engines, bouncy castles and slides, a climbing wall, fairground rides, live music, various displays and a tug of war contest.

The good causes that have benefited financially from the day in previous years include Southport PHAB club, the Royal British Legion, Queenscourt Hospice, the North West Air Ambulance, St John Ambulance, Southport Rotary club and others. This year is no exception....

The event is organised by local volunteers, in association with the local media and other local companies and organisations. The money was raised by asking for donations for using some of the many attractions we had on offer.

Speaking after this year's event, co-organiser James Grundy said:- "We would like to thank everybody who came along and made the event a success again. That's the stallholders, the facepainters, tug of war teams, the bands & singers, St John Ambulance, Round Table stewards, West Lancs. Dog Display Team, the attractions: the ice rink, the limos from MD Travel, bouncy castles, fairground rides and all the people who came along to enjoy the day out."

Next year's event takes place on Saturday 7 June 2008, 11am to 5pm on Princes Park. If you would like to get involved, please contact James Grundy via emailing him at jamesgrundy@hotmail.com.