Christ the King Catholic High School receives 'Schools Excellence' Award
CHRIST the King Catholic High School in Southport is the latest school to receive the prestigious 'Schools Excellence' award. The award, which recognises excellence and innovation in the use of ICT in education, has been won by only a small number of schools nationwide since it was launched just over 3 years ago.
Christ the King was chosen to receive the award by leading supplier of ICT software, services and systems to UK education, RM, due to the way the school has harnessed a Virtual Learning Environment (VLE) to revolutionise its approach to homework. During the academic year 2005/6 the school took the decision to radically change its approach to homework for Key Stage 3 students, and create a system geared more towards 'independent learning'.
Realising the true potential of the Kaleidos VLE which allows students to complete projects at home and upload them to the school system, whilst still being backed up by paper version, was the 1st step of this transformation.
The 2nd stage saw the school swap from traditional 20 to 30 minute tasks to a system based on 3-week long projects, meaning that students now have 4 projects to complete within each half term.
These projects have included paper assignments, models and podcasts. Kaleidos has since become the environment through which all homework projects are assigned and supported and this has now been rolled out across the school.

Peter Halsall, Assistant Head Teacher said;- "What we have facilitated is a complete transformation in our approach to homework with our students learning organisational skills and planning their time much more effectively. Now they get their homework done on time - often at school in our specially created homework clubs on Wednesday afternoons, but also from home should they so chose.
The standard of finished work is significantly better than that submitted using the previous, traditional system. From a teaching point of view, it's easier for us to give much more positive and constructive feedback to the students."

The school ensured that it adopted an inclusive approach to the scheme to garner parental understanding and support. To encourage ongoing commitment, the school invited Year 7 students to special open evenings where they were joined by their parents so that they could explore the VLE for themselves.

Tim Pearson, CEO of RM, commented;- "Christ the King Catholic High School is richly deserving of this award. They have demonstrated how the smart deployment of ICT in schools can enhance both teaching and learning while empowering pupils and involving parents. Advancements in educational technology such as Virtual Learning Environments need pioneering schools like Christ the King to prove what can be achieved and encourage other schools to follow suit. This is of benefit to everyone involved in learning and should be applauded."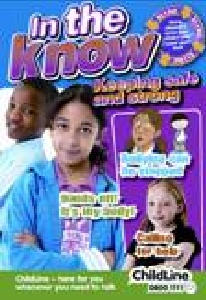 NSPCC wants children to be 'In the Know' about abuse
THE NSPCC are giving schools in Southport the opportunity to order a new educational booklet as part of its Don't Hide It campaign to help children keep themselves safe. In the Know is aimed at children aged 8 to 11 and uses colourful illustrations, quizzes and cartoon strips to help tackle the difficult subject of child abuse.

NSPCC children's participation officer Serena de Cordova said:- "We consulted children across 8 separate focus groups to develop a product which was just right for young people. We used exercises, role-plays and storyboards to find out what young people felt was important to include and how best to make it accessible to 8 to 11-year-olds."

1 in 5 children counselled by ChildLine last year who gave their age were between 8 and 11 years old – more than 25,000 young people. Of these, 38% called about bullying and 20% called because they were suffering abuse or neglect. The booklet reinforces the NSPCC's Don't Hide It messages, encouraging children to find someone to turn to if they are experiencing violence or abuse. It also provides information about sources of support, including helpline numbers. Sample copies of the booklet are being circulated to schools across the UK with the opportunity to order free class sets as needed.

Don't Hide It 2007 is a youth-focused campaign which aims to empower young people to speak out if they are experiencing violence or abuse.
Just Over 1500 places Left
IT is hard to believe it's less than 4 weeks since we were all getting ready for the 40th to start, where does time go!!!

The Southport Weekender team don't normally do this, but they have issued a warning because of the way the bookings are flying in. They told us that:- "We thought it best to keep you informed in case your readers miss out.

The number of bookings received at this early stage is streets ahead of normal and at the time of writing this we have no more than 1500 places left on site.

The only chalets we have are 4's and 6's and a small handful of 7's and one 8 berth.

We haven't much other to tell you at the moment on the line-up front but we'd like to thank you for all your fantastic and somewhat humbling emails and suggestions.

Please keep your suggestions coming in as it really is a help and we're starting to put it together in earnest now. As always we'll do our best to bring you another cracking line-up befitting Southport."

For more information or to book tickets go to www.southportweekender.co.uk