PHOTOGRAPHIC EXHIBITION!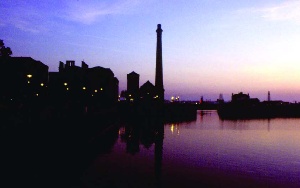 A stunning photographic exhibition by David Lydiate called:- "SUMMER NIGHT CITY" will be exhibited from 1 August 2007 to 31 August 2007 at the Central Library on William Brown Street, Liverpool.
More information can obtained by visiting lydiatesliverpoollens.com
The exhibition will raise cash for Leukamia Research.
Wallasey student celebrates success
HELEN Halliwell, from Merseyside, is celebrating her recent success as she has just completed a Masters Degree in Ceramics and has exhibited her work at the Art and Design Degree Shows at the University of Central Lancashire (UCLan).

The twenty-six year old from Wallasey, on the Wirral, gained a Distinction for her Master Degree, which took her two and half years to complete. Before her Master Degree, Helen gained a first class honours degree in design. During her course she worked with wood, metal, textiles and ceramics, and this is when her passion for working with clay began.

"I really enjoyed the ceramics side of the course and decided that this was the area I wanted to progress further. The course at UCLan is fabulous, I have learnt a lot over the past three years and my work has developed so much." said Helen.

Helen's final year project entitled 'Emotions In Clay' is based on natural, unpredictable processes in relation to life experiences and emotions. Helen explained:- "My pieces represent flowing energetic movement, creating intricate spiralling formations."

At a recent exhibition Helen was lucky enough to have sold some of her pieces to a private collector.
She also sold some of her pieces to a property company based in South Africa, who used the pieces in
show homes.

Helen has just exhibited her work at the Art and Design Degree shows at the University of Central Lancashire and is due take her work to the New Designer Show in London next month.

Helen is currently working part-time as a ceramics technician at Liverpool Hope University and had the opportunity to use the studios to work on her own pieces. Now she has completed her Master she hopes to become a ceramics lecturer.

Helen will graduate from the University of Central Lancashire week commencing 9 July 2007.
Review of school bus services
MERSEYTRAVEL wants to clamp down on fare dodging and anti-social behaviour, including bullying, on school buses.

Persistent offenders could be barred from buses or the service withdrawn under new proposals.

Merseytravel also says CCTV should be installed on school buses to monitor behaviour.

The moves are among a series of proposals that have been sent to 612 schools across the region as part of a wide-ranging and robust consultation and review of school buses services.

Merseytravel also wants schools to inform 12 months in advance of timetable changes which could lead to rescheduling of services.

Failure to do so could result in the schools footing the bill for any additional demand or a forfeiture of a service.

But Merseytravel would also consider sharing with the school any savings that accrue from the rationalisation in school bus services, in order to fund measures that support the production, or delivery of, a School Transport Plan.

Alternatively, it would provide incentives through curriculum support materials or outreach work, as appropriate to the school in question.

Neil Scales, Chief Executive and Director General of Merseytravel, said:- "We're finding it increasingly harder to attract competitive tenders because of the unpopularity of many school contracts amongst bus operators who provide the services.

The problems are being caused by the anti-social behaviour of a small minority of pupils but action needs to be taken.

The cost of subsidised school bus services has tripled in just six years through a combination of factors including rising wages, fuel and insurance costs.

We need a complete review to ensure best value including competitive tendering and the avoidance of duplication in services.

Merseytravel is fully committed to school travel but we need to make the best of the resources we have available."

The consultation exercise will also highlight to schools the vital role they play in promoting their own travel plans and sustainable travel, such as cycling and walking.

Mr Scales added:- "Schools also have their role to play in tackling childhood obesity and encouraging children to become more active.

Dr Paula Grey, Director of Health at Liverpool Primary Care Trust, has already highlighted the problems caused by the school runs and I heartily endorse her views.

Choosing more healthy alternative ways of travelling to school, such as cycling and walking buses, is something we have consistently promoted.

The school run by parents also contributes greatly to congestion and road pollution – around one in every five cars at peak travel times. Many of these school runs are unnecessary."

Merseytravel currently provides around 150 school bus services every day as part of its duty to fund socially necessary bus services not provided for by the commercial network.