On a mission to get Liverpool drawing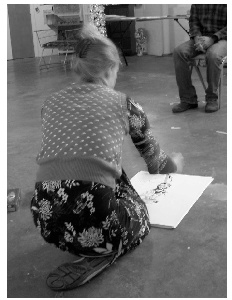 LIVERPOOL'S major modern arts venue Greenland Street is encouraging local people to unleash their artistic talents in an intensive free five-day drawing programme. Taking place from 2 – 6 July 2007, 'Inside Out in Liverpool' will aim to get the city drawing by taking inspiration from Liverpool's architecture and its wealth of art collections.

Greenland Street has teamed up with The Prince's Drawing School - an educational organisation that enables people to broaden their drawing practice - to host this concentrated course which will focus on observational drawing. From 10am-5pm, every day for 5 days, participants will sketch in and around the city, looking closely at Liverpool's public spaces, buildings and cityscape to improve their drawing skills. The sessions will be lead by alumni from the post graduate drawing course at The Prince's Drawing School.

Students on the course will study art collections at local galleries, sketching directly from works at Tate Liverpool and The Walker Art Gallery. Back at Greenland Street, participants will use the studio space to draw from a model, take part in tutorials, group critiques and discussions about artists of significance to Liverpool.

Greenland Street was set up in September 2006 by James Moores through A Foundation to revitalize Liverpool's contemporary art scene. The art centre focuses on developing new commissions and contributing towards a greater infrastructure for the visual arts within the city. Since its launch, over 12,000 people have visited Greenland Street from across the world.

Fiona Boundy, Greenland Street's Director of Exhibitions and Development said:- "Following the huge popularity of the drawing workshop hosted by The Princes Drawing School at Greenland Street last November, we thought it would be a good idea to hold another, more intensive course. Our aim is to get local people excited about drawing again through this free programme which takes inspiration from the city."
Leaps and Bounds Franchisees Needed
LEAPS and Bounds, a national physical activity programme for children, designed by Tumble Tots (UK) Limited, leaders in physical play for children, are looking to recruit new franchisees.

Leaps and Bounds is a carefully structured physical play programme, designed by Tumble Tots to give pre-school children the chance to enjoy the benefits of physical play in their own pre-school setting. It complements children's existing nursery curriculum, and gives parents ideas on play-based activities they can share with children at home.

Keeping in line with the Curriculum Guidance for the Foundation Stage (QCA, DfES) and Guidelines in the Birth to 3 Matters (Sure Start, DfES), the programme was designed in consultation with Patricia Maude MBE, Homerton College, University of Cambridge. The programme also has also been awarded the PDB Kitemark.

"Movement play provides access to both gross and fine motor functioning, so important for motor development and for becoming physically literate. For young children, the most important medium for movement is Play. The Leaps and Bounds programme provides a structured framework for play, with progressions built into each activity". said Patricia Maude.

Leaps and Bounds was first launched in September 2004, and piloted by several Leaps and Bounds franchisees around the country. It now offers the programme in more than 70 pre-school settings in England and Scotland. With the growing demand for the programme, the company is expanding with a recruitment exercise in all areas of the UK. Franchise opportunities for the Leaps and Bounds programme are available now. The franchisee investment is around £7,500 which includes a designated territory, training and equipment to run the programme.

For more information on the Leaps and Bounds programme, please call Anne Griffin on 0121 585 7003 or Maria Barker on tel: 0191 217 1777 or 07736 774522
Are you brave enough? Abseil 195 feet for the Red Cross!
IMAGINE peering over the edge of a steep sudden drop…a 195 feet drop in fact…now imagine slowly moving over the edge …one step at a time…down the vast wall of Baitings Dam. If the thought of abseiling brings you out in a cold sweat then this event probably won't be for you!

The British Red Cross is currently looking for dare devil abseilers to take part in an exciting and exhilarating abseil down Baitings Dam (near Ripponden, West Yorkshire) over the weekend of the 18 August 2007 & 19 August 2007. After the success of last year's 'Big Drop' abseil at Baitings Dam, the British Red Cross is repeating the event to give more people the opportunity to experience this awesome experience. Senior Fundraiser, Jo Allott said:- "This challenging event is really popular and our abseilers will enjoy the most amazing views! Although it's not for the faint hearted, we're sure everybody who takes part will have a thoroughly enjoyable and unforgettable day!"

To register costs just £10 and we are challenging our abseilers to raise £75 or more for the British Red Cross. Money raised will enable the Red Cross to continue vital work both across the world and around the corner.
If you have what it takes to get involved with the challenge please contact Jo Allott on 0161 888 8915 or 07710 733 196 or email.
HUNDREDS ATTEND STAR STUDDED NORTHWEST FILM PREMIERE
HUNDREDS of film fans packed Liverpool's Philharmonic Hall last night, enjoying the red carpet treatment, as award-winning writer Frank Cottrell-Boyce's latest movie, Grow Your Own, received its British premiere. The film is widely expected to take the box office by storm when it opens across the country later this week, but Northwest fans were the first in the country to see it after North West Vision, the film, TV and digital media development agency, organised the free, gala premiere.

The event was attended by cast and crew, with Liverpool co-writer and producer, Carl Hunter, talking of the extraordinary, real-life characters who had inspired the film. Grow Your Own tells the story of refugee asylum seekers who were helped by a Liverpool allotment project.

"The film is all about acceptance.
It explores the relationships between members of a community after the arrival of refugees, who are given allotments to help them overcome their trauma," says Carl.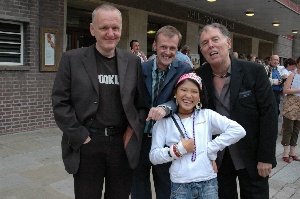 Attending the gala performance were top Manchester TV actors John Henshaw (Early Doors, Confessions of a Diary Secretary) and Rodney Litchfield (currently starring in Coronation Street), together with Alan Williams (Rome, Life Begins) and Philip Jackson (Pennies From Heaven, Funland). They were joined on the red carpet by Manchester child actor, Sophie Lee, whose character, Phoenix, played a centre role in the film.

Also attending the premiere were the film's Director, Richard Laxton, Producers Barry Ryan and Luke Alkin, and North West Vision's Head of Funds, Chris Moll, who was an Executive Producer on the film.
"We were very proud to support this project from its very early seeding as a series of three minute shorts for Channel 4, through to its blossoming into a full-length feature.
The idea germinated and was filmed entirely in Liverpool, bringing together some of the city's most exceptional creative talent.
It's challenging, moving and entertaining in equal measure, and I hope Grow Your Own will remind audiences around the globe of the unique position that Liverpool holds in the world's heart," explained Chris.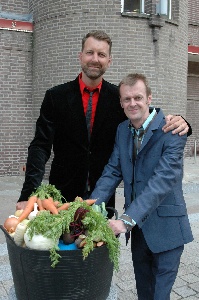 Frank Cottrell-Boyce says the real-life story of the refugees and the allotments captured his imagination immediately, and he knew there was a feature film to be made.
"Carl Hunter took me to a real place with the real people, and it's a day I'll never forget.
I met people on that allotment who'd walked through minefields and swum through rivers while being shot at, people who had very little, but still found a way to be happy.
I found that very chastening and very uplifting. And very worth telling," said Frank.

Added Carl:- "This is a special film that came from something real. It's an international story that is on our own doorstep and if a film can change anything we hope it can change the fortunes of The Family Refugee Support Project in Liverpool, which is facing closure in October unless further funding can be found."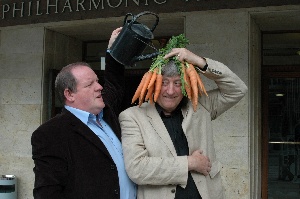 Grow Your Own will be on release from 15 June 2007 at:- Ashton Cineworld, Bolton Cineworld, Bromborough Odeon, Bury Vue, Liverpool Switch, Liverpool Cineworld, Manchester Cornerhouse, Manchester Filmworks, Wigan Empire, Woolton Cinema.