Unique piece of art unveiled by school children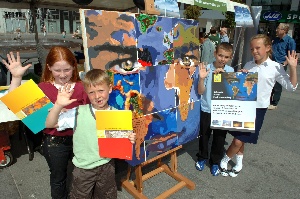 CHILDREN from schools across Merseyside have unveiled a unique piece of art in celebration of World Environment Day (WED). Each of the 9 schools taking part in the art project took just a small section of a canvass picture of a boy's face on a map of the world to 'make their own'.

The 9 pieces were combined into 1 giant picture and displayed for the first time at a free Merseytravel-organised event in celebration of WED held at Williamson Square in Liverpool city centre. The completed artwork will tour each of the schools from September this year and throughout Capital of Culture year.

Councillor Mark Dowd, Chair of Merseytravel, said:- "The children have worked really hard on this project and the result is excellent. By involving children in this way we hope the environmental message will have an impact on them. As an organisation we want to drive the environmental agenda and events such as this can only help raise awareness of what we are all trying to do."

Neil Scales, Chief Executive and Director General of Merseytravel, said:- "We have a very strong commitment to environmental sustainability. This is an area where we are leading by example. You just have to look at what we've done with Liverpool South Parkway to see how important sustainability is to us as an organisation in all aspects of what we do."

The 9 schools taking part in the event were: -
* Billinge Chapel End Primary School, Billinge
* Legh Vale Primary School, Haydock
* Our Lady, Star of the Sea Catholic Primary School, Seaforth
* Northway Community Primary School, Maghull
* Mosspits Junior School, Wavertree
* Garston C of E School, Garston
* Our Lady of Lourdes Catholic Primary, Leasowe
* Liscard Primary School, Wirral
* The Elms Special School, Knowsley
Carers' consultation goes live
A NEW series of consultation events to help carers in the North West is to be launched by Carers UK. The move follows the announcement by the Chancellor, Gordon Brown MP, of the biggest ever consultation on the lives of carers. He made his commitment at a reception with carers held today at 11 Downing Street.

Carers UK has been asked by the Government to help run a nation-wide debate directly with carers on how to improve entitlements and services to help the nation's six million carers.
The announcement follows a sustained campaign by Carers UK and its supporters calling for the Government to review its policies for carers and to look in depth at income, benefits and opportunities to work.

The consultation with carers in the North West starts with an event on 29 June 2007 at the Friends Meeting House in Manchester at which Ivan Lewis MP, the Minister for Care Services, will be speaking. Other events will follow in the year and will culminate in a carers' summit on Thursday 8 November 2007 to be held in London.

Imelda Redmond, Chief Executive of Carers UK, says:- "The consultations give carers a unique opportunity to have their say on what are the right policies to support them.
Carers' views really matter and their voices must be heard.
We will do all we can to ensure that the voice of carers are brought to the heart of Government.
We are planning numerous events, meetings and an online consultation across the region to ensure that as many carers' views are gathered as possible."

Carers make an enormous contribution to society - worth a staggering £57 billion every year - and yet many suffer poor health, financial difficulties, give up work to care and face social isolation.

Imelda Redmond continues:- "This is our chance to tell the Government how carers want to tackle these issues - this has enormous potential for carers, their families and society as a whole."

For further information on consultation events for carers happening in your area, please visit www.carersuk.org.
To respond to the consultation online and view other contributions to the debate, visit newdealforcarers.org.