COUNTDOWN BEGINS TO MAJOR 08 YOUTH EVENT
THE countdown has started to one of the youth highlights of Liverpool's European Capital of Culture programme. On 17 July 2008 – 1 year this week – nearly 300 young people will gather at Liverpool's St George's Hall for the European Youth Parliament. The 10 day session will bring together participants from more than 30 European countries, to share ideas, culture and experience.

Supported by the Liverpool Culture Company, the event is billed as a key element of the programme for 2008. Young people will take part in a variety of activities during the session, including teambuilding and committee work, culminating in the announcement of 15 resolutions which will be sent to the European Parliament. Event organiser Michael Leyland, Vice-President of European Youth Parliament United Kingdom (EYPUK), has already started to attract a board of high-profile patrons to support the event. The current list includes: Councillor Warren Bradley, Leader of Liverpool city council and Deputy Chair of the Liverpool Culture Company; George Howarth, MP for Knowsley North & Sefton East and Chair of the 2008 All Party Parliamentary Group; Peter Kilfoyle, MP for Walton; and Sajjad Karim, MEP for the North West.

Councillor Warren Bradley said:- "Young people have an important role to play in our Capital of Culture year – after all, they will inherit the legacy left by 2008. The European Youth Parliament is an excellent opportunity for participants from across Europe to get together and discuss issues that are important to them, while encouraging respect and co-operation between nations. I'm delighted that the event is taking place in Liverpool as part of our Capital of Culture celebrations, and look forward to meeting some of the young people taking part."

George Howarth MP said:- "It gives me a great pleasure to be part of such a prestigious and high profile event. The European Youth Parliament is set to be one of the highlights of Capital of Culture and is sure to benefit young people from around Merseyside, across the region and indeed all over Europe."

Peter Kilfoyle MP said:- "I am delighted to lend my support to this exciting project which gives youngsters across the city the chance to exchange ideas with young people from all over Europe. I am extremely pleased that this event is to be held in Liverpool in the year in which the city becomes European Capital of Culture."

Sajjad Karim MEP said:- "I am honoured to accept the invitation to join the board of patrons for the 58th International Session of the European Youth Parliament. As an 08 Ambassador I am particularly pleased that Liverpool has been chosen as the venue for the event next year. This is a great opportunity to showcase Liverpool's culture while raising awareness for young people from across Europe of the benefits of the EU."
CHRISTINE RECEIVES ROYAL COMMENDATION FOR OUTSTANDING SERVICE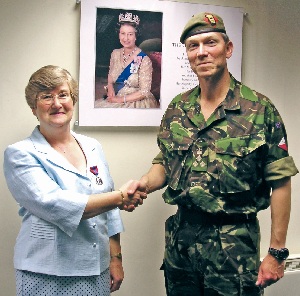 WIRRAL resident Christine Mary White has been awarded a personal recognition of thanks from none other than Her Majesty The Queen, to honour 41 years and 10 months of service to the Army Recruiting Group. The prestigious Imperial Service Medal, was presented to Christine at the Liverpool Armed Forces Careers Office, after the proud former civil servant's retirement from the Army Recruiting Services in December 2006.

Senior Recruiter Chris Jones said:- "Christine has been a valued member of The Army for the past 42 years and we are proud to be able to recognise her commitment with the well deserved award of The Imperial Service Medal. The Army offers a balanced approach to work with many opportunities available for travel, sport and education, not to mention training and family time, which Christine has benefited from throughout her service." Chris Jones continues:- "We are very sad to see Christine leave us and wish her every happiness with her future ventures for her retirement."

Christine says:- "I am absolutely delighted to receive The Imperial Service Medal as it is a real honour to even be considered for an award of this calibre. Also, it's extremely exciting as it's not every day you receive a letter from the Queen!"

The Imperial Service Medal, which was introduced in 1902 by King Edward VII, is not an automatic award, but is presented at the discretion of the Sovereign to more fully recognise the services provided by members of the Civil Service, who upon leaving have worked for the service for more than 25 years.

Christine joined the Civil Service in February 1965 where she was originally employed by the Inland Revenue. In March 1974, she transferred to the Army Recruiting Group, where she was employed in the Armed Forces Careers Office in Liverpool until her recent retirement on 19 December 2006.