Big plans afoot for city's 800th birthday parade
THE people of Liverpool are being asked to recount tall tales to help awaken a giant for their 800th birthday. With just 6 weeks to go until Liverpool 800 day, the Liverpool Culture Company has invited arts company Strange Cargo to create a 15ft 'giant' to lead 1,500 performers in a spectacular, 2-hour long, birthday pageant. And local communities are going to supply the myths, legends and stories that will bring the giant to life on Tuesday, August 28.

Strange Cargo believe that every community is home to a slumbering giant – all that's needed is a physical body for it to inhabit. The artists have set up camp at the massive horseshoe gallery in World Museum Liverpool, and are appealing for members of the public to attend special workshops this weekend to provide the local background that will help them to create the giant's form. An existing giant will be on site to give people an idea of what will eventually be produced. The workshops will be held on:-

Saturday, 21 July 2007:- 11am - 1pm and 2pm - 4pm
Sunday, 22 July 2007:- 11am - 1pm

On Friday, August 3 there'll also be a public open day from 12-3pm when people will be able to suggest a name for the giant and see its progress. The day, which is part of the city's Children's Festival, also includes t-shirt design, papier mache demonstrations, twirler making and a bead workshop.

Brigitte Orasinski, Director of Strange Cargo, said:- "The people of Liverpool are its greatest resource and the opportunity for Strange Cargo to work with such a culturally rich and diverse community as this, to discover and awaken their Giant, is an extremely exciting prospect".

Councillor Warren Bradley, Leader of Liverpool city council and deputy chairman of Liverpool Culture Company, said:- "August 28 is in many ways the climax of 2007 – and we want the people of Liverpool at the heart of the celebrations. The pageant will be one of the major highlights of the day and these giant workshops are a unique chance for people to help shape a new chapter in Liverpool's history.''

Councillor Mike Storey, who is leading Liverpool's 800th celebrations, added:- "We're expecting thousands of people to enjoy the carnival atmosphere on August 28 and the Liverpool Giant will play a pivotal role. We're appealing for as many people as possible to submit their ideas and memories in this weekend's workshops so that the giant really embodies the spirit of the city."

The Liverpool Giant will be accompanied by several other new characters on pageant day, including 2 'big heads' who will be the Giants constant companions. The Big Heads identities will also emerge as a result suggestions that are made at the public workshops. Similar projects around the UK have been based around local celebrities – a parade in Margate featured a likeness of renowned artist Tracey Emin, who was born in the town.

Helen Robinson, Community Consultation Co-ordinator at National Museums Liverpool said:- "We are delighted to be working in partnership with the Culture Company on such an exciting project. We have the opportunity to create a fantastic giant with the character and appearance developed from the many stories, legends and myths of this great city and produced by the creative talents of various community groups from across Liverpool.''
Canal tours cruise to record numbers, despite weather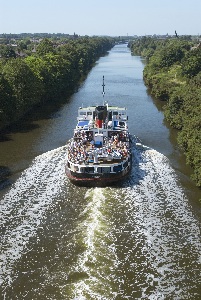 MERSEY Ferries' Manchester Ship Canal Cruises are proving more popular than ever, despite incessant rain and poor weather so far this summer. Demand for the cruises, one of the jewels in the Mersey Ferries crown, is already up by more than 20 % compared to last year. More than 13,000 tickets have been sold so far this year, compared to 10,500 at the same time in 2006. Last year's passenger numbers smashed all previous records and expectations are that they will cruise through the 16,000 barrier for the first time in 2007. They are proving so popular that Merseytravel, which owns and operates the cruises, has committed to extra cruises throughout the year.

Councillor Mark Dowd, Chair of Merseytravel, said:- "Despite the rain and winds, we are still seeing higher demand for the cruises than ever. That is very pleasing. The fact that they are proving more popular, year on year, justifies our decision to continue to invest in the ferries."

Neil Scales, Chief Executive and Director General of Merseytravel added:- "The ferries business is incredibly important to us and we're delighted with the success of the cruises. We've spent more than £40million in the last 10 years making improvements to the 3 ferries and the terminals, including new and exciting attractions. The investment will continue."

Cruises usually depart from Liverpool's Pier Head on Saturday's and Salford Quays on Sundays. They take in the spectacular scenery of the Manchester Ship Canal, leaving passengers with a sense of how its construction shaped the region.
The 6 hour, 35 mile cruise includes a live commentary giving an insight into the facts, history and dramas of one of Britain's most important waterways.

Mersey Ferries vessels carry passengers in comfortable modern surroundings following their multi-million pound refits. The Ferries have a bar and food is available to purchase in the lounge areas.
The cruise costs £32 per head (£30 for senior citizens), with a 10% discount for groups of 20 or more, and includes bus transportation to take passengers back to their starting point at the end of the cruise.
Tickets are only available by advance booking.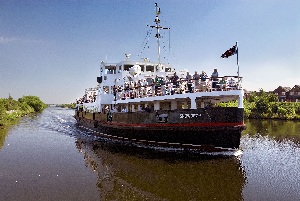 Contact Mersey Ferries on 0151 330 1444 or book online.