BABY BLUNDERS
THE majority of pregnant women in the UK don't know what they should eat and drink, with 1 in 10 admitting they even drank alcohol throughout their entire pregnancy, a new survey has revealed. 60% of women surveyed say they are unsure about what is safe to consume during pregnancy.
With more than 600,000 births a year in the UK, that's around 360,000 women who may be eating the wrong foods, according to the survey by food company Organix. The nationwide survey of 850 pregnant women and new mums also found that 33% of those questioned received conflicting advice about what they should eat or drink during pregnancy. Of those who received conflicting advice, 18% said midwives gave mixed messages; 13% blamed websites; 11% said friends were responsible; 6% named health visitors and 2% said it was their GPs.

The study found 10% were confused about whether to drink alcohol, while others were unsure whether cheese, shellfish, eggs, tuna, nuts or caffeine were safe. The confusion over nutrition may account for the fact that a whopping 95% were more tired than usual during their pregnancy, with 34% saying they were tired all the time. 25% said continuing paid work was the cause of their tiredness. And exhaustion continues after birth: 41% of new mums with kids under the age of 4 are tired all the time, with looking after their children and lack of sleep named as the main reasons for tiredness.

Despite recent Government recommendations that pregnant women should cut out alcohol entirely, one in ten women surveyed admitted drinking alcohol throughout their entire pregnancy. 50% of those questioned said they didn't drink at all while another 33% stopped drinking once they discovered they were pregnant. The remaining 7% drank alcohol in the early stages of pregnancy.

Lizzie Vann, founder of Organix, said:- "We work closely with mums everyday, so we knew they were feeling tired both before and after giving birth – but were still surprised that so many say they are tired all the time. We carried out this study as part of research to help us develop our new Mum's Bar, a fruit and seed bar designed especially for mums, so we were concerned by the third of mums who say they eat less healthily after having their children when this is the time they most need good food to keep them going! And whilst 3 in every 4 think more about nutrition, they are clearly confused about what to eat when they are pregnant."

Having a child also made most women (79%) think more about food and nutrition: 48% said they bought more organic food as a mum and 12% said pregnancy was when they first began buying organic food. A selfless 7% said they ate non-organic food but only fed organic food to their children. Despite an increased interest in food, 34% said they ate less healthily after becoming a mum. They said this was down to a lack of time to prepare meals; grabbing unhealthy snacks on the go, and a lack of time to think about their own needs.
WILLING SUPPORTERS INVITED TO NEW NSPCC CENTRE
THE NSPCC is inviting people to find out more about the real difference that gifts in wills make to the lives of vulnerable and abused children in Liverpool. A reception will be held on Thursday 9 August at the NSPCC's newly opened Hargreaves Centre on Great Homer Street in Liverpool. In addition to finding out more about the history of the NSPCC in Liverpool and the charity's work, guests will hear from the NSPCC's Liverpool Therapeutic Service who helps children who have suffered abuse. They use a range of different approaches and creative therapies to help children come to terms with what has happened to them.

The Hargreaves Centre also works with families who have suffered domestic violence, and with women who are pregnant or who have young families who are substance users. Guests will also hear about ChildLine - a service provided by the NSPCC which will soon be opening its first Liverpool base manned from the Hargreaves Centre. Guests will then be able to find out more about leaving a legacy to the NSPCC and enjoy a tour of the custom-made building - the largest NSPCC service outside London.

Nigel Harbron, NSPCC community legacy manager, said:- "I would like to invite people to find out more about the work of the NSPCC in Liverpool. When talking with supporters I sometimes hear them say that they wish they could do more, but have a limit to how much they can donate. Leaving a gift has a lasting effect on children and young people for generations to come. We understand that a will is an important personal matter and not something that people change lightly. There will be no 'hard sell' at the event - just an opportunity for us to share with people who care about the NSPCC just how vital legacies are to the charity's continued work with the children and young people who need us. In 2006 legacies paid for almost a fifth of everything we were able to achieve for children and young people. That's one child in every five. I do hope that local people will come along and find out more."

To reserve a place please contact Nigel Harbron on 01723 381 263 by Friday 3 August 2007.
GO AHEAD GIVEN FOR £140m
ST HELENS REGENERATION SCHEME
PLANS for a £140m transformation of a derelict and underused 50 hectare site at Moss Nook, Sutton in St Helens have been given the go ahead by the Secretary of State.

Property firm Banks Developments' proposals will turn one of the largest areas of neglected land in the town into a vibrant 1,200-home community, including high quality housing and amenities, tree-lined boulevards, village greens and allocated open spaces. The new community will include a range of 2, 3 and 4 bedroom properties, ranging from apartments to detached houses, 10% of which will be designated as affordable housing. It will be the largest of 3 urban villages that have now been approved to promote the continuing regeneration of St Helens, and will attract new investment and employment opportunities into the local economy.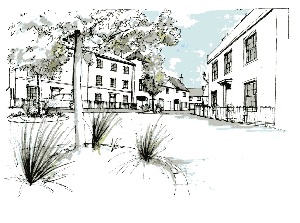 2 major pieces of public open green spaces, surrounded by a network of smaller green areas will be included, along with 3 Sport England-standard, full-sized football pitches, a smaller pitch for junior players and new changing facilities. Banks will also be making improvements to nearby Sutton Mill Brook Park, and have also designed a management plan for its future long term care. A one-acre part of the site has been set aside for commercial development, which is likely to encompass a number of small scale retail units.

Banks will shortly be starting remediation work on the site, which was previously used for various industrial purposes including coal mining and concrete block manufacture. The company will be keeping local people informed about the timetable for work as it takes shape, and is now in negotiations with a number of development partners. The first of these agreements is expected to be in place within the next few months, and presuming everything goes to schedule, the first residents could be moving into the new development before the end of next year.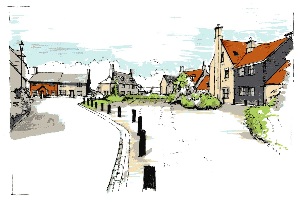 The Moss Nook scheme was subject to a public inquiry held in November last year, following its initial approval by St Helens Council. It is the first stage of the realisation of ideas that were put forward in a 2003 study commissioned by Banks Developments, St Helens Council and Helena Housing Association entitled, 'Worsley Brow – Masterplan & Implementation Programme', which sets out a grand vision for the regeneration of a total of 150 hectares of urban land.

Councillor Neil Taylor, St Helens Council's Executive Member for Urban Regeneration, says:- "This is a key component in the ongoing regeneration of the Borough. This is a large site and the scheme will be a great boost to the economy and the environment in the Sutton area meeting a mix of housing needs, a tenth of which will be affordable homes."

Steve Williams, project manager at Banks Developments, adds:- "We are pleased that the Secretary of State has approved the application, which we believe will bring benefits to both the immediate area and the surrounding region in terms of investment and employment opportunities. We have worked closely with St Helens Council for many years to create a scheme that realises their ambitions for the site, and we are very excited at the prospect of now making these ambitions a reality. The scheme has been designed to integrate well with the surrounding communities, with easy connections to local transport links, schools and other amenities, and the green spaces we've included will inject new life into the local environment."