Concept puts some wind in Whimbrel's sails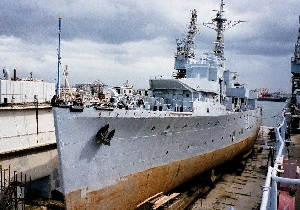 THE HMS Whimbrel Battle of the Atlantic Memorial Project Team has appointed Southport-based Concept PR to help drive a £2m sponsorship campaign to return the former warship to its Liverpool home. Ordered from Glasgow's famous Yarrow shipyard in 1940, HMS Whimbrel is the last serving Royal Navy Warship to have fought in the Battle of the Atlantic. Sold to the Egyptian Navy after the war in 1949, she is currently awaiting disposal and will go to scrap if the money can not be raised.

Project Chairman Vice Admiral Mike Gretton said:- "Our aim is to commemorate one of the most important but least recognised campaigns of the Second World War through the return of HMS Whimbrel to her former operating base in the City of Liverpool. There she will become the focal point of an educational memorial and visitor attraction for current and future generations."

The Project Team aims to return HMS Whimbrel to its new home in Canning Dock in 2008, in time to form part of the City's Capital of Culture celebrations.

Concept PR Managing Director Margaret Tarpey said;- "Returning the Whimbrel to Liverpool will be a fantastic coup for the City and the region as a whole; attracting tourism and commemorating Merseyside's wartime heritage and history, as well as providing a lasting memorial to all those who served and lost their lives in the Battle of the Atlantic. We're hoping Merseyside businesses will really get behind the bid and support it in any way they can."

For more information about the HMS Whimbrel Project visit their website.
Liverpool International Market August 2007
LIVERPOOL City Council's markets partner, Geraud Markets Liverpool Limited, has confirmed the return of the International Market to it's original site of Lord Street from 2 to 5 August.

This new International Market of 2007 promises to be bigger and better than ever in. The market will consist of over 40 international traders from France, Germany, Holland, Italy, Greece, Poland, Hungary, UK and Spain offering a wide range of Continental goods. Products on offer include fruit, vegetables, cheeses, craft items, jams and preserves, olives, antipasties, German/Polish/French bread plus many traditional dishes to take away such as Bavarian Sausage, Slovakian roast pork, garlic potatoes, crepes, waffles and toasted baguettes. The market will operate from 9.00am each day on Lord Street and finish at 5.00pm. On Thursday 2 the market will be open for late night shopping. On Sunday the market will be open from 10.00am until 4.00pm.

Groupe Geraud Chief Executive, Andy Burnett, said;- "The Company is very happy with the progress it has made during the first three years of the partnership and looks forward to building upon that success in the time leading up to 2008 and beyond. This year's International Markets events are expected to be even better than before."
Happy 800th Liverpool!
THE Liverpool Culture Company has revealed plans for the August Bank Holiday weekend, culminating in Liverpool 800 day on August 28; 800 years to the day since King John signed the city's first royal charter. The showpiece of the day will be a huge city centre pageant, featuring more than 800 performers decked out in costumes representing Liverpool icons from the city's past and present.

Councillor Mike Storey, Executive Member for the city's 800th birthday celebrations said:- "Liverpool's 800th birthday is an enormous milestone in the city's history, and we want as many people as possible to take part in the festivities over the Bank Holiday weekend. This is a city that knows how to enjoy itself, and we've worked hard to develop a programme that will generate a real party atmosphere and bring the streets alive with music and performance."

Festivities get underway with the start of the annual Mathew Street Music Festival on Sunday, August 26, which will feature 3 outdoor stages on The Strand and Derby Square. On Bank Holiday Monday, an extra 4 stages will be added, showcasing a range of new music and tribute bands. Also on Bank Holiday Monday, thousands of people will take part in more than 300 street parties across Liverpool as communities come together to mark the 800th birthday.

The official party starts at 11am on Tuesday, as the Lord Mayor and Lady Mayoress lead visiting dignitaries on a civic procession from Liverpool Parish Church (Our Lady and St Nicholas) to Liverpool Town Hall. At 11.30am – as the civic procession draws to a close at the Town Hall – the 800th birthday pageant will start outside St George's Hall with the presentation of 'The Liverpool Giant'. The Giant is currently under construction at World Museum Liverpool, where arts organisation Strange Cargo are building a 15ft model to embody the spirit of the city, inspired by local myths and stories. The Liverpool Giant will lead the pageant, accompanied by other model companions including 2 'big heads' based on local personalities.

Following the models will be the Inishowen Carnival Group, who have developed a large-scale performance based around 6 distinct local themes – ranging from the Blitz of 1942 to Liverbirds – featuring stilt-walkers, singing nuns, swirling flames and skating fish! Hundreds of people from across all 6 boroughs of Merseyside will take place in the pageant, including a number of arts, voluntary and community organisations. There's still an opportunity for members of the public to take part in the parade – providing they're willing to dress for the occasion – and a limited number of spaces are available for people at special costume making workshops at World Museum Liverpool on August 25 and 26, to help them get ready for the big day. Places must be booked in advance – details below.

The pageant will conclude with a street art performers animating the streets and setting the scene for an afternoon of music and entertainment in the city centre. Between 1pm and 4pm there's a chance to see performers from the Streetwaves young music competition in Derby Square; while over in Williamson Square the Cavern 50th anniversary stage will showcase the very best sounds from days gone by. Even the city's commercial district around Old Hall Street will join in the fun, with a food and drink market, street theatre, and schools sports day-style competitions. And as the sun sets over the Mersey, organisers will make final preparations to a spectacular firework finale, which will light up the night sky from 10pm, illuminating some of the city's most iconic architecture and offering dramatic views from across the city.

Jason Harborow, Chief Executive of the Liverpool Culture Company, said:- "Anticipation is already building over the birthday weekend, and we're really pleased with the plans that are in place. From the street parties to the pageant; Mathew Street Music Festival to the fireworks, it's set to be a really special celebration for the city."