HUNDREDS APPLY FOR FIRST TV APPRENTICESHIPS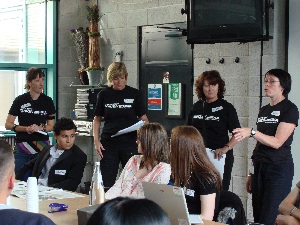 NEARLY 300 Northwest young people have applied for one of 20 TV apprenticeships – the first of their kind to be offered anywhere in the UK. Designed specifically for people who wouldn't usually get the chance to work in TV, the apprenticeships are being hailed as a unique opportunity to break into the business and work behind the scenes of the broadcasting industry. This week, the enormous task of interviewing and short listing candidates began. Over 70 young people attended assessment days at BBC Manchester, where they were asked to complete a range of production and TV-related exercises.

Some of the biggest names in TV have joined forces to offer the 16-22-year-olds the chance to take their first steps on the career ladder. The BBC, ITV Granada, Lime Pictures and the Red Production Company are backing the ground-breaking Advanced Apprenticeship in Media Production, which has been devised by Northwest Vision and Media, Skillset, BECTU and the Learning and Skills Council.

"As this is the first time we've offered an apprenticeship of this kind, we weren't sure what kind of response it would get. But it's been phenomenal!" says Lynne McCadden, Managing Director of Vision and Media, which works on behalf of the region's TV, film, radio and digital content industries. "We believe that talent isn't about where you live or skin colour, educational achievements, gender or any number of other irrelevant factors," adds Lynne. "This is the first opportunity for young people who don't have GCSE maths or English, to still be able to apply for an apprenticeship which offers so much potential for their future career."

Kate O'Connor, Skillset's Director of Policy and Development agrees, seeing the new apprenticeships as one way to diversify broadcasting talent in the region. "With the Northwest set to become one the biggest media hubs in the UK we are dedicated to a diversity of talent, and the Production Apprenticeship scheme is just one of the ways we can ensure this," says Kate. "Even before this scheme was launched we'd had interest from other regions and nations, with both Yorkshire and Wales keen to run pilots of the scheme,".

The 18-month Programme, which will run from September 2007 through to June 2009, will offer apprentices the chance to develop core skills in TV production, with story telling and audiences at the heart of all the work they do. Each apprentice will be paid an allowance, in addition to receiving training and all the experience needed to kick-start their career in the industry. In addition, participants will be able to gain a Level 3 qualification while training. Apprentices will work across a range of companies such as All Out Productions, BBC, Centini, ITV Granada, Lime Pictures, Objective North, Red and Sumners.

"The apprenticeship will develop skills and abilities in various production roles, as well as allowing the trainees to learn about all areas of the media industry," explains Lynne McCadden. "Apprentices will also develop invaluable contacts and a wealth of practical experience across a range of different broadcasting companies."

At the end of the scheme, it's hoped the apprentices will be the next generation of industry talent. "There's no guarantees, but once the scheme ends the trainees will have acquired all the skills and experience they need to secure work in their chosen part of the media industry," says Lynne.

The first 3 months of the scheme will be spent in college, getting trainees prepared for their first work placement, during which time they'll complete the industry induction certificate.
UNISON TO BALLOT NHS STAFF ON NEW PAY OFFER
UNISON, the UK's largest health union, is to ballot its 450,000 health workers on an improved NHS pay offer announced. The new package gives extra help to the low paid and, for staff in England where the pay offer remains staged, additional money targeted at training plus a £38 contribution towards professional fees. There is also a commitment to review future pay and conditions.

Mike Jackson, UNISON lead negotiator, said:- "Pay negotiations this year have been dogged by the Treasury's policy of restricting public sector pay. This has led to months of long and tough negotiations but at last we have an improved offer to put to members. The package on offer is a complex one and will mean different things to different NHS staff depending on where they live. This is still a below inflation deal for most, but it is the best offer we are likely to achieve through negotiations and we will be balloting our members over whether the y wish to accept it."

An individual postal ballot of all NHS UNISON members will be held between 20 August and the 13 September 2007on whether to accept the offer.

Details of the offer include:-
* From 1 November, extra money for the lowest paid. £400 flat rate increase for those on Bands 1 and 2. Those on Bands 3 and 4 will receive an additional £38 as well as the 2.5%. This will be payable in all 4 UK countries.

* In England only, there will be additional money for staff training targeted directly on those non-clinical staff who often lose out when training budgets are cut.

* England only, there will be £38 paid to staff on Bands 5, 6, 7 and 8(a) who are required to register to practice. This money is a contribution to their professional fees.

In addition to the improved pay offer for this year, unions, employers and governments have agreed to enter into talks prior to the next pay round, to consider improvements to the Agenda for Change pay structure and its terms and conditions.

Mike Jackson said:- "This will provide an opportunity for UNISON to pursue long-standing policies such as a reduction in the working week and the abolition of Band 1."
RAISING THE BAR - LEAGUE INTRODUCES NEW FAMILY KITEMARK
THE Football League has introduced a new quality standard for clubs called 'The Football League Family Charter Mark'. The new award will be presented to clubs that expand their supporter base by delivering consistently excellent experiences for families and young supporters at their grounds. This new initiative forms the latest part of The League's 'Fans of the Future' initiative, its first centrally co-ordinated attendance building programme. Launched in September 2005, 'Fans of the Future' aims to encourage the next generation of supporters to watch live football at their local League club and provides a range of innovative ticketing initiatives for families and young fans.

Football League Chairman Lord Mawhinney said:- "Through our 'Fans of the Future' initiative we are encouraging the next generation of young fans to watch their local League club. With some success too, so far more than 500,000 youngsters have attended matches for free during the last 2 seasons. The new 'Football League Family Charter Mark' represents a further step forward for The League in terms of recognising and sharing best practice in this area. Those clubs receiving the Charter Mark will have provided a genuine commitment to attracting and retaining family groups to their matches."

In developing the new quality standard, The Football League commissioned an independent assessment of the family experience at 15 League clubs during the 2006/07 season. Further 'Mystery Fan' exercises will now be conducted at all 72 League clubs during the forthcoming season. These assessments will form part of the criteria used to determine whether clubs qualify for the Charter Mark. Clubs will also be assessed on whether their pricing policies are in line with the spirit of 'Fans of the Future', along with evidence that child protection and safety practices have been implemented. Additionally, to recognise the best family experience in each division, there will also be a new 'Family Club of the Year' award at this season's Football League Awards (to be held in March 2008) for each division of The Football League.