JILL'S TAILORMADE FOR THE JOB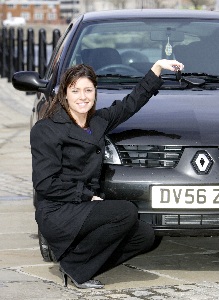 JILL Preece, a business manager for Tailormade Oversees Property Solutions Ltd, was recently presented with a brand new car after completing her 100th sale just months after joining the Liverpool-based company. Jill was handed the keys to a metallic black Renault Clio Sport having only joined Tailormade, who specialise in bespoke solutions for people wishing to invest in property abroad, in June last year.

A 27 year old from Woolton Village, Jill moved to Tailormade having previously been employed by a cosmetics company in Beverly Hills, California. She commented:- "I am absolutely delighted with the car.
I've loved every minute of my time at Tailormade so far; their support and encouragement has been vital to me clocking up 100 sales."

Ken Metcalf, Tailormade's founder and CEO, added:- "Jill has worked extremely hard since joining the team last summer and securing her 100th sale in such a short space of time is phenomenal.
We wanted to celebrate the success and thank Jill in an equally impressive way and thought a brand new car just about covered it!"
Taking Pride in our Promenades!
NEW Youth Photography Competition launched by Mersey Waterfront. Last Wednesday, saw the launch of a photography competition to find the images which capture young peoples' sense of pride in Sefton's promenades. The competition is being run jointly by Mersey Waterfront and Liverpool Culture Company's Youth Advisory Group. It will include 3 age categories (10 and under, 11 to 15, and 16 to 19) with the aim of getting more young people actively involved in Mersey Waterfront's Pride in our Promenades programme right across Sefton, Liverpool, Halton, and Wirral.

The £8.5million Pride in our Promenades project has so far seen major improvements at Otterspool Prom, including new railings, seating, a children's playground and the refurbishment of the former Garden Festival sculpture 'Sitting Bull'. Work to improve renew key parts of the 3.5km stretch between Seacombe and New Brighton gets underway later this summer, with potential schemes for the Sefton coastline also in the pipeline.

Jo Hayes, Mersey Waterfront's Pride in our Promenades Co-ordinator, said;- "We want young people to make the most of their local proms, so the challenge is to get out there with a camera and take some really striking shots. It may be looking at a prom from an unusual angle, showcasing its beauty, or capturing activities like cycling, walking or kite flying. It's all about using your imagination!"

Councillor Warren Bradley, Leader of Liverpool city council and Deputy Chair of the Liverpool Culture Company, said:- "The Youth Advisory Group was set up to ensure that the views of Liverpool's young people are fully represented, and this is a great example of how members can get involved in projects that have a real impact on our city."

The closing date for entries is 5pm, Friday 28 September. First prize winners in each category will receive £50 vouchers, while thee runners-up will get vouchers worth £20. Full competition rules are available at www.merseywaterfront.com from Wednesday 1 August 2007.