AWARDS FOR BEST KIDS' ACTIVITIES IN BRITAIN LAUNCHED
THE prestigious What's On 4 Little Ones Awards 2008 have been launched, with celebrity judge Alice Beer on board. The award programme, which is sponsored by pioneering children's food company Organix, is now in its 2nd year.

The awards aim to celebrate the best pre-school activities across the UK, as voted for by parents. And this year, the awards are bigger than ever, covering 20 different categories ranging from Best Antenatal Class to Best Messy Play Class!

The awards are divided into 3 categories: national, for activities that are available in more than one area of the UK; local, for activities that are based in one area of the UK, and special awards. The special awards are for the Best New Activity, the Best Innovation, the Best Baby Development Activity, the Best Toddler Activity and the Most Outstanding Volunteer. The 2008 awards also see the introduction of the Organix Make A Difference Food Award, which will go to any class or activity that has made a difference by introducing healthy food choices.

From August 1 to October 31, parents can log onto the on-line directory - whatson4littleones.co.uk - to nominate their favourite local pre-school classes and activities. Online voting for the national awards will then run from November 1 to February 29 2008.

Broadcaster, author and mother-of-2 Alice Beer will be on the judging panel that picks the local and special awards. The panel also votes on the national awards nominees. The winners of the awards will be announced in March 2008. Every pre-school activity in the UK has the chance to be nominated and voted for, making the awards a true representation of how parents feel towards what is on offer for their little ones. Last year's awards saw more than 1,400 votes cast and 15 winners, from across the UK.

What's On 4 Little Ones co-founder Sam Willoughby said:- "I'm so excited about our 2008 Awards! I can't wait to receive the nominations as it's a privilege to read how the groups help parents - sometimes it brings a tear to my eye!"

Sam, who was recently short-listed for the mother@work awards for inspirational working mums, added:- "I also know how much the teachers and organisers value being nominated, they put a lot of heart and soul into their activities so it's such a great way for us all to say thank you."

Ian Sharland, director of Baby Sensory, said:- "It is great that What's On 4 Little Ones have established these awards. There are so many exciting and innovative activities for babies and young children, many of which gives families the opportunity to have fun together. The awards will give high profile publicity to the nominated activities and will help to raise standards as we all strive to produce award winning activities for parents and young children."

Sasha Felix, co-founder of Sign and Sign, the UK's leading baby signing programme, which won a Gold Award last year, said:- "It's great to see What's on 4 Little Ones going from strength to strength! What's on 4 Little Ones is a quality website for parents and we were thrilled to be win our award this year. We are looking forward to the results of the 2008 awards too!"

The full list of available awards is:-
NATIONAL AWARDS
Best Swimming Class
Best Baby Signing Class
Best Messy Play Class
Best Music Class
Best Performing Arts Class (such as dance, singing or drama)
Best Football Class
Best Physical Activity Class (such as gymnastics and other sports)
Best Language Class

LOCAL AWARDS
Best Local Activity
Best Pottery/Painting Studio/Mobile
Best Soft Play Centre
Best Antenatal Class or Course
Best Day Out
Outstanding Baby and Toddler Group: The winners will receive a £100 donation and an Organix hamper of goodies.

SPECIAL AWARDS
Best New Activity:- This award is for any activity that has been running less than 2 years.
Best Innovation:- The award is for any activity that has shown innovation in what they do or how they do it!
Best Baby Development Activity:- This award is for any activity that has excelled in baby development.
Best Toddler Development Activity:- This award is for any activity that has excelled in toddler development.
Most Outstanding Volunteer:- We know that a lot of activities are run by volunteers and we want to recognise one volunteer that is particularly outstanding!

Organix 'Make a Difference' Food Award: How has your class or activity made a difference by introducing healthy food choices? Tell us what you have done and you could win this award and an Organix Goodies Hamper! This award is open to any activity or group that includes snacks or refreshments for the children.
ROYAL NAVY PATROL SHIP CAN'T GET ENOUGH OF MERSEYSIDE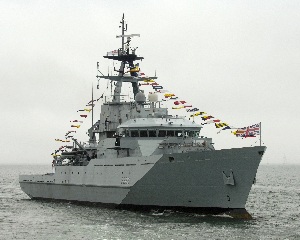 RETURNING for the 2nd time in 4 months, HMS Mersey will once again fly the flag for the Royal Navy as she sails in to reinforce links with her affiliated borough of Sefton on Thursday (August 2). Last seen on the River Mersey in April, the 1700 tonne River Class fishery protection vessel is returning for a 4-day visit following an intensive period of operations in the Irish Sea.

While alongside at Huskisson Dock the ship has a full programme reaffirming relationships first established when she was, in a break from tradition, commissioned in Sefton rather than her base port of Portsmouth. The ship's Commanding Officer, Lieutenant Commander Jonathan Lett, will pay a courtesy call on the Mayor of Sefton on Saturday and will then host a luncheon on board for many of the region's civic dignitaries.

The crew will also welcome on board local community groups including their affiliated Sea Cadet Unit TS Ardent, whose namesake Type 21 frigate, HMS Ardent, was sunk during the Falklands conflict 25 years ago and host a visit by the 33rd Lancaster Sea Scouts.

The highlight of the visit will be a joint exercise with Merseyside Fire and Rescue Service. Assistant Chief Fire Officer for Merseyside, Bill Evans, and around 20 firefighters will step aboard HMS Mersey to conduct training designed to test both parties on their capabilities and firefighting priorities. There will then be a final exercise with members of the ship's company fighting a pretend 'fire' and the firefighters conducting a search and rescue operation for injured crewmen in smoke filled compartments.
Lieutenant Jason Varty, the ship's Executive Officer and in temporary command for this visit, said:- "It's great to be able to bring the ship back to Merseyside so soon after her last visit, and we are especially pleased to be working alongside the Merseyside Fire and Rescue Service. As sailors, we are trained in basic firefighting skills – the priority being to safeguard the crew and the ship if a fire breaks out when you're off shore and far from help. These firefighters are the experts in their field and do this job everyday. We're looking forward to learning a lot from them." He added:- "The crew has also been looking forward to the stay as it gives them a chance to let their hair down, after several weeks of intensive operations, in a region known to be one of the best runs ashore in the Navy. Our visit to Merseyside will provide a welcome break from our usual routine of 12 days on patrol and two days alongside. "

HMS Mersey will depart on Sunday to resume her primary role of fishery protection and maritime security in English, Welsh and Northern Irish waters, enforcing UK and EU legislation to ensure that UK stocks of fish are sustained for future generations.
WE'RE LOVIN' IT!
A TEAM of youngsters from Liverpool will fulfil every child's dream when they step out at the Home of Football at the first ever McDonald's National Football Festival next Monday. Birkdale Girls JFC will be among 800 other children who will follow in the footsteps of their footballing heroes as they receive the once-in-a-lifetime opportunity to play on the hallowed turf of Wembley Stadium. The youngsters will also enjoy an action packed day of coaching, skills training and mini-tournaments plus a special appearance from 1966 World Cup hero, Sir Geoff Hurst MBE.

They will also receive expert tuition from McDonald's / FA qualified community coaches plus McDonald's Head Coach, Eric Harrison, the former Manchester United Youth Team Coach who helped to nurture the careers of David Beckham, Ryan Giggs, Paul Scholes and the Neville brothers and is still cited by David Beckham as his football mentor.

The event has been organised by McDonald's, The FA's Community Partner, and The FA as the pinnacle of McDonald's regional festival tour which saw over 50 free festivals held across the country for over 37,000 children. Birkdale Girls JFC won their place at McDonald's inaugural National Football Festival after taking part at the football festival held in Southport earlier this summer.

Sir Geoff Hurst MBE, McDonald's Director of Football, said:- "McDonald's football festival programme continues to go from strength to strength and the National Festival provides a fitting finale to this year's programme.
It's also great to involve some of the 9,500 community coaches that we've helped to create who work tirelessly to provide children in communities all over England with increased access to free qualified coaching. It should be a great day!"