The Last Search For A Star 2007, North West Heats...

THE last of the three heats took place on Thursday 9 August 2007 and what a night it was. The show audience was just below full and the talent was just as stunning. The contestants at the heats have all been fantastic, both on and off stage and a real joy to both watch and to photograph. The comradeship shown is a real joy to see, unlike most talent competitions, competitors at this one helped each other back stage. This help ranged from helping each other to calm nerves through to helping each other with the more mundane things like fixing dresses and each others hair. So good though was the standard of last weeks competitors, the judges actually took 45 minutes to pick the winners. So close in fact was the marking that they had to let 5 through instead of the intended 4 contestants! I would hate to be the judge at the Regional Final that will be held in the Southport Arts Center on 6 September 2007 as they will really have a hard job picking the 1 winner with so many good acts going through. This week's support act was Graham Oxford and presenter was yet again the very talented Neil from Dune FM's Big Fun Breakfast Show. I must say well done to the other 2 support acts from the last 2 weeks, Ken Nicolson and Jacqui Lewis, sorry I let your names off the reports. Also I would like to say again congratulations to all the contestants who took part in this years' heats. It is not an easy thing to do, to get on stage and sing in front of an audience. All of the contestants this year have amazed me as to how much effort they have taken to dress up and look as stunning as their acts where. I will not single out any by name, but 1 girl caught my attention back stage, as she suffered from Asthma. On stage no one would have guessed, but when back stage she was out breath after performing. She is a glowing example of talent and overcoming problems and an example of the amazing professional attitudes of the contestants this year. For me this shows the true nature of this type of contest and its importance; it is a way for hidden talent to be shown and confidence to be built on.

This week's fantastic winners are Suzanne Morris, Shaun Moran, Gina Harrison, Nick Donnelly, Barry Briercliffe and Penny Nicholls. Congratulations and we will see you at the finals.

To all at ABD Productions, well done for putting on an amazing show… We look forward to the finals as we expect it will be amazing!

Tickets for Final from £11.00 (no concessions) can be purchased on the night or in advance from the Southport Arts Center.

Click here to see more photos from the night...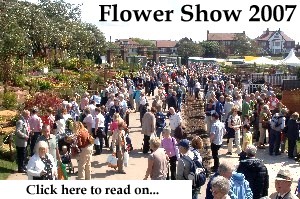 --- MORE NEWS REPORTS BELOW ---
Lime Street Station ready for 800th birthday celebrations
Enjoy a grrr-eat day out at PDSA's Fun Dog show!
LIVERPOOL IS STAR OF NEW DVD
Vue
Film Showing
Times
The Beatles Story to Unveil Russian Sculpture
HOUSE PRICE RISE IN THE NORTH WEST HIGHLIGHTS URGENT NEED FOR MORE AFFORDABLE HOMES
Holy Smoke! Brits Save Photos but Discard Sacred Texts in Fire
New Hope for Dogs with Cancer
Landlord licence dodger fined
Local pub surprises regulars
PIRATE'S PEARL MAKES MERSEY VISIT
1st Time Buyers Ability to Buy Index hit an all time low
Time Table of Events for Liverpool 800th Birthday Party!
TEACHING YOUNG PEOPLE NEW TRICKS
FOUNDER OF CHILDREN'S FOOD COMPANY BACKS CLAIMS THAT FOOD CRAVINGS ARE LEARNT IN THE WOMB
SLAVERY REMEMBRANCE DAY Otterspool, south Liverpool
TRIBUTE TO THE LATE LORD DEEDES
4 more beds for Spinal Cord Injury Care at Southport
'THE ALTERNATIVE GOURMET' JOINS LIVERPOOL FOOD LOVERS FESTIVAL
SOUTHPORT FLOWER SHOW, REPORT 1 OF 2 REPORTS
BOOK REVIEW:- "Round Ireland with a Fridge"
53 Degrees to Host NME Fresher's Tour featuring The Go! Team
The average debt in the North West exceeds annual income
Letters To Editor:- "The Destroyer Memorial 1939-1945 - Unveiling and Dedication Ceremony at The Historic Dockyard Chatham"
UK A NIGHTMARE NATION: MILLION BRITS HAVE A SCARY SNOOZE EVERY NIGHT
Highways Agency Holiday Getaway Information Update
Alcohol affects poorer communities across England
GOVT STALLING ON SOUTHPORT BILL SAVINGS
LENDERS URGED TO INTRODUCE REGULAR REVIEW FOR INTEREST ONLY BORROWERS
Heat 3 - Search For A Star, 2007 Photos
NORTH WEST WORKERS VOTE - BRING BACK THE TEA TROLLEY
Acquisition accelerates Halliwell Jones Group's drive into North Wales
~HAPPY BIRTHDAY~
If you have someone you want to say happy birthday to, for free,
then use the email address below to send us the names
you want us say happy birthday to, and/or a photograph.
Email us today!