Parents' plea for help Rhys Jones
Report and photographs with thanks to Merseyside Police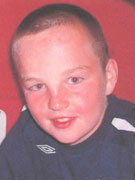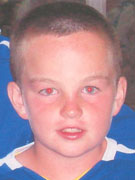 THE parents of 11 year old Rhys Jones have made an emotional plea for their son's killer to hand himself in to the police.

Stephen and Melanie Jones spoke of their horror of seeing their child lying in hospital as staff made a desperate bid to save Rhys's life. Sadly, despite their best efforts, he died as a result of a gunshot wound to his neck. His parents say they have lost their world and the world has lost a good guy.

The investigation into the murder of Rhys is Merseyside Police's number one priority. The motive for his killing remains unclear and the Force is using every specialist technique resource available to build up a picture of events leading up to his death.

Forensic investigations and fingertip searches continue at the scene and police are examining CCTV images.

Merseyside Police have now got additional high visibility patrols are in the local area with an extra 100 police officers, including mounted police, Community Support Officers and armed officers.

As well as conducting the murder investigation, officers are handing out leaflets appealing for information and speaking to the community about their concerns and reassuring residents that painstaking efforts are being made to arrest those responsible.

This is a tragic incident and a senseless waste of a young life and Merseyside Police is determined to see those responsible brought to justice.

Assistant Chief Constable Patricia Gallan said:- "The community has been left extremely shocked by the horror of Rhys's death and I'm sure people will not fail to be touched by the dignity and bravery his parents have shown. This is a loving family who has brought up their children to respect others. It is difficult to imagine the turmoil they are going through now.

We are absolutely resolute in our aim to bring the killer to justice and to do that as soon as possible. To that end, our appeal is two-fold. First, to the gunman. Don't wait for us to find you. Do the right thing and turn yourself in so you can begin to come to terms with the enormity of what you have done.

Secondly, to the public. I would thank those people who have helped us so far. If you haven't yet come forward, do so now.

We have a number of ways in which people can contact us, including by phone, by text and be email. We are appealing to every part of the community, young and old, to help us solve this senseless crime. We believe that the offender is a teenager and it may be that there are young people who have vital information, which may help us. Some of them may feel more comfortable with texting or e-mailing and we would encourage people to use whatever means they have to tell us what they know."

The Description of the gunman/offender is described as a white boy, aged around 13 to 15 years of age, approximately 5ft 8in tall with a slim build. He was wearing dark clothing, including a 'hoodie' top with a peak and white trainers. He was riding what's described as a black BMX style bike. But Merseyside Police requires a more detailed description to aid their enquirerys.
Det Supt Dave Kelly, the senior investigating officer, said:- "We know from our inquiries there was a woman pushing a pram minutes before Rhys was killed and we believe she will have passed within close proximity to the killer.
She is described as wearing white wide-legged trousers with a dark tunic style top, almost like a smock.
She had dark hair, possibly tied back and was pushing a dark coloured pram at about 1925 BST."
Spectators and players at Everton's home game held a minute's applause at Goodison Park where Rhys's favourite team were playing Blackburn Rovers.
Police are anxious to talk to anyone who may have seen someone matching this description in the area at around 7.30pm that night to come forward. Where was he prior to the shooting and where did he go afterwards?
If you know, contact the police now!

If you are a witnesses and/or anyone with information, who has not yet come forward, please contact the Merseyside Police Major Incident Room on 0151 777 8722. Alternatively, you can contact us by texting the word CRIME followed by your message to 61051 or email your information to murder@merseyside.police.uk.

"With out the public's help we can not catch this offender and stop this from happening again. Next time it could be your child, brother or sister or friend who gets shot.
We know people are frightened about coming forward, but we will do every thing in our powers to help all who contact us and if you prefer, you can provide information anonymously by contacting Crimestoppers on 0800 555 111.
Crimestoppersis an independent registered charity working to stop crime and not part of Merseyside Police.
Crimestoppers is only interested in what you know and not who you are.

The 0800 555 111 number ensures that:-

* you will not be asked your name
* your call will not be traced or recorded
* you do not have to give a statement
* and you won't have to go to court

Crimestoppers is a simple, secure service built on integrity and trust.
Your information will allow Crimestoppers to put the police in the picture, without anyone knowing who provided the information that could bring those responsible for the murder of Rhys Jones to justice."
Pedestrian Hit By Bus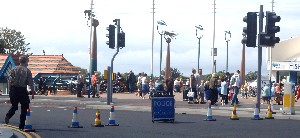 A bus was travelling up the Promenade towards Funland when the accident happened at around 1:00pm on Friday 23 August 2007.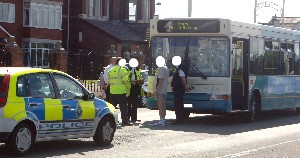 A pedestrian, thought to be from Skelmersdale was hit by a Bus on the Promenade, Southport and was reported to have been "wedged between the rear wheel arch" after making contact with the windscreen.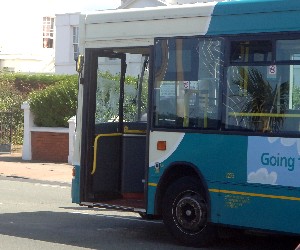 The man was taken to hospital and the road closed to all traffic as an investigation took place.
CARE Charity's Gold Medal Display Now At New Pleasureland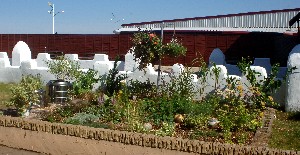 GREENNET is a horticultural social enterprise network based in the North west region.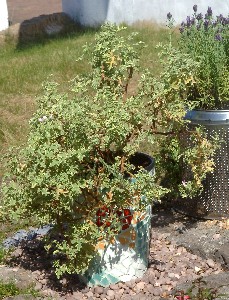 Its aim is to support the sustainable development of horticultural social enterprises who provide training and employment opportunities to disabled people.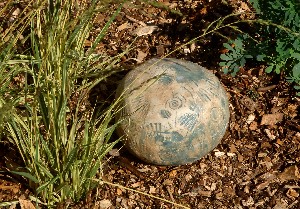 "This is the first year we have displayed at Southport Flower Show with a stand in the main floral marquee and we were delighted to have been awarded a Gold Medal for our achievements.
The five main members of Greennet are Care, Stanley Grange at Preston, Brothers of Charity at Chorley, Integrate at Preston, Piccadilly Gardens at Lancaster and Jigsaw Environmental near Clitheroe.
CARE is a registered charity providing residential and day services to adults with a learning disability and this year took the lead role with designing and planting the stand. It was planted up as a sensory garden using a large range of perennials, herbs, vegetables and annuals that have been produced at all five enterprises.
Part of the display has now been planted up at New Pleasureland, Southport.
I am so happy that we get not only the Gold, but also the ability to get more people to see it at the New Pleasureland site." said Jane Martin, Day Service Manager, CARE Stanley Grange.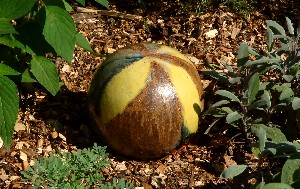 For further information visit www.green-net.org.
Statement by Rhys Jones parents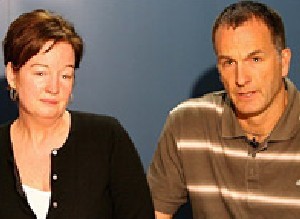 Rhys's father Stephen Jones and his mother Melanie Jones both said:- "Our son was only 11, our baby. This should not happen, this should not be going on. Please help us. We have lost our world, the world has lost a good guy."