All Aboard The New Look Culture Bus
LIVERPOOL'S Culture Bus, which has been taking hundreds of Liverpool youngsters on free trips to the city's main culture venues, has been given a new look. The Culture Bus is a 39 seater coach equipped with seatbelts that gives free transport to school and youth groups in Neighbourhood Renewal Fund areas of Liverpool. It gives children and young people access to the top cultural venues and events in the city

It has now been decorated featuring a winning picture in a competition which asked children to think about why Liverpool is the European Capital of Culture, and to research one of; Sefton Park Palm House; Speke Hall; St. George's Hall; the Three Graces; the Albert Dock; the Walker Art Gallery; and the World Museum. They had to imagine something amazing happening in one of these venues and to draw a picture.

The winning picture was created by 8-year-old Che Wilson, a pupil at St Matthew's Catholic Primary, who drew a picture about the Liver Building with the Liver Birds' friends flying in for a party and their tweets being so loud that they are driving Liverpool crazy. He won a trip for himself and 19 of his schoolmates on the Yellow Duckmarine.

Che will be joined by pupils from a class St Michael's School on Wednesday 12 September, who are using the Culture Bus to travel from their school to the Albert Dock to meet their teacher. Sarah Green, who is taking part in the Round the World Yacht Race.

Competition entrants were helped by French artist Laurence Payot, who has worked with schools and community groups. She then incorporated the children's pictures into the final design.

Cllr Mike Storey, Executive Member for Regeneration, said:- "The Culture Bus is a big success story and is proving very popular.
We have already exceeded our target for the number of children we hope would take up the offer.
It means that many children who wouldn't otherwise have had the chance to visit our museums, galleries and historic buildings will be able to do so.
e have great museums, galleries and other venues and they're not just there for visitors to the city.
We want them to be used by local people, so this is a way of making sure as many of our children get to see the great attractions their city has to offer. And they have been able to let their imagination run riot by designing the new livery for the bus; it shows what a great depth of creativity we have among our young people."
ACOUSTIC HEAVEN IN LIVERPOOL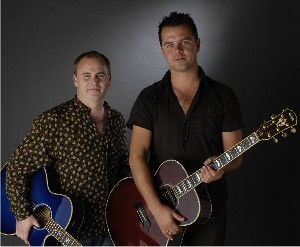 YAMAHA present a mouth watering treat for guitar fans and music lovers when acoustic roots dynamo Derrin Nauendorf and legendary bluesman Dave Goodman appear for one night only at The Cavern Club on Tuesday 9 October - John Lennon's birthday, for the north-west leg of a national tour.

Acclaimed by press and audiences the world over, Australian born Derrin Nauendorf has toured with world-class artists including Van Morrison and Dionne Warwick and his latest album 'The Rattling Wheel' and new single 'Shipwrecked' have recently been championed by Bob Harris on Radio 2 with a series of live sessions on Bob's show. Dave Goodman is an acclaimed guitarist, singer/songwriter from Canada BUT born in Liverpool, who enjoys a frantic Europe-wide gigging schedule and toured last year with Yamaha artists Glenn Tilbrook, co-founder of Squeeze and Antonio Forcione, reputed as the Jimi Hendrix of the acoustic guitar.

The outstanding pairing of these 2 incredible musicians, promises a moving, passionate, energetic and entertaining evening, as unforgettable as it is rare, comprising solo sets of the finest songcraft and musicianship imaginable including some classic Lennon tracks thrown in for good measure to mark the occasion and pay homage to arguably the greatest singer songwriter of all time.

Also joining the tour to provide able support is Gavin Twist, winner of a national search by Yamaha, Guitarist Magazine and Chappell of Bond Street to discover the UK's most exciting new acoustic artist. After receiving a huge number of entries, Gavin was chosen for the tour after competing in a live final held at London's Chappell of Bond Street.

For tickets priced £8 call 0151 236 1964 or visit www.cavernclub.org.
For more info about the tour and the chance to win a Yamaha electro-acoustic guitar worth over £400 visit www.yamahaevents.co.uk.