Operation Billy!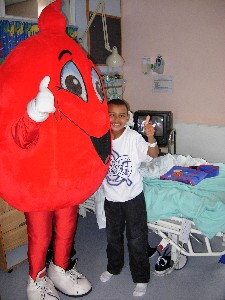 BILLY Blood Drop, the National Blood Service's (NBS) mascot, has been 'doing the rounds' at local children's wards in a bid to lift the spirits of the region's poorly children! A spell in hospital can be a daunting experience for anyone, especially for children. With the help of leading toy manufacturer Hasbro, the NBS is embarking on a nation-wide tour with its furry friend Billy to help keep children who are in hospital entertained this summer. Hasbro has donated a vast quantity of its new Operation:- Rapid Response games to the NBS's hospital tour in the hope that they will not only entertain the children, but that they will help brighten up their stay in hospital.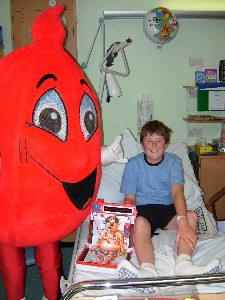 Ken Goodisson, Brand Leader at Hasbro said:- "Operation: Rapid Response comes with several electronic features including a push pump oxygen ventilator and a light up heart monitor. This game is not only great fun to play with, but will help the children familiarise themselves with the hospital equipment around them and we may even start off some budding new surgeons! "

Kids on wards at Alder Hey Hospital were overjoyed to see Billy Blood Drop, a 6ft tall and 3ft wide giant blood drop, when he called in bearing the gifts on Thursday 13 September.

Marcia Mercer, Acting Chief Nurse at Liverpool's Alder Hey Children's Hospital said:- "We were delighted to welcome Billy Blood Drop to the ward. He certainly cheered up the day and the children were delighted to see him. We see around 200,000 children a year at Alder Hey and may of our patients rely on donated blood for their treatments, so it's good for them to be able to understand what it's all about."

Patients in Merseyside rely on voluntary blood donors to provide in excess of 200 blood donations everyday for local hospitals to carry out lifesaving treatments. Despite this only 5% of the eligible population are active blood donors.

Cathy Davies Spokesperson for the NBS said;- "The demand for blood never stops so if you haven't given blood for a while, or have never given blood before please consider coming to donate over the next few weeks. Remember you never know when someone you know could need a blood transfusion."

Anyone aged between 17 and 60, weighing more than 50 kg (7 stone 12 lbs) and in general good health could potentially start saving lives by becoming a blood donor.
For details of sessions in your area or to book an appointment call 08457 711 711 or visit their website at:- www.blood.co.uk.
UNISON MEMBERS VOTE TO ACCEPT NHS PAY OFFER
UNISON members in the NHS have voted 2 to 1 to accept the revised pay offer made in August.

Stephanie Thomas, UNISON North West Region Head of Health, said:- "I believe that workers in the health service deserve better; however UNISON said that the revised offer was the best that could be achieved through negotiation, and the result shows that members recognised that fact.

We are now putting together our evidence for next year's pay round and we will be making a strong case for a catch-up award. I don't believe health workers will accept a below inflation pay increase for two years running. The latest statistics show that pay growth in the public sector has fallen to its lowest for a decade. The NHS will need to work hard to keep its staff from looking for higher paid work elsewhere.

In addition talks will be kicking off shortly on how to improve the terms and conditions of NHS staff. We want to make real progress on issues such as reducing the working week, better training and on unsocial hours which will make a real difference to the quality of our members' lives."

UNISON represents 450,000 members in the NHS including nurses, paramedics, healthcare assistants, cleaners, cooks, porters, administrative staff and therapists. 68.8% voted for and 31.2% against the offer. The new pay package is worth 3.4% to the lowest paid and, for staff in England where the offer remains staged, there is additional money targeted at training plus a £38 contribution towards professional fees.

Details of the offer include:-
* From 1 November a £400 flat rate increase for those on Bands 1 and 2. Those on Bands 3 and 4 will receive an additional £38 as well as the 2.5%. This will be payable in all 4 UK countries.

* In England only, additional money for staff training targeted directly on non-clinical staff who often lose out when training budgets are cut.

* England only, there will be £38 paid to staff on Bands 5, 6, 7 and 8(a) who are required to register to practice. This money is a contribution to their professional fees.
Breast cancer fundraiser @ Springboks Trekkers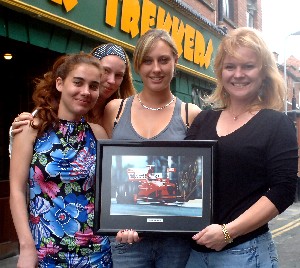 A fantastic night will be held on Wednesday 3 October 2007 for Breast Cancer at Springbok Trekkers.
As the charities colour is pink, all attending will be asked to have on something pink. The night will see lots of games being run and a large auction will be held, with prizes given from Jack Daniels through to a signed photograph of F1 driver Michael Schumacher as well as a few lads, yes local bachelors will also be auctioned off....
If any one can help by donating something to the auction to raise funds for the charity then please email our news room at news24@southportreporter.com or send an email to springbokpink@yahoo.com.
You can also call the bar on 01704 535683 or our newsroom on 01704 513 569.
More information will be placed in next weeks issue!