Formby Arts Festival UPDATE!
Tickets are selling fast so book now or be disappointed!
The committee is now working flat out to get every detail ready. The events are going to be one the biggest in the history of Formby. The group, all volunteers from all backgrounds expect this to be one of the best festivals put on yet. All the money raised at the event after costs will go towards Formby's swimming baths. We can now reveal some more interesting things that are going to take place over the first Weekend. The fist weekends events are free during the day, unfortunately the night time ones are not. But don't let that put you off. Their will be Archery, Mediaeval Combat, Nights on Horses, Country Crafts, Roundabouts and fairground, Steam Train, Sefton Rangers Displays, Medieval Food, Craft Stall, Falconry and more!
We can also reveal that the well known Sefton Youth Jazz Orchestra, which has played all across the world will be playing on the 7th just before Humphrey Lyttelton! So get your tickets now or be disappointed!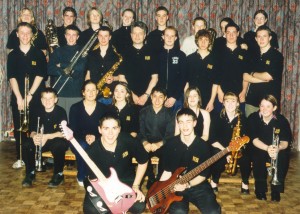 For some SYJO members it might be the last time playing with the band, what a way to end! Pictured above this is years band.

To go back to the Top of the page.
Formby Arts Festival Concert Ticket Prices.

PERFORMANCE

SEATS

GRASS

Swing Shift Big Band
Saturday 6th July

£5.00

£4.00

Humphrey Lyttelton
Sunday 7th July

£12.00

£10.00

Reckless
Monday 8th July

£5.00

£4.00

Folk in the Pinewoods
Tuesday 9th July

£5.00

£4.00

Wind Ensemble
Wednesday 10th July

£5.00

£4.00

Sefton Youth Brass Band
Thursday 11th July

£5.00

£4.00

Pirates of Penzance
Friday 12th July

£5.00

£4.00

ABBA UK
Saturday 13th July

£8.00

£7.00

Formby Hall Garden Party
Saturday 13th July

Adult ticket £10.00 - Family ticket TBA

Formby Arts Festival 2002 ROLL OF HONOUR.

This year's festival in Formby is well underway now. Sponsors of the festival so far are:-

Southport Reporter, Formby Times, Alliance & Leicester, Shorrocks Hill Country Club, In House, Mc Dougall's Chemist, Formby Health Food Store, Boots, Bryrne's & Son, Re-aqua (at Just Beauty), Delahunty, Jonathan Ward, Maxwell Entwistle & Byrne, H.D. Vince Ltd. Ekaton Ltd. Brough Butchers, Alan Rumph & Co. Waterfields, Lloyds TSB, Blackhouses, Trimmers, B.B. Lewis Ltd. AC Greeting Cards, Colette Gunter Ltd. Animals in Need, Mr Minit, Global Video, Derbyshires, Classic Lifts, Fogarty's Carpets, Send-a-Card, Formby Timber, Pride's Hairdressers, Act One, Tesco (Formby) & Formby-Online.