GIVE PCSOs THE RIGHT KIT FOR THE JOB SAYS UNISON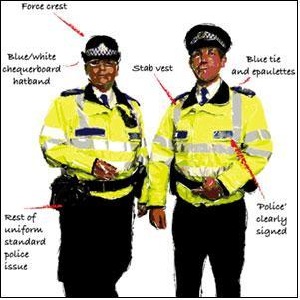 THE UK¹s largest public sector union, UNISON, has called for standard protective kit and training for Police Community Support Officers, to end variations across constabularies.

Ben Priestley, UNISON National Officer for Police Staff, said:- "The work of PCSOs is often very high-profile, often challenging and sometimes dangerous. To do the job properly they need the right kit; a uniform that is distinctive, practical, smart and that carries the authority of office. It is not a replica police uniform it¹s a uniform that identifies them as PCSOs and is safe and visible. Unfortunately some police forces give their PCSOs poor uniforms and inadequate equipment. This puts PCSOs at risk. It also damages the public image of these forces."

UNISON is calling for a standard uniform and standard equipment for PCSOs (see visual attachment). It comprises of:-

* Individual force crest on hat and uniform

* Blue and white chequerboard hat/cap band

* Blue epaulettes (and tie if worn)

* "Police" to be clearly signed on the uniform

* Stab vest

* Rest of uniform to be standard police issue (e.g. shirt/blouse/zip-top/trousers/boots/high-visibility jackets

This type of uniform is already adopted by some forces for their PCSOs including Sussex, Cambridgeshire and Devon & Cornwall.
FUNDING FOR TV FREELANCERS
TENS of thousands of pounds in funding is being offered to TV freelancers across the region. The Skillset TV Freelance Fund will allow TV professionals to claim up to 70% of the total cost of new training, designed to give them a competitive edge in the industry.

Lynn Kelly, Training Manager at Vision and Media, which works on behalf of the TV, film, radio and digital content industries, says the fund has always proved popular in previous years.
But the 2007/2008 fund is offering even more, bespoke opportunities for TV professionals.

"We're determined to use the funding available to offer exactly the kind of training our freelancers want and need. We'll also be holding some bespoke workshops, focussing on three main areas which we've found are essential for anyone working on a freelance basis," says Lynn.

The workshops will centre on the technical skills, business skills and legal/editorial skills needed by all freelance staff.

David McCall of Skillset, the Skills Council for the audio visual industries and which manages the fund, urges freelancers to get involved. "Freelancers are crucial to the success of the TV industry in the Northwest, and this funding gives the region's freelancers access to training bespoke. With mediacity:uk and the BBC move it is this growth of talent that will contribute to the bigger picture of a successful international media hub, right on our doorstep," says David.

In addition, Vision and Media are planning to hold several new information and guidance sessions, as well as exclusive one-to-one mentoring for freelancers. "Our trainers will be able to look at the individual's career so far then plot a plan of action, which will hopefully help take them on to the next stage of their career," explains Lynn.

To apply for funding, or to register an interest in the new, bespoke workshops to be offered by Vision and Media, simply log on to the website.

"We can also offer a CV clinic to freelancers, to make sure people are conveying the correct messages to potential employers.
We also have legal workshops for researchers and producers, and we'll be looking at how best to market yourself as a freelancer."

* The new Skillset TV Freelance Fund is available now.