50,000 PEOPLE RISK BLINDNESS AS NHS FAILS TO MEET TARGETS
DIABETES UK is warning that up to 50,000 people with diabetes in the North West are at risk of needlessly going blind because many Primary Care Trusts (PCTs) are not meeting government targets of offering free digital retinal screening to everyone with diabetes by the end of 2007.

Retinal screening is used to spot signs of retinopathy, a complication of diabetes that can lead to blindness. Diabetes is the leading cause of blindness in the UK working population. The Diabetes UK retinopathy awareness campaign Your Vision is being launched today to highlight the current situation and ensure all people with diabetes have access to a free annual test with a digital camera. In addition, the charity insists that each PCT should have a systematic call and recall system to make sure that people with diabetes receive an annual letter inviting them for a test.

Julie Byron, Diabetes UK Regional Manager for the North West, said:- "The provision of services across the region is patchy and it is a scandal that 1 in 5 people with diabetes in the North West are needlessly being put at risk of losing their sight. We have to make sure that all people with diabetes have appropriate access to digital retinal screening as a matter of urgency and encourage the under-performing PCTs to put in place the appropriate facilities and allocate the necessary budget to their screening programme."

Retinal Screening is one of the most cost-effective interventions known in medicine. In 90% of cases retinopathy, a common complication of diabetes affecting the blood vessels supplying the retina which can lead to blindness, can be treated successfully if caught early. While a digital retinal screening test only costs around £21 per person to the NHS, statistics have shown that the lifetime costs of dealing with retinopathy can be up to £237,000 per person.

With Your Vision Diabetes UK also wants to raise awareness of the link between diabetes and eye problems: a recent MORI poll showed that 32% of people with diabetes still dont associate diabetes with eye disease and blindness.

The Diabetes UK retinopathy campaign is supported by an unrestricted educational grant from Lilly.
Wish upon a DVD…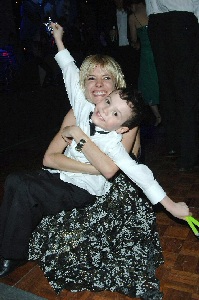 IF you've got any old dvds or console games cluttering up your shelves, don't let them gather dust, join Sienna Miller and Bill Nighy and take them to your local Blockbuster where they will be converted into cash to help seriously sick children's wishes come true.

Money raised from the Starlight Children's Foundation's Donate-A-Disc Appeal, which starts on 7 October 2007 and runs until 31 December 2007, will be used to grant the wishes of seriously and terminally ill children, whether it is to fly in a helicopter, drive a train or swim with the dolphins. At this moment, 21 children in Merseyside and 717 throughout the UK have made a wish and are waiting for their wishes to be granted. These brave children have to deal with operations, needles and feeling unwell for long periods. Often they have to stay in hospital away from their brothers and sisters. Granting them a special wish can make all the difference. Doctors and nurses say that happy children get better quicker.

Sienna says:- "Every week millions of DVDs and console games are bought, most of which end up being watched or played once - never to be used again. By recycling these DVDs and console games, hundreds of very poorly children will have their wish granted, giving them and their families a special day to remember. It's really simple to do, so please donate a disc today."

As a thank you, if you donate four or more DVDs, your next five rentals at Blockbuster will cost just £1.50 each. You can also win £500 for your school. To find out more visit www.donate-a-disc.org.uk or get more information from your local Blockbuster store.