Labour Euro MP wins wide backing in campaign on smuggled weapons
LABOUR Euro MP and Chair of the European Parliament's Internal Market Committee, Arlene McCarthy, has won agreement from the overwhelming majority of European Governments for a new law to tighten control on guns in Europe.

The Member States supported Arlene's own amendments which will clamp down on convertible weapons throughout Europe – the UK already bans convertible weapons but some EU countries do not.

Arlene said:- "I'm pleased that our hard work in persuading so many Member States to back stricter controls has paid off. I was first made aware of the problem with convertible weapons coming in from Germany and Lithuania by Greater Manchester Police, when I took part in the Police Service Parliamentary Scheme. Since then I have heard further compelling evidence from Mothers Against Violence and other community activists in Manchester.

It was a convertible weapon that killed school girl Kamilah Penistone. 46% of the weapons seized by Greater Manchester Police last year were converted weapons so who knows how many other innocent lives these weapons have claimed across the UK.

We can legislate on guns as much as we like in the UK, but if we don't work with our European partners on weapons law, guns will continue to find there way into the UK and kill young people on our inner city streets.

For this to become law all the European Institutions must give their backing to it. I believe that our citizens expect us to tackle the supply of guns to criminals. This is one of those issues where, as Commission President Barroso has frequently said, Europe can show it is relevant and necessary, and this is one of those key times. Therefore, I call on the European Commission to give its backing for the proposals. The new stricter controls will not affect the rights of those who are legally entitled to possess weapons for legitimate purposes in national law, this is about keeping guns out of the hands of criminals"

The proposals must now formally gain agreement from the Member States and the European Commission. The European Parliament will then vote. If adopted by all institutions the law could come into force across Europe in January 2008, with a 2 year deadline for Member States to adapt their laws to enforce this.
What will Arlene's amendments achieve?
Convertible weapons will now be classified as a firearm and subject to the same laws as any other. They will have to carry unique identifying numbers, could only be purchased by someone with permission from their national authorities to do so, and would have to be registered to their owner meaning the source of a weapon used in a crime can be traced quickly and easily.

Arlene also got the Commission and Member States to review laws concerning the sale of other realistic replicas across the EU.

This law will tighten controls to prevent criminal use of firearms without inconveniencing legal users of weapons, including hunters and sport shooters. Charges will be abolished for use of the European Firearms Pass (the permission granted to use a weapon in another EU country) and the law calls for all Member States to simplify procedures for legal users in getting permission to acquire and possess weapons.
NEW REPORT OUTLINES ROUTE TO 13% GROWTH IN BUS USE IN MERSEYSIDE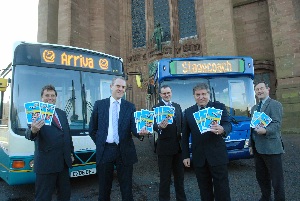 IMPROVEMENTS to bus services in Merseyside through partnerships between operators and transport authorities could boost bus use by 13%, cut congestion and improve the local environment, according to a major new report by the Confederation of Passenger Transport (CPT).

The figure is revealed in Moving Forward – New Opportunities, New Passengers which reveals the potential for 14 million extra bus passenger journeys in Merseyside per year resulting in 1.8 million fewer journeys by car and an annual CO2 emissions reduction of 3,000 tonnes – it would take 15,000 trees 100 years to erase this amount of carbon dioxide from the environment.

In the report there is overwhelming evidence that significant improvements can be achieved through a partnership approach rather than organisations working in isolation. It reveals that by increasing the frequency of buses, decreasing bus journey times through reduced congestion, improving service punctuality and reliability and improving passenger waiting areas will increase passenger numbers by 13% in Merseyside.

Simon Posner, Chief Executive, Confederation of Passenger Transport said:- "A successful, attractive and high quality bus service can have a measurable impact on an individuals life. This report illustrates what can be achieved through successful partnerships between bus companies and local authorities. We must replicate these successes from across the country in Merseyside if we are to provide an efficient and economical transport option and lesson the burden on our roads and the environment. Punctual, reliable and frequent services continue to be passengers' top priorities. Buses play a vital role in Merseyside, providing mobility for people that live, work and study in the area. We need to ensure that bus services are meeting the needs of all these groups of people.
Bus operators and local authorities are most successful when they play to their strengths. Operators have an entrepreneurial spirit and expertise in product development, pricing and marketing and local authorities have skills in management of their public assets and infrastructure. When these are combined, our bus services succeed in putting passengers first, meeting the aspirations of the Local Transport Bill, which was introduced in Parliament last week."

The report comes just weeks after the Department for Transport unveiled its 'Towards a Sustainable Transport System', a new framework which promises to deliver a low carbon transport system to support the economy and reduce carbon emissions.

Moving Forward - New Opportunities, New Passengers, can be downloaded in full from www.cpt-uk.org.