BAGGAGE HANDLERS UNDER SUSPICION AS 1 IN 10 BRITS LOSE LUGGAGE
NEW research from InsureandGo, the travel insurance company, reveals that 10% of UK adults has had their luggage lost or misplaced when flying from airports in the last 2 years – which equates to a massive 4.75m people.

The reasons for the luggage-loss epidemic are unclear, but with a recent BBC documentary pointing the finger of suspicion at baggage handlers, it seems the British public share these suspicions. 31% say they distrust baggage handlers at UK airports and an incredible 3% of those with lost or misplaced luggage, equating to 125,000 people across the UK, believe their luggage was actually stolen by baggage handlers, within the last 2 years. Of those who have lost luggage, 57% believe it had been put on the wrong flight. A further 27% was told the airline had just misplaced it, and 8% believe it had been mistakenly taken by someone else.

Perry Wilson, Managing Director of InsureandGo, commented:- "We have seen a huge rise in lost luggage claims recently, and this new research shows it is clearly a major concern for our customers with many people taking extreme measures – such as packing less – to reduce the risks they face. With the winter holiday season fast approaching, unfortunately it seems inevitable that even more peoples' holidays will be ruined by the loss of their baggage.

Frankly it is outrageous that holidaymakers should feel so worried about the security of their belongings and we again urge the airline and airport industry to improve its performance in this area without delay. The loss of faith in the ability of baggage handlers to get passengers' luggage onto the right flight safely is harmful enough, but the suspicion that the people being paid to look after customers' luggage might actually steal it seriously damages the whole of the travel industry."

Londoners seem to be the biggest luggage-losers, with 17% of them reporting a loss over the last two years, closely followed by those in the North West with 14%. Those from East Anglia have been the luckiest at keeping hold of their bags, but 5% still said they had lost luggage from an airport during that period.
Lost Luggage by Region
Region
Percentage of people who have had luggage lost or misplaced at an airport in the past 2 years
London
17%
North West
14%
North East
12%
Yorkshire & Humberside
10%
Scotland
10%
South East
9%
South West
9%
West Midlands
8%
East Midlands
6%
Eastern
5%
The research also finds that holidaymakers are getting so worried about having their luggage lost or stolen that 31% of them say they have on occasion packed less, so that they can keep their luggage with them throughout the flight in order to reduce the chance of loss or theft. Unsurprisingly, the biggest victims of luggage lost are also the most worried about it, with a massive 41% of Londoners claiming they have taken these extreme measures to keep their suitcases secure.

Figures from the Association of European Airlines (AEA) stated that British Airways lost more luggage than any other major European airline in 2006, and BAA – the owner of Heathrow Airport – has been attacked by business leaders and politicians this year for overcrowding and lost baggage problems, leading to claims that it is damaging the UK's reputation abroad. InsureandGo's new research indicates that the experience of the British people unfortunately reinforces this damaged reputation.
Liverpool women reach boiling point when it comes to boiler engineers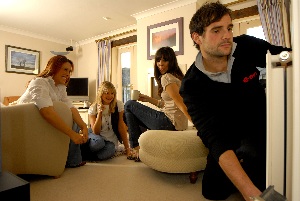 WOMEN in Liverpool are the most discerning in the UK when it comes to their boiler engineers. A recent survey by E.ON, one of the UK's leading electricity and gas companies, has revealed that, while expertise and punctuality are high on their agenda, women in Liverpool need a lot more from their perfect engineer. In Liverpool, 38% of women expect a friendly nature, 7% demand a good sense of humour and a small number even claim that good looks are the essential ingredient to send their temperatures soaring.

Philip Robinson, Home Energy Services Manager at E.ON, said:- "Our survey revealed that 24% of people in Liverpool have wasted a precious day's holiday waiting for an engineer to arrive when their boiler breaks down, and then spend the rest of the day feeling stressed out. So, when an engineer does show up, it's not surprising that most women will welcome a smiling face and a sense of humour.

With our central heating care and boiler maintenance schemes, homeowners can be confident that a friendly, experienced engineer will arrive within a 2 hour time slot so that they can plan their day around the appointment and avoid having to take an unnecessary day off work."

Understandably, expertise was the quality that most women in Liverpool wanted in an engineer (85%), with punctuality at 56% and cleanliness at 36% also rated as 'top qualities'.


Samaritans is given a Hollywood helping hand
SAMARITANS is linking exclusively with Universal Pictures to make Frank Capra's 1946 classic, 'It's a Wonderful Life' a must-have charity gift this Christmas.

Universal Pictures is donating 50p from the first 100,000 copies sold to Samaritans, the emotional support charity, and these unique collector's edition DVDs have be on sale from since, Monday 26 November in general retailers. The £50,000 that will be raised from the sales of 'It's a Wonderful Life' will go towards the costs of recruiting and training new volunteers to ensure that Samaritans can remain open day and night for anyone in distress.

'It's a Wonderful Life' features the story of one man's journey from despair to hope, after he realises, with the help of a trainee-angel, that life is worth living despite the threat of financial ruin and suicide. Guardian angel Clarence shows George what life would have been like if he had never been born and just how many people's lives he has touched.

Samaritans PR Officer Kate Redway said:- "With its universal message of hope, love and community, 'It's a Wonderful Life' is the perfect Christmas feel good movie and Samaritans is thrilled to be partnering with Universal Pictures and benefiting from sales of the DVDs."
At Christmas Samaritans volunteers continue to work round-the-clock to provide vital emotional support to distressed people like George, receiving a call every six seconds. The charity receives an increase in calls from people with money worries and feelings of loneliness and isolation at this time of year. Samaritans expects more calls and emails than ever before this Christmas and its trained volunteers will be there to answer every one of them.