UK'S HOTTEST YOUNG SONGWRITERS TAKE CENTRE STAGE AT NATIONAL MUSIC AWARDS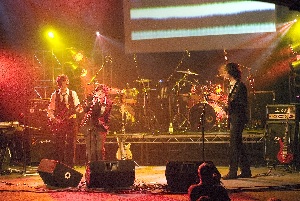 THE Paul McCartney auditorium at the prestigious Liverpool Institute for Performing Arts rocked to the sounds and songs of the UK's finest young songwriters on Saturday 10 November at the annual Yamaha / LIPA Make It Break It Awards (MIBI) ceremony. A capacity audience including record industry executives and music press was treated to a show of inspiring and professional performances from the six winning finalists performing as solo artists or bands.

The show commenced with a welcome from broadcaster and presenter for the night, Mark Ratcliffe before the 6 winners, who had spent the previous week rehearsing their songs with a 5- piece band of session musicians, performed their winning entries to a hugely enthusiastic audience including members of the final judging panel that had consisted of Coldplay's Chris Martin, Live Earth promoter Harvey Goldsmith CBE, Grammy Award winning producer Steve Levine, chart-topping songwriter Dawn Joseph and broadcaster and musician Mark Radcliffe.

The following day all 30 finalists from whose material the judges selected the 6 winners participated in seminars and an energising and inspiring Open Forum with music professionals who advised the young hopefuls on all aspects of songwriting and provided a unique insight into the intricacies of the record industry.

Now in their 4th year the acclaimed MIBI (Make it Break it) annual songwriting and enterprise awards scheme for people between the ages of 14 and 19 has become a major channel for the UK's young songwriting and music marketing talent, with many award winners now achieving recognition and serious industry attention. Past winners include Coldplay's Chris Martin who currently chairs the final judging panel.

Promoted by Yamaha and the Liverpool Institute for Performing Arts in association with the BPI (the British Phonographic Institute) the programme attracts hundreds of entries and provides a professional platform and marketing showcase for the best of the UK's young song writing and music entrepreneurial talent, making the MIBIs an essential and unique opportunity for emerging and original talent.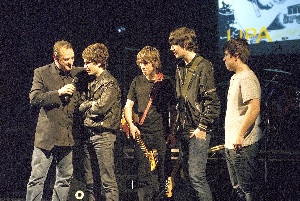 This year the awards were in partnership with Liverpool Music Week (link) where winning entries could choose to play a support slot with a major act. Effective and highly valuable support aimed at getting their material through to the general public was also on offer, to include professional video shoots and web design together with time in a world class recording facility accompanied by Judge Steve Levine; and in addition to performing with a top session band to a packed music industry audience on the Saturday night, winners and short-listed entries enjoyed 2 days of music industry coaching with seminars and industry sessions on offer throughout a long weekend of master class sessions.

Finding time out for 'Make it Break it' judge Harvey Goldsmith comments:- "the MIBI scheme is without doubt one of the most influential and effective routes to market for quality material, each year we hear great songs and innovative marketing plans and we are able to assist young people to make the next step. I'm constantly inspired myself at the role that the MIBI's play in providing support, many of our recent winners are now making steady progress toward regular gigs and recording contracts."
Boo says, 'No!' to Bullies, part 2; the birth of Super-Boo.

(Part of the Boo and friends series).
THE U.K.s 1st anti-bullying computer game developed in both 'sign' and full English grammar is set to make a noise among Britain's young school children, a Merseyside Charity having provided them with a springboard to a whole, new, learning dimension.

Open College of Sign Language will be launching the much sort after children's book, 'Boo says 'No!' to Bullies' on the 6 December 2007 this year; giving guests at the event a special preview of the U.K's 1st ever anti-bullying computer game to be designed in National Signed English, (the brainchild of O.C.S.L). Boo the cartoon elephant was re-invented by the charity as 'Super-Boo', in time for the Easter 2008 launch of the game, 'Saving Planet Vox.' Super-Boo with his friends, Rudy, Roscoe, Olivia and Webster embark upon a journey into the un-known, but a world in which bullying becomes a thing of the past. And an adventure that will educate its young learners in sign too.

During the summer of 2006, Open College of Sign Language provided brief details of it's plans for the Boo book and sparked a national interest in the story, being asked to review both book and National Signed English on television. The significance being that not only were they developing a children's story illustrated by both written English and 'sign' but had also revolutionised the way in which both hearing and deaf people communicate; National Signed English allowing users to converse in full English grammar, inserted into conventional British Sign Language.

With the backing of many people both hearing and deaf, O.C.S.L are finally set to have the book out and ready for purchase on the 6 December 2007, at a launch being attended by Neil and Christine Hamilton who will 'cut the ribbon' on the big day in Liverpool.

So, Open College of Sign Language, with the support of many, look set to take our children's learning to a new dimension. Planet Vox maybe?
CHRISTMAS AT FARMER TEDS
2007 at Farmer Ted's Santa has agreed to come back again, because last year he had such a fantastic time. To meet Santa jump aboard the Santa Express, this is Santa's special tractor ride to his workshop, on arrival you'll be met by one of his Elves and invited inside. In here you can take a look around at all of the different winter scenes and even write a postcard to Santa himself. Then when your time comes you will be invited to enter his special room where he is accompanied by his trusty reindeer and of course Rudolph.
You'll get to chat with him and if you've been good he may even give you a present!
Then on your way out don't forget to post your letter in the talking letter box and finish off your journey with a walk back through the animal barn........
Entry to see Santa is:- £3.50/child plus the normal entrance fee. Adults normal entry fee.
We are open as usual but Santa will be here on the following dates.......

1December to 7 December 2007 1.30pm to 5.00pm

8 December to 23 December 2007 11am to 5.00pm

CLOSED Tuesday 4 December 2007 and Tuesday 11 December 2007

Farmer Ted's will be CLOSED from 24 December 2007 and will re-open Wednesday 2 January 2008.

HAPPY NEW YEAR FROM ALL AT FARMER TED'S
European Market hits Ormskirk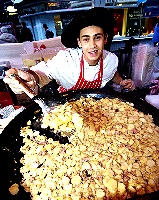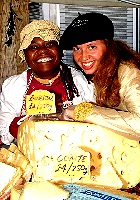 THE European Market in Ormskirk town centre will be held on 7 December 2007 to 9 December 2007 and offers lots of fantastic things to get for Christmas. In total 35 traders will attending, offering high quality items for sale. New stalls will be coming this year as well, such as Italian deli with olive oil, home made pasta and sauces, different type of cured meat, transylavnian glass, swedish cider, polish amber jewelry... The traders will come from France, Italy, spain,germany, sweeden, poland, holland, turkey.