A quick review of 2007!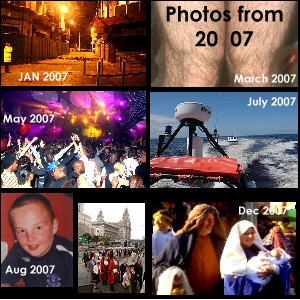 THIS year has been full of surprises for anyone in the media. It started with snowstorms, which hit the UK in January, dubbed by many media outlets as "The Big Chill". That led into one of the most unpredictable years on record for weather forecasters throughout the world. In June, large parts of the UK were covered in water, which affected businesses all over the UK, including taking our paper off line! Luckily for us, our server problem was fixed very quickly, but sadly, for thousands of families, their situations were not going to be as easily resolved. Many folk are still cleaning up and that is set to go on well into 2008. Then nationally and locally, the longest running story which now seems likely to continue well into 2008, was that of the missing three year old Madeleine McCann. In June, the UK was again disturbed because of yet more terror attacks. In August 2007, it felt like it was 1 April all over again, when headlines announced that a craft, inspired by the cartoon "The Jetsons", was to go into production. 2007 also had headlines stating, "Flying Saucers Go into Production" after a California company announced the production of the M200G, saying that its "ultimate off-road vehicle" could start as low as £44,340! But that was not all. Nationally in Sport, the year was full of ups and downs in most major areas. In politics, who could forget that in June, Tony Blair stepped down... and don't go into the cash for honours...... Then followed the election that was never called. October 2007 had the press pack returning to the story of "Diana's Last Moments". It was also the year that confidential information held on many of our citizens has been lost by a variety of agencies. This has led many people to fear the outcome of this relentless expansion of private material being accumulated about us all. So, yes, nationally and internationally the year has been full of surprises. 2007 was also the 800th Birthday of Liverpool, but again this was tarnished with tragedy.

2007 for the Merseyside area has been just turbulent as the weather. Look though our achieves and let us know what you think was the best news story of the year.
Jan Feb Mar Apr May Jun Jul Aug Sep Oct Nov Dec
Happy Christmas
HAPPY Christmas to all our readers. We hope you have a safe and enjoyable holiday and we wish you all the best for 2008. On New Year's Eve, we will be out and about as usual, so please say, "Hi" if you spot us in a venue near you!
HELP US TO SPREAD THE WORD.......
CLICK HERE
to get our Anti Drink Drive campaign message sent to you mobile phone. Then please pass it on to all your friends and relations.
STAY SAFE THIS CHRISTMAS... DON'T DRINK AND DRIVE!