Urban Strawberry Lunch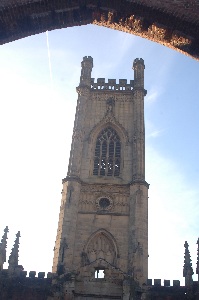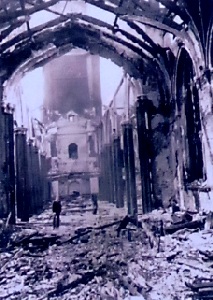 URBAN Strawberry Lunch were formed in 1987. They say:- "We began making music on anything we could find after all our instruments were destroyed in a fire at our rehearsal rooms." This includes a large amount of plastic barrels, pipes and hollow tubes, broom handles, a kitchen sink and even a shop dummies leg!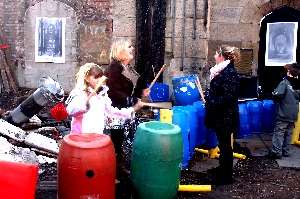 This weekend, they took the opportunity to open the 1941 bombed out remains of St Luke's Church, Leece Street, to the public as a very apt extension to the Chinese New Year festivities. Thus they were able to spread their message to a very wide audience and to raise some welcome cash from donations. Their offering proved extremely popular; folk having been attracted either by the chance to see inside this iconic building or became intrigued by the fervent drumming from within. Queues extended well back along Berry Street. After signing a disclaimer, visitors were able avail themselves of a chance to make music from the array of unusual instruments, all fashioned from waste materials. Many children and a significant number of adults did just that, obviously enjoying themselves enormously. Guidance and encouragement were also provided. Other visitors chose to inspect the ruins and to read up on the history on the explanatory boards.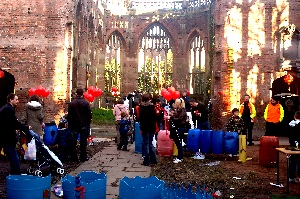 St Luke's Church, built in the early 19C was largely destroyed during the dreadful May blitz of 1941. Its ruins were kept as a memorial but it remained unused until 2001, when the group Urban Strawberry Lunch began the idea of reusing it as a venue for Artists in Residence. In 2003, they undertook a project of interviewing survivors of the May blitz, providing material which is now available to inform shows and events at the site. Building upon its success, from 2007, they are open at lunch time, between May and October, with a variety of gigs on offer. All shows are free but donations are very welcome. It is hoped to form a conservation trust, better placed to raising funds to look after this unique site.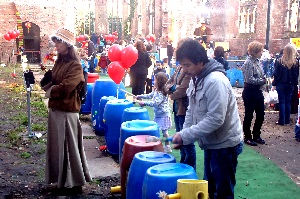 For more details on this and other aspects of the group log on to:- www.usl.org.uk.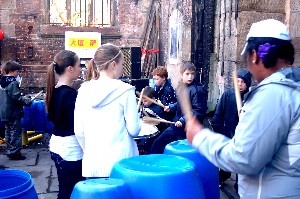 DANCING ON ICE – THE TOUR 2008 IN LIVERPOOL!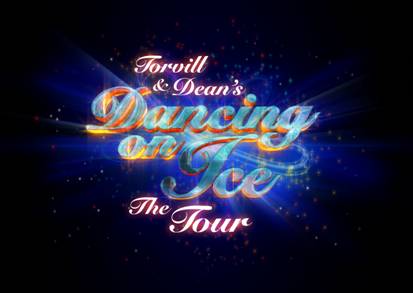 ICE beauty Suzanne Shaw, pop heart throb Gareth Gates and reigning ice champion Kyran Bracken to join Torvill & Dean for Second UK Tour

Glamorous ice beauty Suzanne Shaw and pop heart throb Gareth Gates today announce they will both join skating legends Torvill and Dean when they take Dancing On Ice on Tour this April, appearing at the Echo Arena Liverpool on 2 May 2008 to 3 May 2008.
Other celebrities to announce their involvement in the 2008 Tour, are reigning Dancing on Ice champion, Kyran Bracken and actress Clare Buckfield - who narrowly missed out on being crowned ice queen last year.

Bonnie Langford will also join the celebrity entourage following her huge success on the 2007 ice tour last year when she was regularly voted winner by arena audiences up and down the country.
Footballing legend David Seaman who starred in the first series of the hit ITV 1 show was the first name to announce his involvement in the live ice dancing show.

Andi Peters will return as compere of the live show; this time around he will present to live audiences without the help of crutches having steered clear of the ice since his ankle break last year which he sustained during practice. He went on to present the show regardless of his injury.

All of the celebrities will be trained and choreographed by mentors Jayne Torvill and Christopher Dean (who will perform several of their favourite routines at each show) all over the UK.
The Tour travels to Liverpool for the first time this year and Torvill and Dean are especially excited. "We're really pleased to be playing Liverpool again. We've performed in the city many times over the years and we always get a very warm reception from the audiences."

The judging panel will be rink-side at each show to critique the celebrity routines. Olympic gold medal winner Robin Cousins will head the panel of ice judges, which includes Karen Barber, Nicky Slater and Jason Gardiner.

In addition, the Arena audiences will have a chance to vote. Replicating the format of the TV show, they will be able to use their mobile phones to text in their favourite celebrity dancing couple.
The audience votes will then be added to the scores from the panel of ice judges to decide the winner.
Once the votes have been counted, the winning celebrity will join their skating partner to perform a magical finale.
As per last year, all profits from text voting will go to charity.

More celebrity names will be announced in the coming weeks.

To book tickets log on to www.accliverpool.com or call the Echo Arena Box Office on 0844 8000 400.