The long and winding road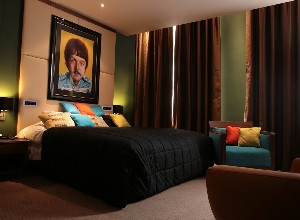 A Somerset based Micron Communications is quietly humming The Beatles' tunes after a successful 18 month long project at the new Hard Days Night Hotel in Liverpool. Themed around the history of The Beatles, the Hotel was officially opened on 1st February. Guests from all over the world gathered to see how the Grade II listed building has been transformed and part of this massive transformation involved a state of the art communication system installed by Yeovil based, Micron.

Mark Parsons from Micron Communications explains:- "It was a huge achievement for Micron to win the contract for the Hard Days Night Hotel. We were up against national companies much bigger than ourselves; to be chosen from such a list was a fantastic result. We do a huge amount of work in the hospitality sector and Micron stands out because it can offer a complete solution for both IT and Telecoms, which saves the hotel operator time as there is only one point of contact."

Mike Dewey, general manager, Hard Days Night Hotel said:- "We have had a smooth relationship with Micron Communications. They have been professional and have provided the Hard Days Night Hotel with a state of the art communication system, which will make a big difference to staff and guests of the hotel.

It has been very exciting to work on such a venture which has attracted attention from all over the world. We've had our fair share of challenges throughout this project, which was expected with such a large, old building. There are many areas which are of great historic value and we were sensitive to this throughout the project. It is great to see such advanced equipment working so well in such an old building. We look forward to seeing Hard Days Night Hotel grow and succeed."
The Chinese Zodiac Love Matches

ACCORDING to the Chinese Zodiac, this year is the year of the Rat and any one born this year will be "Passionate and not afraid to reveal the depths of their feelings." So as it is New Year for the Chinese and in the UK very near Valentines Day, check out our new improved Chinese Zodiac True Love Checker and see what you and your partner's true colours are!
Let us know if you think it is correct, or if it is incorrect please do let us know as well. We would love to get some feed back. news24@southportreporter.com.
3 IN 4 BRITONS WANT TO KEEP THEIR SECRET LOVE SECRET
ACCORDING to new research, secrecy is still the key to a successful Valentine's Day romance. 76% of Britons confessed that they would only send a Valentine's card to the subject of their affections if they knew it would arrive anonymously.

The survey by online greeting card service Greetz who sell real personalized cards designed online also revealed that 79% of us would like to receive an anonymous card this Valentine's Day. In an age of instant information and indiscretion, the idea of a secret love is alive and well.

Greetz's UK Country Manager, Gavin Stirrat, comments:- "It seems we still enjoy the 'guess who?' scenario on Valentine's Day because remaining anonymous is all part of the fun. 14 February 2008 is the last refuge of the hopeless romantic."

The research went on to reveal that despite the array of Valentine's gifts and gadgets flooding the market, the majority of Britons (58%) would prefer to receive a special card from their beloved instead of a present like chocolates or a teddy bear.
In fact, people in Britain buy more greeting cards than any other country, with the average person purchasing 55 cards a year.

Gavin Stirrat continues:- "It's also interesting to see that Britons still prefer to send and receive cards rather than gifts on Valentine's Day. The virtue of cards purchased online is that they can be easily personalised for that special someone."

With Valentine's Day only a week away, log onto www.greetz.co.uk to find your perfect love the perfect card.