Success Stories Sought for the 2008 National Training Awards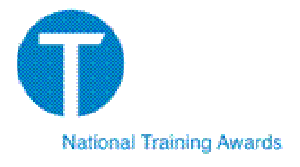 THE 2008 National Training Awards are seeking stories of how training has transformed businesses, organisations and communities in Southport and Liverpool.

The closing date for this year's Awards is Friday 25 April 2008. Free information sessions about the Awards and how to enter are being held in:-
Cumbria
Wednesday 27 February 2008, 7.30am to 9am

Liverpool
Tuesday 11 March 2008, 12.30pm to 2pm

Cumbria
Wednesday 19 March 2008, 12.30pm to 2pm

To book a place at an information session email or phone 0800 0191 475.

For the past 22 years these annual Awards have celebrated organisations and individuals that demonstrate outstanding business and personal success through investment in training. They are run by UK Skills on behalf of the Department for Innovation, Universities and Skills, and are sponsored by City & Guilds.

UK Skills Chief Executive Simon Bartley said:- "We are looking for stories from individuals and organisations whose investment in training has had big results.
This could be through improving a business's productivity, reducing costs, boosting staff morale, or transforming a person's career."

He said changes had been made to this year's Awards to meet the needs of a 21st century economy and society. "We've introduced 6 new categories of awards which will recognise individuals, small to large employers, collaborations and partnerships, and organisations providing education and training. We've also streamlined the entry process and are accepting applications online. And while we'll continue to give out regional training awards, we will also give awards to the best example of training per category in each region. These regional winners will then be considered by a UK judging panel for the accolade of 'Winner of the Year' in their category."

For more information about the Awards visit website.
Chancellor highlights inequality of CGT changes
LAST night the Chancellor, Alistair Darling, made a speech at the EEF Manufacturers' biennial dinner. In this speech he referred to the last minute CGT concessions that he had announced last month which means the first £1 million of entrepreneurs gains will only be subject to a 10% tax charge.

Darling said that:- "…around 80,000 business owners and investors will gain from the entrepreneurs' relief next year alone."

In contrast, an identical number of ordinary employees (80,000 a year) are likely to be negatively affected by Government changes to CGT. This is because the current CGT regime sees basic rate taxpayers who have held shares in their employer for at least 2 years subject to a 5% CGT charge. The Chancellor's changes mean that these employee shareholders will have to pay an additional 13% tax on any gain above £9,200 from April 2008.

Research suggests that 80,000 (16%) of the 500,000 SAYE share schemes that mature each year have gains in excess of the £9,200 CGT threshold.

Phil Hall, Head of Public Affairs at ifs ProShare, the not-for-profit membership organisation that promotes Employee Share Ownership, said:- "It's rather a sad irony that the number of people Alistair Darling says will benefit from his concessions are the same number as those who could lose out.
ifs ProShare certainly doesn't begrudge the last minute concessions granted to entrepreneurs.
All that we ask is that the hard working employees who invest in their employer via an all-employee share plan, supermarket workers, factory workers, bank staff and many others, receive the same treatment when it comes to taxing the rewards of their success."
3 IN 4 BRITONS WANT TO KEEP THEIR SECRET LOVE SECRET
ACCORDING to new research, secrecy is still the key to a successful Valentine's Day romance. 76% of Britons confessed that they would only send a Valentine's card to the subject of their affections if they knew it would arrive anonymously.

The survey by online greeting card service Greetz who sell real personalized cards designed online also revealed that 79% of us would like to receive an anonymous card this Valentine's Day. In an age of instant information and indiscretion, the idea of a secret love is alive and well.

Greetz's UK Country Manager, Gavin Stirrat, comments:- "It seems we still enjoy the 'guess who?' scenario on Valentine's Day because remaining anonymous is all part of the fun. 14 February 2008 is the last refuge of the hopeless romantic."

The research went on to reveal that despite the array of Valentine's gifts and gadgets flooding the market, the majority of Britons (58%) would prefer to receive a special card from their beloved instead of a present like chocolates or a teddy bear. In fact, people in Britain buy more greeting cards than any other country, with the average person purchasing 55 cards a year.

Gavin Stirrat continues:- "It's also interesting to see that Britons still prefer to send and receive cards rather than gifts on Valentine's Day. The virtue of cards purchased online is that they can be easily personalised for that special someone."

With Valentine's Day only a week away, log onto www.greetz.co.uk to find your perfect love the perfect card.