Young people in Liverpool prisoners in their own homes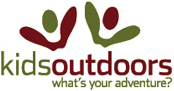 RESEARCH released by The Scout Association has revealed that young people in the UK are spending worryingly little time outside engaging in the activities that enable them to enjoy a longer and healthier life. The findings, commissioned to coincide with the launch of The Scout Association's 'KidsOutdoors' campaign, highlight how 8 million young people between the ages of 7 to 18 (89%) spend far less time engaged in physical activity per week than is recommended by the Department of Health.

The Government recommends that Children should accumulate at least 1 hour or more of moderate physical activity most days of the week. The research also identified that over 600,000 (7%) young people between the ages of 7 to 18 spend no time at all participating in outdoor physical activities outside of school.

The research questioned both young people and their parents on their attitudes to the outside world and found that whilst both groups appreciated the benefits, barriers such as a lack of outdoor space, low knowledge of local activity, concern for personal safety, the pressures of school work and economic constraints meant that the positive attitude was rarely translated into action. Screen based activities in the home still remain the most popular uses of young people's leisure time.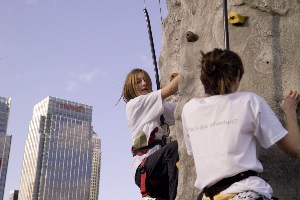 In response to these statistics, The Scout Association is launching 'KidsOutdoors', a campaign aimed at getting young people and their parents outside and participating in a million new outdoor adventures across the UK. The campaign is also encouraging other charities and companies to sign up and tackle the problem as a coalition, with the British Heart Foundation, Outward Bound, Duke of Edinburgh, National Children's Homes all signed up already.

Specifically, the 5 campaign objectives are to:-
1. Encourage parents and young people to engage in 1 million outdoor adventures across the UK
2. Call for a halt to the erosion of outdoor space for physical activity (including playing fields, swimming pools, and public gardens)
3. Provide more information for young people and parents on what is going on in their local area
4. Raise £10 million for investment into facilities and logistics to encourage young people in the UK to experience outdoor adventure

5. Ensure more adults volunteer to work with young people in their local communities.

Tom Meaney, 17, Explorer Scouts, said:- "Scouting and the Outdoors go hand in hand, there is so much I like doing canoeing, walking, even just kicking a ball about on the field. The activities me and my friends take part in help me keep fit and health and I feel great for doing them to!"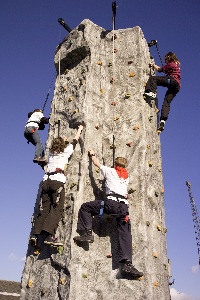 Alex Tosh, Crosby said:- "Scouting offers many opportunities to get outdoors and experience adventures. We welcome anyone and you benefit straight away from the games, activities and weekends away.
They all add together making you feel healthier and enjoying your self at the same time."

The campaign will be focussed at www.kidsoutdoors.com where the emphasis will be on user-generated content such as blogs, video and images of activities, that demonstrate just how fun and easy outdoor activity in a safe and secure environment is.

Chief Scout, Peter Duncan, said:- "The findings of this report should come with a national health warning.
It is a fact that young people who spend more time outdoors are healthier than those who do not and at the moment the outlook is bleak.
Scouting has chosen to launch the 'KidsOutdoors' campaign because it already encourages 400,000 young people into the outdoors every week of the year.
The campaign is for all of the 14 million young people in the UK. It doesn't matter who you are, but the message is simply to get out there and get involved in the adventure."

David Barker, Head of Communications for the British Heart Foundation, said:- "With predictions that one in four children will be obese by 2050, it is essential that we get children and young people more active.
Physical activity can help build a healthy heart, develop strong muscles and bones and may help reduce the risk of some chronic diseases in later life.
The Scout Associations Kids Outdoors initiative is a great campaign and will help young people to get the recommended daily dose of at least one hour of moderate intensity exercise each day."

Evidence shows that active people have a longer life, less risk of developing many diseases, greater well-being, less anxiety and depression, lower stress levels, lower rates of smoking and substance misuse, greater ability to function at work and home, improved sleep, better maintenance of a healthy weight and increased social opportunities.
Other key findings included...
The most significant barriers cited by young people include:-

o Lack of knowledge (58%)

o Pressures of school work (42%)

o Financial constraints (40%)

o Safety concerns (21%)

o Peer pressure (23%)

· 74% of young people would like more youth clubs and outdoor facilities provided

· Young people say they spend 30 minutes or more outside on an average of 3.4 days per week

· Only 25% of parents feel their children spend enough time outdoors. 80% wish their children spent longer outside.

· Regardless of how long they spend on outdoor activities, 64% of young people would like to spend more time outdoors

· 94% of young people and 99% of adults appreciate that spending more time outside has a positive effect on an individual's health and development

· Parents spend about 5 hours a week engaged in outdoor activities, with two fifths of this time spent with their children

· Running, football, swimming, cycling and walking are the most common outdoor activities

· Overall, young people attribute positive adjectives to outdoor activities – three quarters select healthy, energetic and fun, although inactive young people have more negative perceptions'

· 74% of parents would like their children's schools to provide more outdoor activities both in and out of school
EVERTON FC'S SHIP COMES IN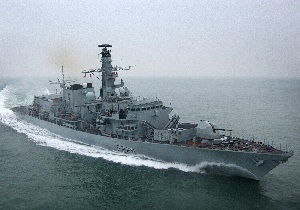 THE 133 metre long Type 23 Frigate HMS Lancaster came to visit Liverpool over the weekend. She was joined by amphibious assault ship HMS Bulwark which will be the largest Royal Navy vessel to use the City's new cruise liner terminal. Lancaster will berth at Huskisson Dock.

Many of Lancaster's Ship's Company are from the North West and several die-hard Everton fans were at the game on Saturday 9 February 2008. On the Sunday February 2008, 10 staff and players from the club toured the Ship to see the Royal Navy team at work, with highlights to be recorded for Everton TV. HMS Lancaster and Everton continued this link over the weekend with football enthusiasts visiting Goodison Park a 2nd time for a behind the scenes look at the club.

During a busy weekend of activities Lancaster hosted visits by a number of sea cadet units including Preston, Accrington, Rochdale and Middleton & Chadderton. Other visitors included the 33rd Sea Scouts, the Arnold School Combined Cadet Force, a football match against HMP Lancaster Castle and a joint training exercise with Merseyside Fire and Rescue Service before heading back to sea.

Every ship and submarine in the Royal Navy is affiliated to different towns, cities and regions. This helps strengthen the Royal Navy's ties with important communities, including other organisations such as councils, naval associations, youth groups and charities.

For Leading Seaman (Communications Information Systems) Mike O'Sullivan, who celebrates his birthday this week, it will be a weekend to remember: "Having followed Everton ever since I can remember, it is truly a dream come true to meet my and my son Connor's football idols. I received an Everton home shirt with the name ST Domingo and the number 78 on the back for my birthday (representing Everton's original name when it was founded in 1878); to then meet them in person after watching them play at home against Reading, will be the best possible birthday present ever. As the moto goes – Nil Satis Nisi Optimum – Nothing But The Best Is Good Enough. Just like our team this season."

HMS Lancaster has a range of affiliations across the North West, including: the City of Lancaster; the Duchy of Lancaster; The Queen's Lancashire Regiment; the Duke of Lancaster's Own Yeomanry; Sea Cadet units TS Duke of Lancaster, TS Galloway and TS Eskimo; the University of Lancaster; the Lancaster Royal Grammar School Combined Cadet Force; Blackpool's Arnold School Combined Cadet Force and the Ship's associated children's charity "A Breath For Life".

Commander Richard Moss, the Captain of HMS Lancaster said:- "Realistic training is fundamental to everything the Royal Navy does and fire fighting is an essential skill for everyone onboard. Marine fires are always dangerous due to fuel, moving machinery and obviously the state of the sea. The opportunity to work alongside the Fire and Rescue Service is an excellent opportunity for us to ensure we are at the top of our game and we enjoy learning from each other."

This exercise will allow for HMS Lancaster to fully integrate with the Merseyside Fire and Rescue Service. Whilst alongside in Liverpool the Ship will simulate a fire in one of its machinery spaces which requires responses by the whole ship and the support of the Fire and Rescue Service to extinguish the fire safely and without putting either the Ship, her crew or civilian fire-fighters in danger. It will give the Ship valuable experience operating with the Fire Service and to provide them with the opportunity to train in the complex environment of a modern warship.

HMS Lancaster had a busy 2007. She returned to the UK in March after spending 5 months off West Africa and in the Caribbean on a mission which included anti-drug smuggling patrols, support to UK overseas dependant territories, search and rescue and maritime security operations. She then entered a maintenance period before acting as a guard ship for the launch of HMS ASTUTE – the first in class of a new range of Royal Navy submarines being built in Barrow in Furness.

As a frigate, Lancaster was designed as a submarine hunter and she recently took part in important training exercises off the coast of Scotland, before heading off to the Baltic for a multinational training exercise. She is now beginning preparations for an overseas deployment later in the year. Powerful and versatile with the capability to operate anywhere in the world, the Type 23 frigate is the mainstay of the modern surface fleet; there are 13 Type 23 frigates, forming 50% of the total frigate and destroyer force in the Royal Navy.

Originally designed for the principal task of anti-submarine warfare, they have evolved into multi purpose ships, capable of engaging in all forms of naval warfare. The effectiveness of these ships is enhanced by their stealth design, which reduces their radar signature significantly. In addition to the war fighting, the ship is trained to conduct a wide range of other tasks. These include embargo operations using boarding teams inserted from the ship's high speed boats or Merlin helicopter, disaster relief work and surveillance operations.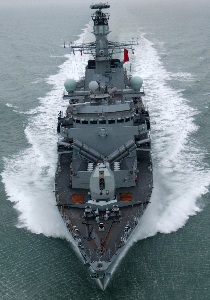 The current HMS Lancaster is the 6th to bear the name. She was commissioned in 1992 by Her Majesty the Queen in her official role as Duke of Lancaster.
THINKING ABOUT SEX DAY!!!
WHILE 7 out of 10 Brits would like a romantic night, or to get intimate this Valentine's Day, only a third of these expect either will happen, according to a recent survey.[1] Differences like these between people's hopes and expectations, are part of the reason why the Sexual Dysfunction Association (SDA) is changing the name of its February 14 awareness day "National Impotence Day" to "Thinking About Sex Day".

Dr Graham Jackson, Chair of the Sexual Dysfunction Association comments:- "Did you know that in the UK, experts estimate that there are as many as 4 million men suffering from erectile dysfunction (ED)[2]. As well as being a condition that can potentially warn of other conditions, such as heart disease and diabetes[3], the reality may be that many couples can't enjoy intimacy on Valentine's Day because of it. Consequently, ED may be a man's problem, but it is a couple's concern."

To show who will be thinking about sex on 14 February, over 1,000 people were asked what they would like to happen on the day versus what they thought would actually happen, with results showing variations across the country:-
3 out of 4 Northerners are looking for romance or intimacy on Valentines Day, while almost half of those in the Midlands are expecting nothing.
More 55 to 64 year olds wanted to get intimate with their partner on Valentine's Day than any other age group1.
The Welsh were the most likely to be disappointed on 14 February; almost a quarter of men and women in Wales are hoping for a romantic night or a bit of intimacy but only 3% expect anything to happen on the night1.

Dr Jackson continues:- "It's important that we all 'think about sex', and its importance to our relationships and our health. It's also important that people discuss any problems they may have, with their partner, a health professional or by contacting the SDA for advice."

The newly re-launched SDA website, offers a one to one online consultation service for those suffering from ED, alongside information and advice. Information and advice on ED is also available online.

[1] DOF Pfizer Ltd; British Market Research Bureau survey
[2] DOF Pfizer Ltd; Matson Jack Epidemiological data
[3] L.D. Hodges, M. Kirby, J.O'Donnell and D.A Brodie. Temporal relationship between erectile dysfunction and cardiovascular disease. Research Centre for Health Studies, Buckinghamshire Chilterns University College, ESSM, Vienna 2006