Help for cardiac patients from Southport Masons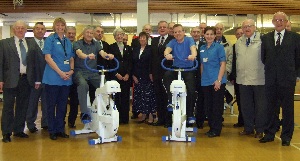 PATIENTS recovering from heart problems have been given a boost this week with the donation of 2 exercise cycles to help with their rehabilitation. The cycles were bought and donated by the five Southport Lodges of the Mark Masons of West Lancashire.

Brian Molyneux, the Charity Representative for the Lodges explained:- "One of our members, Tom Holt, had open heart surgery last year and attended the 20-week rehabilitation programme at the gym in Southport Hospital. When he was there he realised some of the equipment was rather old and he approached me to see if the Lodges could help at all. We contacted the cardiac rehabilitation nurses and they said that two exercise cycles would be of most use. They also commented that a projector they use in class also needed replacing, so we were able to get that as well. In all £1,500 was donated by the Southport Lodges and £1,200 came from the regional provincial fund. We are only glad that we have been able to help, as at least two of our members from Southport have had to use the rehab facilities at the hospital."

Rose Duncan, one of the team of Cardiac Rehabilitation Nurses expressed the thanks of both staff and patients, "We are very grateful for this generous donation. Gentle exercise is very important when recovering from heart problems and the cycles will help a great deal."

One of the patients pictured on the new machines, Peter Barton, had a heart attack 18 months ago and has recently been fitted with a stent to help improve blood flow. He said:- "I have received fantastic aftercare and noticed a massive difference to my health since attending the rehab classes. It is wonderful that people are prepared to donate like this."

The Cardiac Team at Southport consists of 3 Rehabilitation Nurses, Rose Duncan, Clare Taylor and Isobel Williamson; Anne Prescott, Physiotherapy Instructor; Melanie Readon, Physiotherapist and Susan Cowley, Healthcare Assistant.
Are you ready to take up the challenge?
THE British Heart Foundation (BHF) has launched 2 exciting events for people who want to take on a New Year's challenge and haver now start training.

The nation's heart charity is looking for brave teams of people to take their walking to new heights by scaling the highest mountains in Scotland, England and Wales in the BHF's Hearts First Britain's Biggest Mountain Challenge on the 28 June 2008 and 29 June 2008. Ben Nevis, Scafell Pike and Snowdon provide the dramatic settings for the BHF's 'Britain's Biggest Mountain Challenge' event. Last year 33 teams took part and raised a fantastic £47,000.

Event organiser Helen Whitely said:- "Teams need to consist of between four and seven walkers and for those who'd rather take a less active role, each team will also need at least one designated driver.
As well as going through some fantastic scenery and enjoying the company of other like-minded walkers their efforts will be helping the BHF to fight heart disease. "

And for those who prefer wheels to hiking boots, registration is now open for the BHF's Hearts First White Peak Challenge, a testing 29 mile bike ride through Derbyshire's spectacular Peak District on Sunday 27 April 2008. The event is an on-road ride with 4 miles off road so a mountain bike is recommended.

Event organiser Jessica Storer said:- "With 2 or 3 steep hills, this is very much of a challenge and you must be fit enough to tackle them; although you can always get off and push.
Every year, 208,000 people die from heart and circulatory disease and we need your support to help beat heart disease together."

For more information about the Hearts First Britain's Biggest Mountain Challenge, log on to www.bhf.org.uk/mountains or call 0800 917 6716.
To find out more about the Hearts First White Peak Challenge, log on to www.bhf.org.uk/whitepeak or call 0800 085 2280.