Liverpool's enterprise programmes are over-achieving
LIVERPOOL City Council's enterprise programmes are highly effective and helping to generate significant value to the city's economy, according to a new independent report. The programmes delivered for the city council by BusinessLiverpool are, according to the research by WM Enterprise Consultants, also highly cost-effective and equipping people with new skills and confidence.

BusinessLiverpool commissioned an evaluation of the micro-enterprise support activities funded by the city council following a competitive tendering process. VW Enterprise Consultants assessed the quantitative economic impacts of programmes funded via the network of Community-Based Economic Development agencies (CBEDS) between 2003 -2007 and a qualitative evaluation of the kinds and levels of business support provided by the CBEDS.

The report states:- "That the programmes were highly effective at helping people become self-employed or to start small businesses and that a neighbourhoods approach did make a contribution to overcoming social exclusion by targeting/assisting excluded or under-represented groups." It also states: "That the programmes were highly cost-effective. Not only was the cost-per-job low in relative terms (£2500-£3000) but many created lasted at least 3 years.
The consultants also found that even where a beneficiary did not start a business or the business failed, the support given enabled them to return to the labour market with new skills or confidence.

Cllr Flo Clucas, executive member for economic development and Europe, said:- "If Liverpool is going to step up to another level we need to create more businesses and more jobs, not just in the city centre, but in our outlying areas too. This work is of great importance therefore and clearly we are on the right tracks. We must further strengthen the conditions that allow more businesses to start, grow and become more competitive. Liverpool must be a city which offers an exceptional quality of life and opportunity and economically sustainable communities contributing to and sharing in wealth creation. And that means tapping into potential, breaking cycles of worklessness, building social enterprise, and enabling new routes to work, training and business to be created. "

Through phone surveys and sampled emails coupled with evaluation of monitoring information held by BusinessLiverpool, the consultants found that:

· 75% of the respondents rated the support given as 'good' or 'excellent', with women and BME entrepreneurs consistently rating the support given the highest (ie tailored/bespoke support works best).

· The Muslim Enterprise Development Service had 88.9% rating its services 'good' or 'excellent', with The Eldonians (North Liverpool area) scoring a 77.3% good or excellent rating.

· Levels of satisfaction were higher in 2006/07 than in previous years (the program is improving).

Mike Taylor, chief executive of BusinessLiverpool said:- "One clear message behind the satisfaction ratings were the personal relationships developed with business advisors and the fact that they were 'extremely helpful' to clients. As many as 78% of people supported by the programs then went on to start a business which is an extremely high conversion rate and is extremely encouraging.

Our work adopts a person-centred and business-centred approach to the generation of wealth and economic activity through enterprise. The Liverpool City Region is enjoying exciting and positive growth and we are determined to ensure that the benefits and opportunities are enjoyed by local people. It is hoped that we will get even greater returns on our efforts as the multi-million pound StepClever initiative kicks in."

The report also detailed the economic impacts from 2003 to 20007, which generated significant outcomes benefiting Liverpool's neighbourhood economies, as follows:-

· The programmes helped create 1255 new jobs and safeguard 1483 jobs
· The programmes helped to create 801 businesses and assisted 1605 existing businesses
· Businesses generated £18.2m in economic activity annually of which £5.7m comes from women-owned businesses and £2.7m from BME-led businesses

· Support to existing businesses helps protect or facilitate the generation of £32.6m of economic activity annually.

· The consultants found a very highly survival rate of 80% after 3 years and attribute this to the customised design of the business support program to meet individual needs.

· Around 30% of beneficiaries of the programs were women. Of the more than 2800 jobs supported in various ways, 646 (23%) were in women-owned businesses. The GVA of new and existing businesses owned by women and supported by the programs is £6.95m annually

· The consultants identified that around 9% of beneficiaries were from an ethnic minority. 110 new businesses were created and significantly more existing businesses assisted. The GVA of new and existing BME-owned businesses supported by the program is £5.4m annually.
Country Living Magazine campaign highlights dangers of isolating children from natural world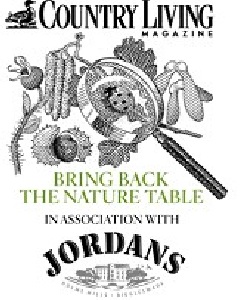 COUNTRY Living Magazine has launched a campaign in the wake of alarming research that shows UK children are losing touch with the natural environment, a loss that could damage their wellbeing and the future of the countryside.
The Bring Back the Nature Table campaign, sponsored by Jordans Cereals, is designed to reconnect children with nature by encouraging all UK schools to set up nature tables. Nature tables, complete with sticky buds, catkins and pussy willow, were once common in primary school classrooms. Country Living Magazine says the loss of nature tables is just the tip of the iceberg and more needs to be done to raise awareness of health and societal costs of children's isolation from the natural world.

According to research recently conducted by the magazine, 45% of all UK parents and grandparents surveyed took their children out for a regular walk. And few (48%) actually took the time to stop and look at wildflowers or insects with their children. 31% of those parents and grandparents surveyed said their children wouldn't even know what pussy willow was.

The magazine has also enlisted industry expert - GP and strategic health advisor for Natural England, Dr William Bird, who says children have lost so much contact with the natural environment that they are more familiar with cartoon characters than British wildlife. "Getting out into green spaces is absolutely vital for children, for their mental state and wellbeing.
We have an innate connection with the natural environment and this means that nature has the ability to recharge us. But over the years, nature has been squeezed out of school timetables and parents and grandparents have stopped taking children on nature walks in parks, fields and woodland.
I think the Bring Back the Nature Table campaign is really important in helping children re-connect with this beneficial health boost." says Dr Bird.

Dr Bird says research has shown that green spaces can not only boost children's wellbeing, but also help ease aggression and prevent bullying in the playground. "Studies have actually shown that green spaces can boost a child's concentration and calm them down. On an asphalt playground, it will be the biggest and loudest child that dominates.
But if you let children play around trees and bushes, they will congregate around the more creative one – the one who's catching tadpoles or building a den." says Dr Bird.

Country Living Magazine's editor, Susy Smith says:- "Country Living Magazine is concerned by the increasing number of today's children who are missing out on the benefits that nature provides to their health and mental wellbeing.
We hope the Bring Back the Nature Table campaign will help children to reconnect with nature and not only reach their full potential, but also help safeguard the countryside for future generations."

Bill Jordans, founder of Jordans Cereals and Pensthorpe Nature Reserve, who was greatly influenced by nature as a child, says:- "Growing up at our family flour mill in the heart of rural Bedfordshire, I saw first hand the damage that intensive arable farming had done.
At Jordans we started selling organic cereal in the early 1970s and put specific wildlife-friendly farming practices at the heart of our company in the mid 1980s.
My hope now is that by encouraging children to engage with the natural world they will do a much better job of looking after our countryside in the future than my generation has done in the past!"

As part of the campaign, Country Living Magazine is also holding a competition for Best School Nature Table (open to primary and junior schools throughout the UK) and Best Home Nature Project. The magazine has also dedicated 30 March as the official 'Bring Back the Nature Table Day', which will include guided walks throughout the country and a free field guide with the April issue of Country Living Magazine.

The campaign, which is also supported by environmental education charity, the Field Studies Council, will be promoted at the Country Living Spring Fair in Islington, London from 12 March 2008 to 16 March 2008. Bill Jordan will also be giving a talk about the campaign during the fair.

Country Living has also set up its own office nature table complete with webcam.