Southport Wine Shops Sought for Top National Award!
SOUTHPORT independent wine shops are being sought for a top national award. The International Wine and Spirit Competition is seeking the very best wine shops to be judged in a national competition for the award; UK Wine Merchant 2008. Said Grant Collier Deputy Director of the competition:- "The International Wine and Spirit Competition is primarily about identifying the best wines and spirits from around the world as an easy guide for consumers, but we have also identified that there is an ever increasing role for independent wine merchants to provide quality advice and service to an increasingly sophisticated UK wine consumer." He continued:- 'We are looking for nominations from Southport residents for independent wine shops not just offering a good service but also a quality range of stock and information available at point of purchase." Anyone wanting to nominate their local Wine shop should email or write to IWSC, Building 17 Dunsfold Park, Cranleigh GU6 8TB. In addition All persons making nominations will be entered into a draw to win a case of award winning wines.
WAGE FLOOR COULD BECOME CEILING – WARNS UNISON
UNISON, the UK's largest public sector union, today warned that unless early years' workers have improved career opportunities the well-meaning "wage floors" recommended by an IPPR* report would quickly become "wage ceilings". The report highlights the chronic low pay in the sector and makes a number of recommendations for tackling it, including introducing wage floors.

UNISON Head of Education, Christina McAnea said:- "Early care workers are crucial to ensuring our children get the best start in life. It is a disgrace that as a society we do not place enough value on these staff to pay them a decent wage. UNISON would welcome the introduction of a wage floor to protect these workers, who are paid a shockingly low average wage of £6.08 per hour. However, this needs to happen alongside improved opportunities for career progression so that artificial wage ceilings are not created.

By linking pay to qualifications we run the risk of putting private sector employers off training staff to keep costs low. What UNISON want, and we're sure that many parents would agree, are statutory ratios of qualified staff to children, backed up by a system of enforcement to stop corners being cut. We also need to seriously consider if the current model for early years can deliver the type of care we all want. Predominantly private sector childcare is motivated by profit and ruled by margins. This will often be to the detriment of pay and conditions for staff or standards of care for children."
JLA spreads its wings & launches a new Training Centre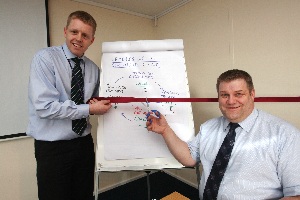 LIVERPOOL John Lennon Airport recently celebrated the launch of a new onsite Training and Development Centre. The new facility was officially opened by Andy Gower, Airport Director at JLA, in a traditional ribbon cutting ceremony.
The Centre, which is the 1st of its kind for JLA, has the facilities to accommodate a wide range of internal and external training courses and is based landside (before security control) near to the Airport terminal making it easily accessible to all airport and non-airport based companies. Previous training took place airside (after security control), with minimal courses on offer.

The number of courses now readily available has increased and varies from Manual Handling, to Basic Fire Awareness, First Aid in the Workplace and Flight and Cabin Crew Training. Two of JLA's Training Officers manage and conduct the training and are supported by fire fighters from JLA's Fire and Rescue Service.

Jason Stuart, Senior Training Officer at JLA, said:- "I'm delighted with the opening of JLA's new Training and Development Centre as we now have the right facility and environment to not only train our own employees based on site but also external companies from all over the region.
The facilities in the new centre enable us to perform the specialist training such as Manual Handling, First Aid at Work, Fire Safety training, and as of this month onwards a Fork Lift truck training course will also be available.
There are many more courses on offer and we are confident that they will appeal to many more companies.
We have already had a great response from companies within the Merseyside region which we are delighted with."

For more information on the courses available at JLA's training and development centre please call 0151 907 1564/1567 or email Jason Stuart or email Kenny Hudson.