DO YOUR BIT AND COLLECT DURING RED CROSS APPEAL WEEK
THE British Red Cross is calling for volunteers in Merseyside to collect for the British Red Cross during Red Cross Appeal Week, the charity's annual fundraising drive, 4 May 2008 to 10 May 2008.
Volunteers will be required to collect for no more than two hours at locations at supermarkets around Merseyside and Liverpool Lime Street train station.
If you can't collect, then why not organise a Dress in Red Day or take part in Welly-Wednesday! or Flip-Flop Friday! at your school, club, college, office or business.
Pupils/staff will be asked to come in dressed to impress in Wellies or Flip-flops for a donation to help Red Cross.

Alexis Fairclough, Senior Fundraiser, at the British Red Cross said:- "During Red Cross Appeal Week we rely on our fantastic volunteers giving their time to collect locally, in aid of the Red Cross.
We couldn't do it without them, but the more collectors we have, and the more events taking place, the more we can raise, so we are urging people to sign up this year, it's all about having fun too!
I'm urging the people of Merseyside to support us during Red Cross Appeal Week in 2008, come rain or shine, we'll be there for you."

People who wish to collect for the Red Cross or if to take part in Welly Wednesday or Flip Flop Friday can contact Alexis Fairclough, Senior Fundraiser on 0151 702 5061 or visit www.redcross.org.uk/appeal week.

Last year, our volunteers raised nearly £800,000 during Red Cross Appeal Week and the money was used to support our vital work in the UK and overseas, providing unconditional care for vulnerable people in crisis, whoever and wherever they are.

In 2007 the British Red Cross helped 18,755 people affected by emergencies in the UK. Red Cross first aiders helped more than 28,400 casualties at public events, trained 137,916 people and raised awareness of life-saving first aid skills among 238,000 others.

The Red Cross also helped to trace over 420 people who had been separated by natural disasters and conflict and delivered Red Cross Messages between loved ones.
In the UK it helped over 356,000 people to regain their confidence after a personal crisis through our independent living and community equipment services, making a difference to the quality of their daily lives.
SHAMELESS STAR BACKS BAKERS CHARITY RUN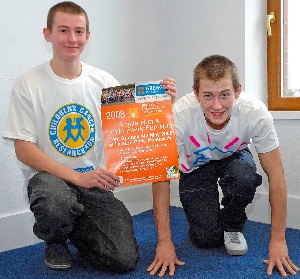 GREGGS the bakers has joined forces with Shameless star Elliott Tittensor, who plays Carl Gallagher in the show, to encourage people in the North West to take part in the 2008 Greggs Children's Cancer Run at Heaton Park, Prestwich. The run, which is in its 6th year will take place on 4 May and it is expected that over 1,300 people will take part in either a 5-mile run or a 1-mile family fun run to raise money for the Royal Manchester Children's Hospital in Pendlebury. Elliott, who enlisted the help of twin brother and Emmerdale star Luke (who play Daz Eden in the soap), to officially launch the run says:- "Its great to be involved with the Greggs Children's Cancer Run in the North West. I'm really pleased to be able to lend my support and raise awareness to encourage as many people as possible to take part on the day. The Royal Manchester Children's Hospital in Pendlebury is an extremely worthy cause and I am sure the money raised will make a real difference to the families and patients."

Royal Manchester Children's Hospital spokesperson, Dr Eddie Eftlin, says:- "We were overwhelmed by the amount raised by the previous runs. Although we are based in Pendlebury, children travel from throughout the region for treatment and we have seen people from all over North West turn out previously to raise money for the our patients and their families which was absolutely fantastic."

Natalie Hopper, Retail Brand Manager at Greggs, said;- "Last year we raised £38,000 and want to beat that amount this year. We have been delighted in the past by the response to the Children's Cancer Research Run from local people, and we hope to see many familiar faces again in addition to new participants. We organise this event each year and are so grateful for any support - the money really does go a long way to helping children who truly need it. We are asking as many people as possible to come and take part, and all runners will receive a medal and goodie bag. There will be something for everyone on the day including live entertainment, music, stalls and a fun fair for kids."
To take part in this years Greggs cancer run, visit any Greggs shop for information or call 0161 231 9090.