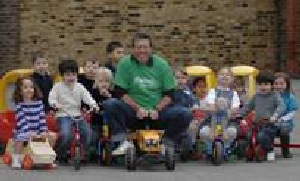 Children pedal up the pounds to raise funds for ChildLine
MAGIC FM's DJ Neil Fox is calling on children in nurseries, playgroups and childcare centres across Southport to get on their bikes and trikes and pedal up some wheelie good fun to raise money for ChildLine - the UK's free, 24 hour helpline for children and young people.

Now in its 12th year, Pedal Push is an excellent opportunity for children and toddlers to be part of a national fundraising event and raise money for children who need ChildLine's help.

Joining in the fun couldn't be easier... youngsters get sponsored to pedal, ride or be pushed around a small course at their nursery or playgroup.
Pedal Push events can be held anytime and anywhere.
Organisers will receive a free fundraising pack that contains stickers, a finish line banner and a helpful "How to" guide.
Pedal Push is suitable for children of all abilities and everyone will be a winner as each child will receive a medal and certificate, which is also included in the pack.

Neil Fox said:- "I am delighted to be part of the NSPCC's Pedal Push 2008.
It is a fantastic and healthy fundraising activity for under-5s and a great way for the younger generation to help raise money for children less fortunate themselves.
I hope all those children taking part have a 'wheely' good time, I know I have."

The event was a huge success last year, raising £200,000 for ChildLine.
To order a free fundraising pack please contact the NSPCC North appeals on 0113 2299 313.
LAST CHANCE TO NOMINATE YOUR LOCAL COMMUNITY CHAMPION AND HERITAGE HERO
DO you know someone who deserves special recognition for their work in the community or for saving a part of their local heritage? If so, you need to act quickly! The closing date to nominate volunteers for the Nationwide Community and Heritage Awards 2008 is Monday 28 April 2008.

Organised by Nationwide Building Society and the Heritage Lottery Fund (HLF), in association with Business In The Community, the Nationwide Community and Heritage Awards are for people who have made a real difference to people's lives and local heritage through their voluntary work.

Throughout the UK there are thousands of people who volunteer time to help their local communities; yet many go unrecognised. These awards honour and celebrate the work of some of these volunteers. Nominations for this year's awards can be made in two categories:-

* Community Champion - recognition for those who have made an impact in their local community;
* Heritage Hero - recognition for those who have volunteered to become involved in saving a part of their local heritage and sharing it with others.

This is your chance to tell us why you think your nominee deserves an award, what kind of work they have been involved in, how much time and effort they have put in and what impact this has had on the local community.

If you think someone you know deserves an award, pick up a nomination form from your local Nationwide Building Society branch, HLF office or public library. Alternatively, give us a call on 01793 655139 or visit the website at www.nationwide.co.uk and www.hlf.org.uk.

Remember, all entries must be received by the closing date of Monday 28 April 2008.