Britain's Top Employers 2008 Winners Are Announced
THE results of the 2008 Britain's Top Employers survey have just been released. The eagerly awaited rankings of companies in the annual survey, undertaken by CRF, were announced at a well-attended awards ceremony in London.

For the 2nd consecutive year, Hydrogen, the professional services recruitment consultancy, took the prestigious award of Britain's Top Employer. Hydrogen achieved an impressive average score of 86.87% against the research criteria.
In 2nd place was RLB Rider Levet Bucknall (83.42%) and in 3rd, Camelot Group (82.63%), who both received awards. GlaxoSmithKline finished 4th (81.91%) and GMAC-RFC 5th (80.97%).

CRF aims to recognise consistent achievement as well as outstanding achievement. This year there were also special Sustained HR Excellence Awards. These were given to four companies – Cadbury Schweppes, TNT, Johnson Matthey, Vanco – which have all featured in Britain's Top Employers for each of the past 5 years.

The criteria that CRF uses in its research carefully combine the best in professional HR practice and the qualities that employees look for in a great employer. The criteria are Pay & Benefits; Career Opportunity and Training; Knowledge Management; Employee Relations; Diversity; Leadership; Corporate Social Responsibility; and Environmental Sustainability.

The top employers scored consistently highly against all of these criteria to produce a weighted score. Worthy of individual mention are Hydrogen (86.06% in Leadership); Camelot (80.51% in Career Opportunity and Training); RLB Rider Levet Bucknall (89.48% in Employee Relations); Irwell Valley Housing Association (100% in Diversity and 99.76% in CSR); and Huxley Associates (84.65% in Pay & Benefits).

"A number of people have asked us how we achieved the no. 1 position for two years running. It's about understanding what we are as an employer and what we're not, what makes us great and what would make us even greater.
We focus on getting better and better at these things every year and not diluting what makes us great by trying to be all things to all people.
The results speak for themselves; being named Britain's Top Employer for the 2nd year running, being named Britain's No. 1 Employer for Leadership and the No. 1 Employer in our industry for Career and Training and Employee Relations. The rewards are the success our business and people share, but this external recognition is also a great way of validating everything we do." Lucien Dulak, Head of Talent Management, Hydrogen Group Plc

The 2008 Awards ceremony was held at the British Library Conference Centre and was attended by over 150 people. Delegates were addressed by Dominic Knight, Regional Director CRF UK; Andrew Walker, Business Director of Croner Reward; Steven Veenandaal, Managing Director of CRF; with opening remarks by Guy Clapperton, Editor of BTE.

The initial research stage of Britain's Top Employers 2009 is already underway.
Companies wishing to participate should contact Sakina Najmi, Marketing Manager at sakina.najmi@crf-uk.com.
Mini Cooper named best movie car of all time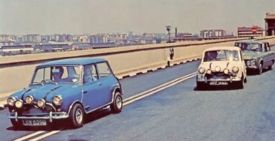 THE 3 Mini Coopers from the international block-buster 'The Italian Job' have been named the top movie cars of all time in a survey by Uniroyal tyres.
The popular Mk1 Austin Mini Cooper S's in true British blue, white and red, beat off over 20 other nominees to take the number 1 spot in a poll of over 2,000 movie fans.

Everyone's favourite artificial intelligence super computer car, KITT, from 'Knight Rider' came in at number 2, followed closely by James Bond's ultra-cool Aston Martin Vanquish from 'Die Another Day'. Herbie 53, also known as the Love Bug, scooped 4th place, while mad scientist, Dr Emmett Brown's modified De Lorean DMC-12 from 'Back to the Future', took 5th.

Another flying car - Chitty Chitty Bang Bang from the 1964 film of the same name; came 6th. Swooping in at number 7 was superhero Batman's Batmobile which has developed over the decades, incorporating even more gadgets and technology.
Another car which is no stranger to change is the General Lee from 'The Dukes of Hazard', in at number 8.
Starting off in the TV series, the General Lee has seen a change in colour and even model, but careful cinematography has ensured that it has kept true to its roots.

Number 9 was every girl's dream, the pink Rolls-Royce with the fantabulous number plate, 'FAB1', owned by the glamorous Lady Penelope in 'Thunderbirds' and chauffeured by the loyal Parker. Rounding off the top 10 was the trusted Autobot Bumblebee from the 2007 remake 'Transformers', directed by movie legend Steven Spielberg.

The complete top 10 movie cars was as follows:-
1. Mini Cooper, The Italian Job
2. KITT, Knight Rider
3. Aston Martin, Die Another Day
4. Herbie 53, Herbie
5. De Lorean, Back to the Future
6. Chitty Chitty Bang Bang, Chitty Chitty Bang Bang
7. Batmobile, Batman
8. General Lee, The Dukes of Hazard
9. Lady Penelope's Rolls Royce, Thunderbirds
10. Bumblebee, Transformers

Tracey Hyem, brand manager at Uniroyal said:- "The survey shows that it's not always actors who are the stars of the show.
We were overwhelmed by the number of entries, ranging from top blockbusters to small independent films.
It shows that Brits are really passionate about their cars and that they are constantly looking for inspiration from movies and television shows."