OLDER PEOPLE IN THE NORTH WEST IGNORED AND FAILED BY COUNCILS
COUNCILS routinely turn a blind eye to the needs of older people in their area according to new research by leading older people's charity Help the Aged. 67% of pensioners in the North West, allege their local council rarely or never asks their opinion on issues affecting them.

Councils also came under fire from 39% of older people for failing to meet their needs. As part of its 'Just Equal Treatment' campaign, Help the Aged is calling on local authorities to extend the public sector equality duty to include age so older people's needs are taken into account in public services.

The Help the Aged research(1) also found that:
* 45% of older people have contacted their local councillor or council to raise issues or make a complaint;
* 44% of older people regularly volunteer their time to help others in their local community.

Amy Swan, policy officer for Help the Aged, says:- "It's awful that so many older people feel ignored and let down by their local council. Older people often make huge contributions to their local community through volunteering to help others. Their years of experience should be valued, not dismissed.

We live in an ageing society so it's imperative that older people's needs come high on the agenda for local authorities. This needs to be more than just lip-service or the odd token gesture – when making decisions about public services, local authorities should be legally bound to consider the needs of people of all ages, including older people.

All too often age is left off the equality agenda when disability, gender and race are, quite rightly, included. Extending the public sector equality duty to include age will ensure the needs of people of all ages are protected and that older people will no longer be ignored."

The Communities and Local Government Empowerment White Paper is being published in the summer.
In addition to calling on local authorities to ensure people are treated equally by extending the public sector equality duty to include age, Help the Aged is also calling for:

* Local government and local councillors to reach out and listen to the views of the most excluded in the community and involve local representatives in decision making;
* Local authorities to show an awareness of the needs of all older people when developing their comprehensive engagement strategies.

A new Help the Aged Communities Council report, Forgotten Voices, examining community engagement and active citizenship is available online.
Queen honours local youth leader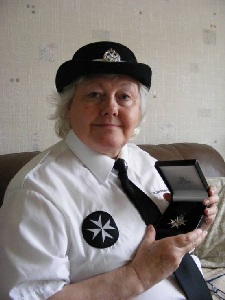 HER Majesty has invested a local St John Ambulance, Youth Leader with one of the highest honours that can be made in the voluntary sector. Ann Lloyd from Southport attended the Priory of St John in Clerkenwell, London, recently [27.3.08] to be awarded the honour of Serving Sister in the Venerable Order of the Hospital of St John of Jerusalem. The Queen is the Patron of St John Ambulance and instructed that Ann, who has been responsible for the Badgers [ children aged from 5 to 10 years] for the past 20 years, be given the award for her dedication to youth and for her voluntary and charitable works to the community within St John Ambulance.

Her Majesty instructed the Prior of England and the Islands, Sir Brian Jenkins GBE to present the investiture on her behalf [due to prior commitments with the President of France] at the Priory at St John Gate, the Headquarters of the organisation since 1140 when it was donated to the Knights Hospitallers.

St John Ambulance assisted by the later formed Red Cross Society, is one of the oldest of charities and relies on volunteers and public donations. It is the basis and origin of all subsequent Ambulance services throughout the world.

The Badgers were started 21 years ago, because siblings of St John Ambulance Cadets, felt left out and wanted to join their big brothers and sisters. Ann has been the Southport Badger Leader ever since its inauguration and has guided literally hundreds of children, many of whom have gone on to be senior officers in St John, or have gone into the medical professions. Recently she has seen children of her early Badgers returning with their children to carry on the tradition. Ann is also a uniformed member of the Southport Adult Division, giving voluntary time to the First Aid duties at the many events around Southport.

Ann says - "If there are any children aged between 5 and 10 years of age who would like to be part of something that has such a history of charitable and voluntary work and have fun at the same time, they can find us at our headquarters in Scarisbrick St, any Thursday from 6.30pm"