COLDPLAY'S CHRIS MARTIN IN SEARCH FOR UK'S BEST YOUNG SONGWRITERS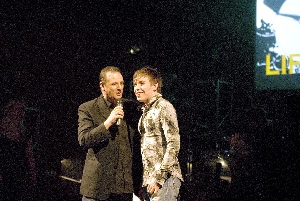 THE Liverpool Institute for Performing Arts (LIPA) and Yamaha Music announce plans for this year's acclaimed Make It Break It awards. Entries are now being sought from songwriters between the ages of 14 and 19.

The MIBIs (as they have become affectionately known) are unique in providing a high profile professional platform to promote outstanding material from some of the UK's hottest, innovative, up coming writers. With a panel of judges chaired by Coldplay's Chris Martin and including broadcaster Mark Radcliffe, producer Steve Levine and The Wombats, and with prizes for both the writers and their schools and colleges, The MIBIs provide a fantastic opportunity to get original songs heard and championed by leading music industry big hitters.

As well as receiving £1000's worth of musical equipment, this year's winners will be offered recording sessions in the world famous Parr Street recording studios, and a November showcase gig in the Paul McCartney auditorium at LIPA, where they'll get to play with a session band comprising some of the industry's most sought after players. All short-listed finalists will also be invited to what is described as a LIPA 'Boot Camp' , an intensive 3 day training programme where they will be tutored in songwriting, marketing , production and performance by some of the country's leading practitioners.

Entries should be submitted by 30 June 2008 and full details can be found at online. The site also provides hints and tips from the judges and material from previous winners.

LIPA founder and Chief Executive, Mark Featherstone Witty comments:- "We are passionate about Make It Break It; it's a real opportunity for young songwriters to break through into a seemingly impenetrable business and get quality material into the marketplace. We encourage all these young writers to get involved and who knows where it may lead?"
AVOID A FINE ON YOUR PHONE...!
NEWS that a car insurance company has decided to penalise drivers with points on their licence from a hand-held mobile phone offence is an excellent development, according to road safety experts at the IAM (Institute of Advanced Motorists).

It raises some interesting issues, too: does three points on your licence because you committed a hand-held mobile phone offence make you more dangerous as a risk than 3 points for a "routine" speeding offence?
The answer, according to Allianz, is definitely yes. They describe the hand-held phone offence as a "dangerous and needless act".

So now those who persist with this dangerous hand-held habit will suffer the triple whammy; a fine, points on their licence, and an increase in the insurance premium when they renew.

It is now more than a year since the tougher penalties for hand-held mobile phone use were introduced. The Department for Transport (DfT) has said 185,000 drivers were caught using hand held phones in 2007.

But the offence continues: according to Allianz, 10% of motorists admitted in a survey to using their mobile without a hands-free kit while they were behind the wheel.

The tougher penalty is now a doubled fine, from £30 to £60, with three penalty points.

There has never been a better time to invest in a Bluetooth hands-free kit, which are widely available at less than £30. Put bluntly, that's less than half the cost of the fine if you are caught.

By making sure that your Bluetooth hands-free kit is always in the car and charged you will be able to keep your phone on while driving, without running the risk of committing a hand-held offence. However, there is an important caveat here.
Even when you have the hands-free habit, use it with care.
Remember, even hands-free conversations are a major distraction, putting you and other road users at risk.

But with a Bluetooth on, you can make a point of telling callers that you are driving, and find somewhere legal, safe and convenient to pull over and continue your conversation.