£2m on menu for healthy schools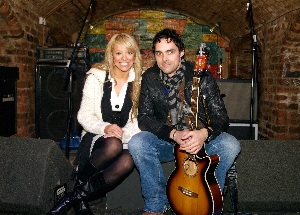 LESTER Preston Jr has been crowned the first "Merseytravel Busk Idol", after battling it out for the title at the world famous Cavern Club.

Lester, from the Croxteth Park area of Liverpool, was chosen from more than 20 talented musicians for the title and receives the first of Merseytravel's coveted busking permits allowing him to perform at official 'Busk Stops' at key rail and bus stations.

Lester, who performed two of his own songs at the event, said:- "I'm really pleased to win. There were some really talented people so winning makes it even more special.

I've been busking and singing for years. I can't wait to get out there and let more people hear what I can do."

Lester was chosen from a final short list of ten buskers, vying it out for top spot. All of the ten short listed will now get licences to play at sites across the transport network.

Atomic Kitten's Liz McLarnon and Radio City's Kev Seed stepped into the shoes of Sharon Osbourne and Simon Cowell as part of the Busk Idol 2008 judging panel.

Hundreds of people turned up for the event at the Cavern Club to see the buskers perform a variety of acts, including duets, solo artists, a one-man band and a penny whistle player.

Neil Scales, Chief Executive and Director General of Merseytravel, an official partner of European Capital of Culture, said:- "The talent performing at Busk Idol was certainly varied! The event was great fun, we're delighted that so many buskers took part, joined in the spirit of things and that so many people came to support them.

This was one small part of our commitment to European Capital of Culture but also, we hope, a legacy of this special year.

We are sure all of those who took part will bring more life and soul to our major rail and bus stations."

Local legend Phil Jones and The Pool made a special guest appearance and performed their current single The Pool of Life, the winning song from the Radio City '08 anthem competition.
Homes of the 70s and over in Liverpool could be insulated for FREE; is yours one of them?
EACH year, many older people in your local towns and villages dread their winter fuel bill and sit in cold, draughty homes struggling to keep warm.

Are you in this category and worried about heating bills and the cost of making your home more energy efficient?
The National Insulation Association (NIA) can help cut those fuel bills for far less than you think; and it could even be FREE.

Simply by picking up the phone to an NIA installer operating in the Liverpool area, you can find out about the wide range of grants available to reduce the cost of insulating your walls, loft and for draught proofing, which can typically cut the cost of installation by around 50%. Plus, with the Government's introduction of the Carbon Emissions Reduction Target (CERT) on 1 April 2008, anyone aged 70 and over and those on qualifying benefits could get their home insulated totally free of charge.

CERT is a Government obligation on energy suppliers to promote improvements in household energy efficiency; ensuring that over the next three years, millions of people, including those on low incomes and in vulnerable households, will benefit from warmer homes and lower bills whilst reducing carbon emissions.

Mervyn Kohler of Help the Aged commented on the introduction of CERT:- "This new scheme has the potential to offer help to all householders over 70, previously, free insulation and draughtproofing was only available to households in receipt of specified means-tested benefits.
Older people in cold, draughty homes suffer unnecessary illness and misery in winter, and even deaths which could be avoided; plus, of course, the cost of the extra fuel they use.
If you, or anyone you know, might benefit, now is the time to find out more."

But will insulating my home really save me money? In a word, yes! Huge energy savings can be immediately realised and it's clean, safe and quick to install. What's more, with the spring weather on the way, now's the perfect time to think about home improvements.

Importantly, for your peace of mind, by using an NIA member you're safe in the knowledge that you're employing a fully qualified installer who abides by a strict Code of Professional Practice and is able to offer the best possible advice on all the latest grants available, provide a survey of your home and let you know which type of insulation is best suited to your property.

Find out NOW what you're entitled to and how to find your NIA local installer by going online. There's no cost involved in finding out, and you could soon be on the road to lower fuel bills and a warmer home.