BUSINESSES REACTING BULLISHLY TO THE CREDIT CRUNCH
DESPITE the pressures, businesses in the North West appear to be reacting bullishly to the credit crunch according to a new study released on 14 April 2008. When asked to state their future optimism, over three fifths (63%) of businesses in the North West said they were confident about the future of their business.

The research by The Credit Show, the UK's largest exhibition and conference dedicated to professionals associated with the consumer and commercial credit arena, shows that SMEs, including businesses in the North West, plan to expand sales in the UK on average 56% in the coming year.

The study is based on detailed online interviews with 117 small and medium sized businesses. The businesses were drawn from across the UK and from a mix of sectors.

In general, the study paints a picture of an SME community in bullish mood. Just under half plan to expand into a new area in the next 12 months and a further 37% will recruit new staff. Over one in three plan to launch a new product or service and only 1% plan to scale back their operations.
The survey highlights a real audience split with some SMEs noticing the effects of the credit crunch on their business and others seemingly untouched. For instance, the report showed that 28% say that they are now finding it harder to borrow from the bank, whilst 38% of respondents from the same survey admitted to not noticing the credit crunch.

However, there is no doubt that some SMEs are feeling the pressure of the credit crunch. For instance when asked what changes their business had noticed in the last 12 months, the top response with 56% was that suppliers had increased their prices. With other half of suppliers increasing their prices this will have a huge impact on the supply chain, affecting further
businesses throughout the UK.

Despite being under pressure from suppliers, many feel unable to increase prices with their own customers, especially as many are facing weakening demand. Only 18% say customers are buying more on credit, and over half of SMEs (55%) admit that their customers are more and more frequently looking for deals or asking for discounts.

Kamala Panday, Publisher of Credit Today, organisers of The Credit Show comments:- "For some, the credit crunch is beginning to bite. However this survey shows that their hunt for growth has not been affected. Businesses are now playing a more strategic game, with over half admitting to chasing slower payers more vigorously.

What's encouraging to see from our point of view is the increasing role that the credit control function is playing with the SME strategy."

Indeed with over half of SMEs saying that the credit control function has become more important, and with 30% tightening their grip on their credit control function through introducing stricter credit terms, credit issues have never been as important as they are today with SMEs.

Through further analysis of the findings by business age, the report identifies how the value of experience cannot be overestimated. Businesses that have been operating for more than 3 years and have perhaps experienced previous tough times are more cautious about over-stretching themselves and are acting in a more responsive manner. For example 61% of these businesses are chasing slow payers more strongly, almost the same number see the control function as an important part of the
business (59%), and they are far more likely to take non-payers to court than those running younger businesses.

On the other hand SMEs who have been operating for less than 3 years are more focussed on moving into new markets and recruiting new staff (49% and 43% respectively).

Kamaly Panday added:- "This is great to see from young businesses. However these businesses need to take care; the flip side of this expansion is greater business exposure, which could cause problems considering the current climate. If they are going to move into new markets more actively, they should do so with good credit management procedures in place. Otherwise they could come unstuck.

At the Credit Show this year we are more focussed than ever on the SME community, and this report will help us shape and develop the Show even further. In general, the overall picture is one of optimism, and it's great to hear of the bullish mood that SMEs are in today, especially as they are such a vital part of the UK economy."
Creamfields festival 2008
THE worlds ultimate dance festival Creamfields gathers more speed as day tickets to the most exhilarating weekend of the summer go on sale on Monday, 21 April 2008. After announcing the most diverse line up to date, the running order for August's hottest dance weekender is now confirmed and Creamfields festival breaks a new dawn in live events marking a decade at the top.

Celebrating 10 years as the world's most influential festival promoters, Creamfields have put together a stomping bank holiday weekend with boutique camping and a revolutionary line up including Kasabian, Fatboy Slim, Ian Brown, Paul van Dyk and Tiesto.

Top Swedish producer Eric Prydz, recently known for his chart-topping hit 'Call on Me' has just been added to the line up along with even more delectable DJs. He joins other new additions Sander Kleinenberg, Nick Warren (Global Underground), dance press favourite Wally Lopez, Dutch maestro of drum & Bass Noisia and Brighton's finest Friction.

Explosive anniversary celebrations at Creamfields 08 are weird and wonderful with contortionists, fancy dress, art exhibits, pamper trailers, BMXers, skate ramps, fun fair, boutique camping with tipis, beach huts, solar powered pod pads and 2 days of the worlds best bands and DJ's set over 10 action packed arenas.

The perfect blend of dance, electro and indie mixes over the weekend with Paul Van Dyk heading up Saturday and Tiesto on Sunday delivering a dance lovers dream bank holiday, watch this space as Creamfields have another 15 sterling artistes to be announced next week. So without further ado here's the moment you've been waiting for…
SATURDAY 23 AUGUST 2008
Fatboy Slim / Ian Brown / Paul Van Dyk / Pendulum / Gossip / Simian Mobile Disco / Erick Morillo / Sasha / 2manydjs / Eric Prydz / Pete Tong / Dubfire / Hernan Cattaneo / James Zabiela / Felix Da Housecat / Annie Mac / Luciano / Adam Beyer / Claude Von Stroke / Danny Howells / Judge Jules / Tom Novy / Roots Manuva and DJ MK / The Presets / Yousef / Wally Lopez / Mason / Tocadisco / Henrik B / Andy C / Marky / Hype / High Contrast / Skream & Benga presents Magnetic Man / Noisia / Friction / Laidback Luke / Gareth Wyn / Harry Choo Choo Romero / The Whip / Rob Tissera LIVE / John Kelly / Matt Hardwick / Tidy Boys / Lisa Pin Up / BK / Mark EG / Amber D / Alex Kidd / Kutski / Tidy DJS / Ben Stevens / Paul Maddox / JP & Jukesy / Kym Ayres / Rodi Style / Morgan / Alan Hartley / Anton Powers / MC GQ / MC IC3
SUNDAY 24 AUGUST 2008
Kasabian / Tiësto / Underworld / Soulwax / Chic feat Nile Rodgers / Paul Oakenfold / David Guetta / John Digweed / Ferry Corsten / Eddie Halliwell / Steve Angello / Axwell / Sebastian Ingrosso / Sander Kleinenberg / Sander Van Doorn / Nick Warren / Deadmau5 / Kissy Sell Out (LIVE) / Dirty South / Dave Spoon / Peter Hook / Mike Pickering / Graeme Park / Dave Haslam / Jon Da Silva / Adam Sheridan / Andy Mac / Yacht / Groovenatics / Baggi Begovic / Funkerman / Oliver Twizt / Bart B More / Benny Rodrigues / Nuno dos Santos / Warren Fellow / Darko Esser

Arena hosts include MAIN STAGE / CREAM & GOODGREEF / CHIBUKU & ANNIE MAC PRESENTS / SKINS / SWEDISH HOUSE MAFIA / RADIO 1 / APE / RADIO 1 'INTRODUCING' BUS / TIDY / SUBLIMINAL and the HOSPITALITY ARENA HOSTED BY CREAM & HACIENDA
Coronation Walk, Southport is cornered off after a RTC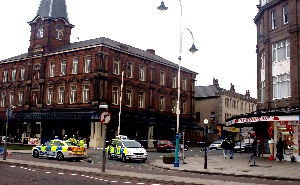 A red Vauxhall Astra and a blue BMW were involved in a crash on the corner of Coronation Walk, and Lord Street in Southport.

The crash happened at around 4pm,on Sunday 20 April 2008. As a result Coronation Walk was sealed off by Merseyside Police.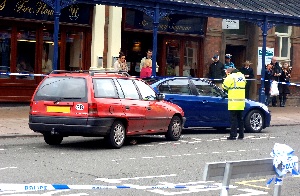 We are trying to get the full official information about the crash, but it is believed a motorist had a heart attack at the wheel.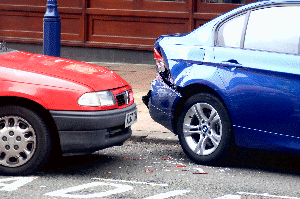 It is also reported that several members of the public rushed to the man's aid and administrated CPR, before Paramedics took over.
We will bring you a follow up in next week's issue, when the official information is released to the media.
Seven charged in connection with Rhys Jones murder
ON the 16 April 2008, Merseyside Crown Prosecution Service and Merseyside Police announced charges including murder and assisting an offender in relation to the death of Rhys Jones.
Helen Morris, Crown Prosecutor, said:- "Working with the Chief Crown Prosecutor for Merseyside, Paul Whittaker, I was briefed on this case at a very early stage and have been working closely with the Merseyside Police since August last year when Rhys Jones was shot..

As this case has developed we have been carefully examining and assessing the evidence in order to come to a charging decision at the earliest possible opportunity.

Having carefully considered all of the material supplied by Merseyside Police, I made the decision that there was sufficient evidence and I have authorised that five people should be charged.

At this time I would like to remind you of the need to take care in reporting the events surrounding this case.
All those charged in this case have the right to a fair trial.

It is extremely important that there should be responsible media reporting which should not prejudice the due process of law."

Assistant Chief Constable Patricia Gallan, of Merseyside Police, said:- "We have got to this stage in the inquiry through painstaking, determined investigations.
It has been a complex inquiry which has been supported throughout by Rhys' parents Stephen and Melanie and the wider Merseyside community.

I'd like to take the opportunity to recognise the hard work of Merseyside's police officers, in particular the SIO Detective Superintendent Dave Kelly, and Merseyside Crown Prosecution Service, in bringing the investigation to this stage.

Police officers and staff have been working tirelessly behind the scenes since day one.
It's now a matter for the courts, and we will await the outcome of future trials."

Senior Investigating Officer for Merseyside Police Detective Superintendent Dave Kelly added:- "As Helen Morris has just outlined, we have brought significant charges today.

As Assistant Chief Constable Gallan has said, it has been a complicated inquiry, which is reflected in the number of charges.

I would personally like to thank Stephen and Melanie Jones for their patience and support.
They have shown courage, strength and dignity during what must be a truly terrible time for them."
The charges:-

* 17 year old male charged with murder of Rhys Jones

* Two men charged with assisting an offender (Melvyn Coy, 24, and Gary Kayes, 25)

* Two youths (both 16) have been charged with assisting an offender (one of these has also been charged with possession of a firearm)

* Merseyside Police has also charged 20 year old James Yates from Croxteth, with assisting an offender. He is due to appear before Liverpool City Centre Magistrates Court on Friday 18 April 2008.

* A 17-year-old male has been charged with assisting an offender

* We are considering a charging decision in connection with another 17 year old youth

* Three adults (50, 49, 54) and one youth (16) have been released on bail for further consideration, in addition to the 22 year old male who was bailed on 15 April 2008

* One male aged 20 remains in custody and questioned by police arrested on 16 April 2008

* One woman (21) released without charge.