The Federation of Small Businesses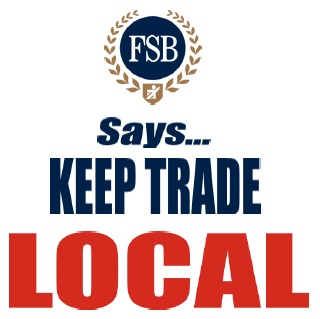 A year-long campaign kicked off on 13 March 2008 with a mass lobby of parliament and launch of a petition on the 10 Downing Street website. Members of FSB are now getting customers to fill in hard copy petitions through out the UK. In Southport, members such as Southport Reporter and the Latin Lounge have copies for their customers to sign. Already over 200 FSB members have been told by Conservative leader, David Cameron, that he expressed his support for the campaign. The FSB has also met with other MPs, calling for changes to planning regulations, an end to anti-competitive practices and an independent body to oversee retail development in the UK. John Allan, Sefton & Ormskirk FSB Branch Chairman said:- "The FSB encourages everyone who values independent retail and consumer choice to sign the "Keep Trade Local " petition. It is unthinkable that small shops could completely disappear, especially in this region, and the FSB is doing everything it can to lobby for changes to the retail sector, so that small independent traders have opportunity to grow, employ people and serve their communities."

To help the FSB and all small businesses in the UK to survive, please first go to the Downing Street website and sign the online petition:- petitions.pm.gov.uk/keeptradelocal. Deadline to sign up of the online petition and also the hard copy petitions is on 06 March 2009.

According to the FSB:-

~ 2000 local shops are closing every year

~ By 2015 there will be no more independent retailers in the UK

~ This amounts to the closure of over 50,000 businesses

~ The average person now travels 893 miles a year to shop for food.
Wembley 1998 Reunion
SOUTHPORT Football Club are hosting a reunion match between members of the club's 1998 FA Trophy Final Wembley squad, and a squad made up primarily of players from the HFS Loans League Championship winning side in 1993.

The reunion match will kick off at 1.30pm on Sunday, 27 April 2008 and there has been a great response from the club's 1998 FA Trophy Final heroes, all enthusiastic about a return to Haig Avenue.

Billy Stewart, Andy Farley, Phil Bolland, Paul Futcher, Dave Thompson, Ged Kielty and Andy Whittaker have all confirmed their attendance and are eager to play. Tim Ryan is also looking forward to a return but is recovering from a serious operation which will prevent him from playing.

Still to confirm are Paul Mitten, Phil Horner, David Gamble and Kevin Formby and we are making an appeal for skipper Brian Butler to get in contact with the club with his last known address being in the Blackpool area.

The only confirmed absentee is unfortunately Brian Ross who will be unable to attend as he is on business. Included in the 1993 side will also be Martin Clark and Paul Comsitve who joined the Sandgrounders in their first season in the GM Vauxhall Conference.

Turnstile prices will be £4 adults £2 concessions with all funds going towards the clubs 16 to 18 youth development. Chris Carney of Rewardaward is supporting the afternoon, and anyone further interested in sponsoring the event or any supporter who wishes to play against the 1998 squad should contact Chief Executive Haydn Preece on 07976555782. Supporters Trust, Trust in Yellow will also be running a penalty shoot out competition on the pitch.
A MESSAGE FROM INSPECTOR JIM McLOUGLIN
EVER ONE is invited to come along to the next community meeting at Holy Trinity Parish Centre, Hoghton Street, Southport, commencing at 7.30pm on the 7th May 2008. This is an open meeting where you have the chance to identify the policing priorities for your area. Members of other agencies may also be present to answer any questions that you may have about the service that they provide.

At our last community forum our members stated that the issue of cycling on the pavement was becoming a concern in the Town Centre. Above all else this behaviour is definitely a threat to the safety of pedestrians and is also an offence.

To date my officers have completed two focus days in the Town Centre to tackle this problem. A total of 14 fixed penalty notices have been issued,34 verbal warnings and two arrests made as a result.Some work with local media has taken place to raise awareness of our actions and to reinforce the message.

More focus days are planned in the near future and results will be fed back through the next community forum.
Ethel Austin goes into administration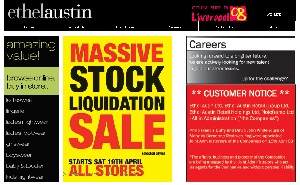 THE shock news that one of the Liverpool08 sponsors and well known high street name, Ethel Austin has gone into administration hit Liverpool hard. A spokesperson from Menzies Corporate Restructuring told the media that:- "We want to confirm that it is very much business as usual at the remaining Ethel Austin stores. Despite 33 stores that will be closing over the next three weeks, there remain 267 stores open for business as usual.
Promotions will be running in all stores nationwide.
Store staff made redundant as a result of the store closures will be offered employment in alternative stores as far as it is feasible and where vacancies exist.

Regarding the closures of Ethel Austin stores, we can confirm that redundancies were made at 33 stores today and a further 181 redundancies were made at the company's head office in Knowsley. The stores will be closed over the course of the next three weeks."

We will continue to focus our efforts on finding a suitable buyer for the business and are already talking to interested parties.

The following Ethel Austin stores (in alphabetical order) to be closed include:-

AYR, 2 / 4 Alloway Street, Ayr

BARROW IN FURNESS, 160-162 Dalton Road, Barrow in Furness

BLAIRGOWRIE, Unit B, High Street, Blairgowrie, Perthshire

CHELTENHAM, 88 Edinburgh Place, Coronation Square, Cheltenham

CLYDEBANK, 5 Sylvania Way, Clydebank

COWLEY, 16-17 Poundway, Tempas Square Shopping Centre, Cowley, Oxford

CUMBERNAULD, Unit 1B, Teviot Walk, Cumbernauld Centre, Cumbernauld

DUNSTABLE, 50-52 Broadwalk North, Quadrant Centre, Dunstable

EASTERHOUSE, Unit 2 & 3 Shandwick Square Shopping Ctr, Glasgow

EASTLEIGH, 46-50 High Street, Eastleigh, Hampshire

FRODSHAM, 11-13 Eddisbury Sq, Frodsham, Cheshire

GALASHIELS, 56 Channel Street, Galashiels

GREENOCK, 9-13 West Blackhall Street, Greenock

HARLOW, 35 Broad Walk, Harlow Shopping Centre, Harlow

HARTLEPOOL, Unit 85, Middleton Grange Shopping Centre, Hartlepool

HEMEL HEMPSTEAD, Unit 230, Edmonds Parade, Marlowes, Hemel Hempstead

IRVINE, Rivergate Shopping Centre, Irvine

LINCOLN, The Corn Exchange, Corn Hill, Lincoln

MANSFIELD, 44-46 Westgate, Mansfield

MIDDLESBROUGH, Unit 4, Captain Cook Square, Middlesbrough

MOTHERWELL, 75 Brandon Parade South, Motherwell

NORTHPOINT, 47 Northpoint Shopping Centre, Goodhart Rd, Bransholme, Hull

NOTTINGHAM, 41a Broadwalk, Broadmarsh SC, Nottingham

ORPINGTON, Unit 1, 169-171 High Street, Orpington

PARKHEAD FORGE, Unit 45A, The Forge Shopping Centre, Parkhead, Glasgow

PRESTON, 63 Friargate Walk, St George's Centre, Preston

RUTHERGLEN, Units 19&20 Mitchell Arcade, Rutherglen Shopping Centre, Rutherglen, Glasgow

SALE, 3-4 Market Walk, Sale, Manchester

TROON, Unit 5, Academy Street, Troon, Ayrshire

WASHINGTON, Unit 80a The Galleries, Washington Centre, Washington

WATERLOOVILLE, Unit 8, Dukes Walk, Waterlooville, Hampshire

WOOLTON, 26 Woolton Street, Liverpool

WORKINGTON, Unit 3, Campbell-Saviours Way, Workington